Five Workouts To Get You Race Day Ready
Hard workouts are important in the weeks leading up to a goal race. Use these examples to get yourself race-day ready.
Heading out the door? Read this article on the new Outside+ app available now on iOS devices for members! Download the app.
Every run is just a brick in a long-term fitness wall. Stack brick on top of brick for years, and you start to get a hint of the wonders you can build in the future.
But wait. That general statement only applies to the building blocks of fitness development. The aerobic system turns oxygen into power as capillaries expand around working muscles, metabolic processes become more efficient and each hemoglobin-rich red blood cell translates into stronger output. And aerobically, what you have heard is true! We're thinking years down the line. While long-term case studies are less common for elite running training, those conducted for aerobic-dominant sports like cross-country skiing show athletes doing 90% of all training at easy efforts. The studies that we do have in running find that total aerobic training volume has a solid correlation with long-term development.
The aerobic system is a cake that takes a daunting number of training sessions to bake. I could never even use an Easy Bake Oven, so I'm especially intimidated by this metaphor choice. And usually, the cake is what we want to focus on—mostly aerobic training layered with efficient workouts and long runs to make each breath of oxygen translate into a bit more power on each stride. This article is not about the cake, the boring and unglamorous base. 
This article is about the icing.
Nearly every athlete my co-coach Megan and I work with does a very hard workout 14 to 21 days before key events. The rationale is based in an area of training theory that is difficult to measure, so it's sometimes ignored—the neuromuscular system. We are not just lungs with legs, an aerobic system and musculoskeletal system putting out power based on neat equations. We are lungs and legs powered forward by a brain that is one of the key determinants of running economy through biomechanical and nervous system adaptations. The hotly debated Central Governor model indicates that the brain may regulate how hard athletes can go in the first place, an evolutionary adaptation to maintain some semblance of homeostasis. Whatever the exact mechanism, the nervous system matters. And the nervous system can adapt fast.
How fast? I have seen pro athletes with developed internal senses of "feel" do a hard hill workout, then report steep drops in perceived exertion the very next day. They go to the well in training, and it shows them that what they thought was the bottom was a misperception. One theory: that misperception may possibly be supported by the very things that create long-term growth in the first place, with plenty of easy running and controlled workouts scaring the body away from the edge. But breakthroughs happen on the edge. So let's Alex Honnold the crap out of this and get to work.
RELATED: It's Okay To Slow Down And Embrace Chill-Paced Adventure
Very hard pre-race workouts push those limits back, while also relying on supercompensation principles that can cause non-linear fitness growth when a sufficiently hard stimulus is layered on top of an aerobic base and a focus on recovery.  
While there is no set way to use these hard efforts, monitoring athlete performances over the years has given us this general framework for timing.
14 days before: Sub-ultra trail racing, road races under half marathon

17 days before: 50k trail races and some 50 milers, road half marathons and some road marathons

21 days before: Anything over 50 miles on trails and most road marathons
The extra buffer time for more stressful races is to account for the flip-side of nervous system adaptation: nervous system fatigue. Longer races require slightly more wiggle room, plus it's less important to be accustomed to going incredibly hard in races that are at lower intensities. The workout acts as the jump-start for a taper, where athletes reduce volume and intensity from 25-50% following a chronic stress peak.
These workouts can also work as supercompensation efforts every 3-6 weeks (more frequent for advanced athletes, less frequent for those with injury histories). 
The types of workouts fall into categories based on event goals and athlete background. For each of these workouts, make sure that you have 2 easy days before and after, and do them with a 15-20 minute easy warm-up and cool-down.
RELATED: 8 Of The Hardest Empty-The-Tank Workouts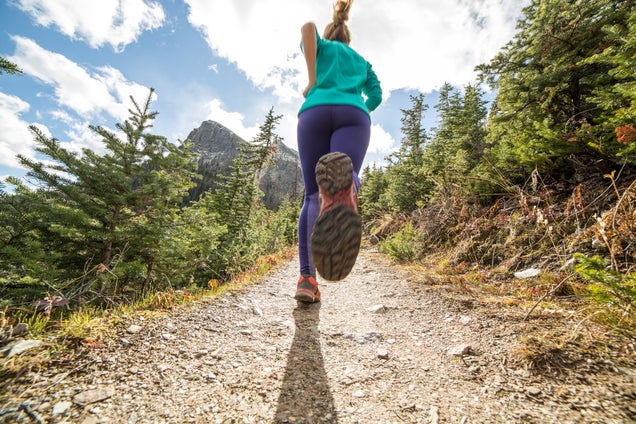 Sub-Ultra Trail Race Examples
VOpoo Max Hills: 4 x 3 minute hills moderately hard (5k effort), 4 x 2 minute hills moderately hard (5k effort), 4 x 1 minute hills hard (push). This workout fully taps out muscular strength, ideal for races with punchy climbs.
Smooth Like Butter: 10 x 3 minutes fast with 2 minutes easy recovery (10k effort to start, pushing more as you go), 5 minutes easy, 4 x 45 second hills hard (push). Athletes will have a high volume at fast paces, combined with a muscular power stimulus in the hills, perfect for a race that involves more fast running.
Lactate Is Our Friend: 30 minutes hard (think 1-hour effort to start, finishing harder), 5 minutes easy, 5 x 1 minute fast/30 seconds easy (5k or harder). The tempo pushes the body to the limits, with the intervals being a major lactate clearance stress, ideal for almost any race as long as it's followed by plenty of recovery.
Marathon or 50K Trail Race Examples
Bring A Gel: 8 x 3 minutes fast with 1 minute easy recovery (think 10k effort), 5 minutes easy, 4 x 2 minute hills moderately hard (5k). The hills on top of the smooth and fast running will stress every physiological system to the max, ideal for faster courses.
Buy Me A Drink First: 5 x 3 minute hills hard (5k or harder), 5 minutes easy, 20 minutes moderately hard tempo (survive). The hills push muscular endurance to the brink, the tempo makes the aerobic system step up when already at the limit. This is one of our main go-to efforts for pro athletes, good for any course.
The Power Hour: 1 hour moderately hard, with last 10 minutes hard. You can't go wrong with a purposeful hour of harder running. It's the ultimate lactate threshold stimulus, and doing it over race-like terrain will dial in any final specific adaptations.
50+ Mile Trail Race Examples
The Aerobic Monster: 75 minutes starting moderate, with the last 15 minutes hard. Extending the tempo over an hour requires athletes to start substantially easier in most cases to avoid the lactate threshold wall. Going hard after an hour requires discipline, grit…and a badass aerobic system. This one is ideal for almost any race.
It's All Downhill From Here: 30 minutes moderate (think half marathon effort), 5 minutes easy, 6 x 2 minute steep hills hard (5k effort). The moderate tempo is a wonderful aerobic stimulus, with the hard and steep hills on tired legs making it the perfect prep for a race with more vert.
And We'll All Float On: 10 x 3 minutes fast (think 10k effort with option to progress) with 3 minutes easy/mod float recovery (think 50k effort). A magical lactate clearance stimulus that helps athletes raise output at aerobic threshold, particularly before races that aren't on technical terrain.
RELATED: How To Train For A 100-Mile Race
You can also use training races for similar purposes, with a half marathon trail race being a versatile stimulus a few weeks out from a key event. However you structure your final few weeks, don't make the mistake of thinking that all of the hay is in the barn. Give yourself the chance for one pre-taper hard effort, and your phone may light up with a new message from your nervous system.
WE ARE GONNA NEED A BIGGER BARN.