Anytime, Anyplace Trail Running Workouts
If you are tired and looking for ideas, try one of these anytime, anyplace workouts, after a 15-minute warm-up of easy running.
Heading out the door? Read this article on the new Outside+ app available now on iOS devices for members! Download the app.
Here's a secret that may not come through in Facebook posts or Instagram photos about running: Occasionally, almost everyone has that daunted, tired feeling about getting out the door.
In my coaching experience, the mental fog is worse for parents, those on work trips, or people with busy work schedules generally. But everyone feels it, even the pros.
The foreboding feeling is compounded when it's time to do a harder workout. This article explains how to make the most of your mental and physical energy—so you can start tagging your posts "#DidNotWantToDoIt #DidItAnyWay" instead of "#AteChunkyMonkeyAndFellAsleep."
There are three keys to fail-safe workouts:
1. No Expectations.
Running easy is a simple activity once you actually get moving. Running hard is not so simple. A good workout should fall somewhere in between. It takes some focus, but anyone can do it.
Take away your expectations of how fast you will be going and you can simplify your training. With a more relaxed approach, any workout can be a success, no matter how tired you are.
2. No Feedback.
If you know a bunch of runners that were on the track team in college, you know they often have very different perspectives on running than your trail friends. Workouts come down to splits, races come down to placing—and many times, this results-oriented approach means that the track stars quit running while the trail sloths are still going strong decades later.
The discrepancy is based partially on a focus on the watch. Remove opportunities to judge yourself and your pace in training (especially when you are tired) and you will be a happier runner.
RELATED: When (And How) To Power Hike
3. No Breakdown.
A good workout should lead to some physiological stress, but not so much that you can't run the next day. A lot of workout dread comes from fearing the discomfort that can accompany hard efforts. Limit the pain and workouts can be a fun mix-up of the normal routine.
As an added benefit, smooth and more comfortable workouts are usually a better training stimulus anyway. I remind my athletes that they only get one chance to have a hands-on-knees effort during a race (at the finish), so why make each interval that difficult? Extreme discomfort is not sustainable, so extremely uncomfortable training is not specific to making you a better long-distance trail racer.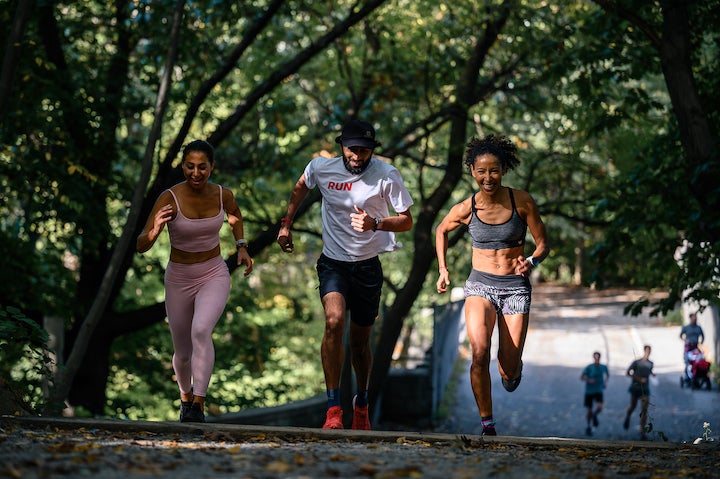 So how can you implement these principles into your training? First, run easy most of the time (meaning, with your heart rate capped around 75 percent of your max, or at an effort where you can have a conversation). Then, one to three times a week, do a stress-free workout.
If you are tired and looking for ideas, try one of these anytime, anyplace workouts, after a 15-minute warm-up of easy running.
1. The Scribble: 10 to 30 minutes of fast out, easy back
If you want completely unstructured running, The Scribble is for you.
Choose a starting point designated by a landmark, like a handsome bench or a sexy tree. Then, run up-tempo away from the landmark. When you feel like stopping, turn around and jog easily back to the starting point.
Do these unstructured intervals for 10 minutes (if you are a beginner) to 30 minutes (if you are more advanced). Err on the side of shorter, faster intervals instead of longer grinds. But no matter what, do whatever you expect to enjoy most that day and only look at your watch for total time, not pace or splits.
RELATED: TrailRX – Should Runs Be More Focused Or More Fun?
2. The EKG: 30 seconds fast every 5 minutes for the remainder of the run
If you want to work your aerobic system and running economy, the EKG is for you. Every five minutes, run really fast for 30 seconds, focusing on smooth and effortless speed, like a gazelle on amphetamines.
After each interval, drop back to your normal running pace. The faster sections will speed up your entire run and make that in-between running go by more quickly. It is a great way to break up a long run of 90 minutes to two hours as well.
3. The Work Trip Special: 10 x 1 minute fast/1 minute moderate
If you want to get your system going but get back in time for the continental breakfast meeting, The Work Trip Special is for you.
Run the fast one-minute sections as if you are racing a 5K. Then, instead of dropping back to an easy jog, keep the effort moderate during the one-minute breaks. In just 20 minutes, you'll have an awesome workout targeting both your VO2 max and lactate threshold. Plus, you'll be back in time for runny eggs and business talk.
4. Stairs for Breakfast: 10 to 30 minutes of running up and down stairs
If you want to work on hills but don't have the time (or the terrain), you should try Stairs for Breakfast.
Find the biggest set of stairs around, anything from a three-story building to a skyscraper. Run up (two steps at a time if you can) then jog down (one step at a time). Do it until your time is up.
Nomming some breakfast stairs will make you stronger physically and aerobically. Plus, if you get caught on a security camera, it will give the night watchperson some much-needed entertainment at the end of the shift.
RELATED: The 5-Minute Circuit For Mountain Leg Strength
5. Out-and-Back Special: Jog slowly for 20 to 40 minutes, come back faster
If you want to do some race-specific tempo running, the Out-and-Back Special is for you.
Start extra slowly, running away from your house or hotel at a pace that would make snails scoff in disdain. Pick it up just a bit as you loosen up, until you are running at your usual easy pace when it is time to turn around.
Then, run back faster, as if you are trying to get home for an important business call. In other words, you don't want to go so fast that you need more than a couple minutes to recover and be coherent.
Take away the pressure and stress, and you can be more consistent with workouts. By making fewer excuses, you will get faster and stronger. And most importantly, your hashtags will get stronger too. #CrushedIt
David Roche partners with runners of all abilities through his coaching service, Some Work, All Play. With Megan Roche, M.D., he hosts the Some Work, All Play podcast on running (and other things), and they wrote a book called The Happy Runner.