The Trail Runner's Guide To Skiing
There's a lot to love about embracing winter sports. Here's what 5 athletes say about taking it from the trails to the slopes. 
Heading out the door? Read this article on the new Outside+ app available now on iOS devices for members! Download the app.
For some trail runners, winter might mean snowed-in singletrack and endless miles on the dreadmill. As skimo (ski-mountaineering, or uphill skiing) is slated to debut in the 2026 Olympics, the quirky sport is getting more attention from uphill-oriented athletes from all over the globe. Whether you're looking to improve uphill technique, boost general fitness, hone your mountain skills or add a bit of downhill speed, skiing has numerous benefits for trail runners. 
"Skiing is a nice way to mostly embrace the winter and really enjoy it rather than look at it as an off-season that you have to get through," says Logan Greydanus, a pro skimo athlete and mountain runner for Dynafit, who competes on the U.S. National Skimo team. 
Mike Foote, who skis and runs for the North Face, agrees that taking the winter to pivot to skiing helps him stay fit and focused all year long.
"I think of it as a natural progression in line with the seasons," he says. "In the summer, the best way to go up and down in the mountains is on foot, in the winter it is on skis. What you do stays the same, but the tools you use change." 
"You are working with the season, not against it when you incorporate skiing into your winter training program.  If you keep your long-term development in mind instead of your running mileage on any given week, it makes it so much easier to switch things up," says Foote. 
Skiing As Cross-Training
Running has higher impact forces than skiing, meaning the amount of time you can spend doing it is limited by how much pounding your body can tolerate. Runners' volume is limited by their durability, whereas skimo athletes can tackle monster volume since the impact is lower. More aerobic work means more slow-twitch muscle fiber recruitment, angiogenesis and efficient mitochondria.  Plus, uphill skiing recruits a larger percentage of muscle mass, since you're using your arms to pole. 
"The impact forces and injury risk in skiing are much lower, as long as you don't crash, so skiing athletes are able to train their cardiovascular systems more than most runners by adding more relative volume and intensity," says Sean Van Horn, an elite trail runner and skimo athlete. 
To really get a workout, you'll have to ski with some intention. You won't become Walmsley from riding the chairlift. Try an interval workout uphill, or spice things up with a tempo. Hill strides can help skiers keep their skis on the snow at higher intensities, which means a more efficient stride uphill. 
Up, Up, Up
A typical skimo session includes lung-busting ascents and quad-burning descents on groomed ski slopes or off-piste (i.e. in the backcountry). Equipment includes lightweight skis, typically much shorter and narrower than standard alpine skis; alpine-touring (AT) bindings—which allow skiers to lock their heels for descents and release them when moving uphill; and mohair skins to help their skis stick to the snow while climbing, or "skinning," uphill. With the lower impact, you can get a lot more vert during training sessions. At the top of a climb, skiers transition from uphill to downhill by pulling the skins off their skis and locking their heels into their bindings.
But you don't have to go all out to get the benefits of skiing. Easy skiing lets you reap the aerobic benefits listed above, and going too hard too often will undermine your aerobic development. 
Uphill skiing offers the same aerobic benefits, single-leg propulsion and muscle-chain recruitment that powers uphill running, without the pounding associated with running downhill. Plus, you get the chance to practice using poles effectively on the climbs, which takes advantage of upper body strength –  and can improve uphill technique on steeper summer trail adventures. 
However, the evidence is mixed on whether skimo helps in training for flatter efforts, where running economy is more critical than during mountain adventures.
"Runners like Kilian, Remi, and Mangini can go straight from skimo racing to winning sky races, but aren't as world-class on flatter terrain," says Van Horn. He says runners should think about what their summer goals look like before they invest in a pair of uphill race skis. "If your goal is to run a fast flat spring race then skiing might not be quite as useful."
RELATED: The Rise of Skimo
Training For the Downhill Athlete
While downhill skiing doesn't offer the same aerobic benefits as going against ski hill traffic, there are still plenty of gains to be made. 
"As a skier, I've always felt more confident on technical downhills as a result of having years of practicing making split-second decisions on ski descents," says TJ David, a professional coach, skier and runner for Dynafit. "The strength you develop in the posterior chain, and eccentric strength in the quads, translates very well to being more stable and handling the impact forces of downhill running better."
To get rock-solid quads, runners should do eccentric loading exercises (like our three-minute mountain legs routine) year-round. The same strength that preps your legs for the rigors of descending in the single track translates to the ski slopes. To build muscular endurance, push a few additional turns before taking a break. It doesn't just train your legs, either. 
"Downhill skiing requires acute focus, quick decision making, choosing an efficient line, surrendering to gravity, and can be very playful in nature. All great qualities to incorporate into your running as well!" says Foote. 
Learning how to read a trail or slope and quickly and confidently choose a path is a good skill for every athlete to hone, and skiing can sharpen your decision-making ability and confidence on and off the trail.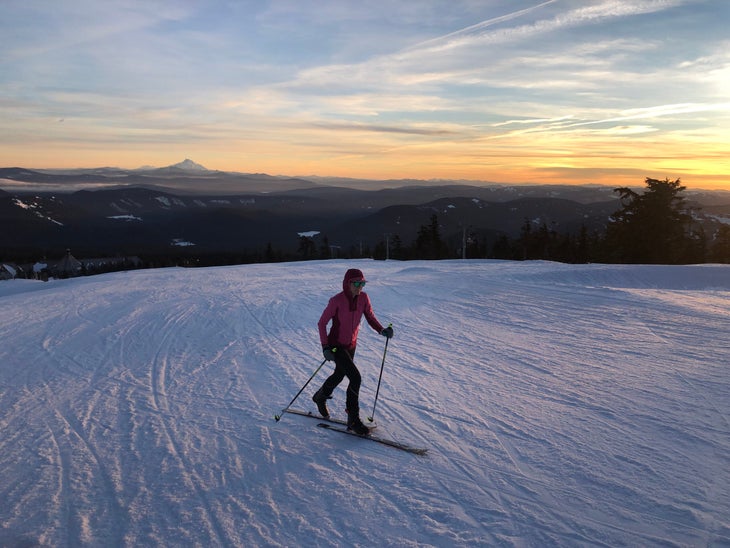 Don't Forget To Fuel
As in any endurance sport, fueling is a critical component of longer ski efforts. 
"It's important to focus on eating while you are moving uphill since you won't have a good chance once you start skiing downhill," says Alex Borsuk Hasenohr, a Portland-based sports nutritionist who skis and runs for Dynafit.
Shoot for snacks that are mostly carbohydrates, aiming for about 200-300 calories an hour. Liquid fuel like a calorie-dense electrolyte drink rather than plain water can help get calories in. Chances are most of your favorite running fuels will translate well to the mountain, but keep in mind that soft snacks or liquids may freeze in your pack or pocket.
"I personally love making a hot electrolyte drink and storing it in a thermos! Be careful of things like hard-to-chew gummies or nut butters – they can freeze and be extremely hard to eat!" says Borsuk Hasenohr. 
RELATED: Skiing The Hardrock 100
Making the Run-Ski Switch
It's important to approach seasonal transitions with intention. Ramping up running too quickly after ski season is a recipe for an overuse injury, and in the same way, jumping into aggressive, steep skis or big uphill days after the first decent snow can put you at risk. 
To prep for ski season, do some focused hill workouts like 5X3 minute hills or 15-20 min uphill tempos to get your legs ready for sustained uphill movement. David has his ski-run athletes incorporate stride workouts, like 8×30 seconds fast with 60-90 seconds of recovery to work on gliding, pulling and uphill technique. Incorporate strength exercises that emphasize eccentric movement, like reverse lunges and step-ups.
And don't neglect your arms! Greydanus recommends incorporating some shoulder, bicep and tricep strength into your routine so that using your poles doesn't blow up your upper body on your first day back in the skin track. 
To get back into running in the spring, Foote recommends adding in some plyometric strength to prep your legs for a little more impact. Maintaining some base mileage through the winter and building up slowly are also important when diving back into the trails. You can also do a mountain-focused strength workout like this one.
Share The Stoke
Starting a new sport is tough. Even though most runners learning to ski will bring a solid foundation of fitness, the technique can be tricky to master. Try signing up for a ski class or clinic, or find a mentor in your area who's willing to show you the ropes. 
You also don't need to have the perfect spandex suit or the newest, lightest gear to get a lot out of skiing as cross-training. Find a routine, or set out on an adventure that's fun for you. While the best way to improve your running is by running more, skiing can offer a physical and mental break from the grind of winter training. 
"Probably the biggest benefit that skiing brings to me is keeping me excited about running every summer. I'm sure some are stoked on running 100% of the time, but by the fall I'm usually feeling a little burnt out on running and all I want to do is get on skis," says Greydanus. Mixing things up in the winter with some ski training can be good for you mentally as well as giving you a fitness boost for when the trails thaw again.