Thanks Trail Runner Trophy Series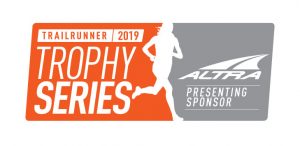 2019 Trail Runner Trophy Series
Thank you for including your race in the 2019 Trophy Series. We are happy to have you as a 2019 partner. We will be sending follow up emails starting in December with additional information, and the first email will have our 2019 Trophy Series logo.
For the Trophy Series to work for the runners, we need races to submit results within two weeks of the race completion. Results include the name, complete address, gender, age, time and email for each runner for each distance. We merge these with all the other other Trophy Series race results to compile points for each runner.
This year, we will run the photo contest again so your runners can post a photo from your race. A weekly winner will be awarded one of many of our sponsors' prizes, and the winning photos will be posted on our website.
Trophy Series sponsors will reach out to you for further engagement with your races, too. We hope you enjoy this partnership benefit.
Happy Trails,
The Trail Runner staff
events@bigstonepub.com
970-704-1442 x 115