Stephanie Howe's Berry Galette
This recipe is referenced in The Backyard Stories, a web series in partnership with Protect Our Winters, about athletes, agriculture, and climate. 
Photo: Iuliia Pilipeichenko | Getty Images
Heading out the door? Read this article on the new Outside+ app available now on iOS devices for members! Download the app.
Read and listen to The Backyard Stories, Dispatch One: Stephanie Howe. 
I love this recipe because it's delicious, fresh, and easy to make. The ingredients are all things I normally have in my house and it's easy to make – we did the entire thing while my son, Julien, napped.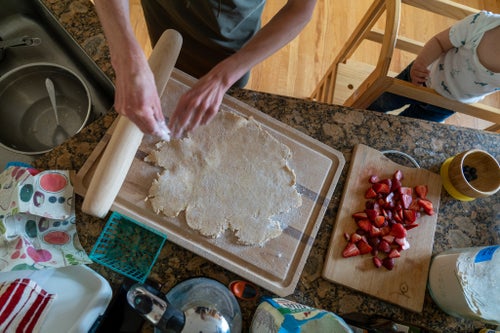 Also, the galette doesn't have to look perfect, which is the beauty of a rustic recipe like this. It's much easier to perfect than pie crust. Lastly, this recipe is just a loose template to follow. You can easily change it up to include any fruit (or vegetable) that you have on hand. Pear, apple, and butternut squash are a great fall edition of this galette.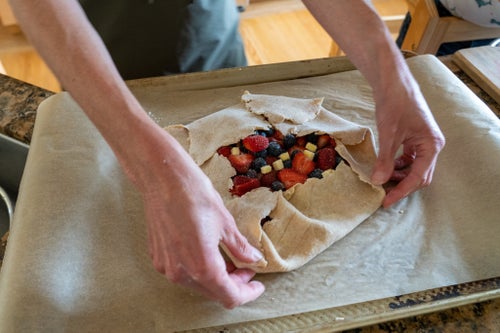 Ingredients
Crust
1c flour
6T butter
3 - 3.5T ice water
1t sugar
pinch salt
2T melted butter (for brushing the crust)
Filling
Berries (or any fruit), ~2 c
2 T butter
2-3 T sugar
Preparation
To make the crust:
Combine flour, sugar, and salt.

Cut butter into flour and combine until pea sized chunks.

Slowly add the ice water 1/2 T at a time.

Add water until the dough just comes together.

Shape into a flat disc, cover with wrap, and refrigerate for at least 30 minutes.
Pre-heat oven to 400 degrees. Roll out dough on a well floured surface. Place on a parchment paper lined baking sheet. Add berries to the center of the dough and dot with butter. Fold crust over the edges to enclose the berries. Brush with melted butter. Sprinkle sugar over the entire galette. Bake for 45 min or until golden brown. Serve with homemade whipped cream. Noms!