Potato Chocolate Chip Cookies
Jonnah Perkins is a Protect Our Winters (POW) Trail Athlete, Wisconsin farmer, and producer of The Backyard Stories, a storytelling collaboration between Trail Runner and POW. Here, she shares a favorite recipe cultivated from her family's land.
Heading out the door? Read this article on the new Outside+ app available now on iOS devices for members! Download the app.
Read and listen to all five dispatches of the The Backyard Stories. The Backyard Stories is a new podcast and written column, in partnership with Protect Our Winters (POW), following athletes and local food advocates who are deeply invested in their home ecosystems – their backyards.
The seasons of my life have been shaped by potatoes for over a decade. My family's farm, Mythic Farm, grows potatoes for other farmers and gardeners to plant as seed. 
Spoiler alert? A seed potato is actually just a potato. And if you have ever kept a potato in your kitchen then you have probably seen firsthand what it looks like when a potato wants to grow – it sends out pale tendrils to seek dirt to make a new potato.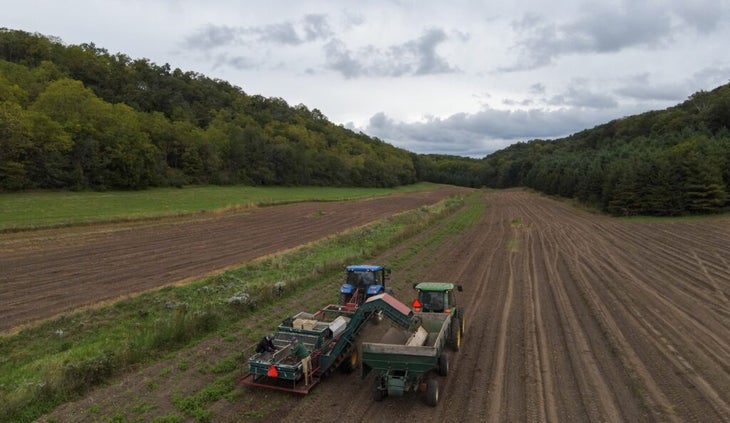 On our farm we plant in May, harvest in September, store the potatoes over winter, then ship them off to other farmers and home gardeners in the spring. All the while, I eat potatoes, nearly every day. I never get tired of creating new ways to feed myself and my family potatoes. A recipe I am most proud of is Potato Chocolate Chip Cookies.
There are so many delicious variations on chocolate chip cookies out there. Some are crispy. Some are chewy. Some are crunchy. Adding potato to this basic cookie gives it a barely-cooked consistency without the dough bomb, punch-in-the-gut feeling of undercooked cookies.
The idea of using potatoes in baking has been with me for a while, since I started baking with squash, sweet potatoes, and tropical fruits like bananas. Starchy, moist, sweetness, volume: these are all things that roots, squashes, and fruit add to leavened cakes, cookies and breads. 
I have come across a few potato cookie recipes that call for dehydrated potatoes or instant mashed potatoes, but this potato chocolate chip cookie recipe uses fresh boiled potatoes brought to a doughy consistency either with a dough hook or dough blade on a mixer, or a food processor. Getting the cooked potato into a sticky, doughy consistency is an important part of what makes these cookies so moist.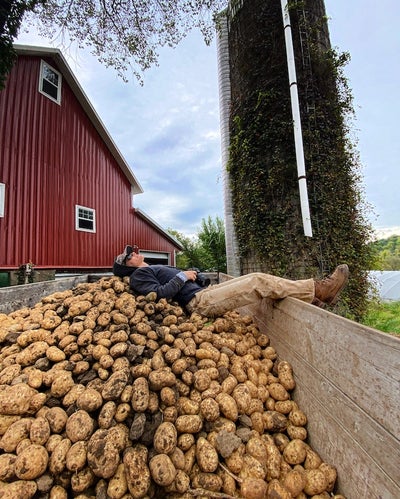 I used a yellow skin yellow flesh variety called ONEIDA GOLD, which has a starchy, waxy consistency, similar to Yukon Gold. You can use any yellow potato variety.
These cookies hold together well, which makes them good for putting in a running pack or pocket of your windbreaker.
Ingredients
2 medium yellow potatoes
1 cup brown sugar
½ cup white sugar
2 eggs
1 stick butter (room temp) or ½ cup sunflower oil
1 tsp vanilla
2 ¼ cup flour
1 tsp baking soda
1 tsp salt
1 cup chocolate chips
Preparation
Peel potatoes and boil until they can be pierced with a fork. Cool for 15 minutes. In a food processor or mixer, use dough hook or dough blade to work potatoes into a sticky ball – about 1 minute.

Preheat oven to 350 degrees. 

In a large mixing bowl, add ball of potato, sugars, eggs, butter/oil, and vanilla. Beat with hand beater or mixer until potato is fully incorporated. Add flour, baking soda, and salt. Mix with beaters until smooth and dry ingredients are incorporated.

Use a wooden spoon to stir in chocolate chips. Place golf ball size balls of dough on baking sheets in rows of 3 across and 4 down – about 2 inches apart. Bake for 8-10 minutes or until BARELY DONE.

Store at room temperature wrapped in a clean cloth or in an airtight container.