10 Things That Went Down at UTMB 2016
Every year, UTMB is a hive of amazing stories. Here are 10 takeaways from this year's edition that made it one of the best.
Heading out the door? Read this article on the new Outside+ app available now on iOS devices for members! Download the app.
With five races, thousands of runners, energetic crowds and some of the toughest competition in the world, the Ultra-Trail du Mont-Blanc always holds excitement.
The event, based out of Chamonix, France, wrapped up yesterday, August 28, with the close of UTMB itself—the flagship 100-miler, which covers around 32,000 feet of elevation gain.
But race week also includes the 55K OCC, the 101K CCC, the 119K TDS and the behemoth PTL, a team-based 290-kilometer challenge that takes high, unmarked, technical routes through the area, with a cutoff of 151 hours 30 minutes—six days, seven-and-a-half hours.
So what all went down? There's no way we could encompass all the drama in one single story, but here are 10 of the most notable happenings.

A trailer for the 2016 UTMB
1.
Heat Struck
UTMB race week included an unwelcome guest that wouldn't leave—the heat. Midday temperatures around the region hovered at about 90, but nowhere was it hotter than on the course of UTMB's 119-kilometer sister race, TDS—and the peak came right as runners tackled a 5,900-foot climb that was almost entirely free of shade.
The carnage would have been enough to make Colonel Kurtz wave the white flag. Runners dropped by the dozen as they fought to leave the steamy valley basin of Bourg-Saint-Maurice. By the end of TDS, a record 41 percent—734 of 1,792 starters—had signed in at one of the "Abandon" desks at aid stations.
UTMB itself wasn't much different. "There was no airflow on the last three climbs," says U.S. runner David Laney, who finished third in 2015 and fourth this year. "It was harder than last year's heat. It was probably the hottest I've ever been."
Laney nonetheless pushed aggressively during the second half of the race—then, still overheated during the obligatory blood-doping test immediately after the race, briefly passed out.
There was a dubious reprieve, however. A massive but fortunately fast-moving thunderstorm rocked mid-pack racers with torrential rain, hail and hair-raising electrical strikes as they closed in on Chamonix during the early evening.
2.
Organizers Learned From 2015
UTMB's massive organization of staff and its 2,000 volunteers was better prepared for the heat than last year. Emergency water stations were set up on each course.
"The organizers were more on top of water this year, and had fountain signs posted," says Robbie Britton of the U.K., who placed 11th in the CCC race. "Huts that don't usually have water for runners had taps and hoses."
3.
U.S. Men Turned Up the Heat Even More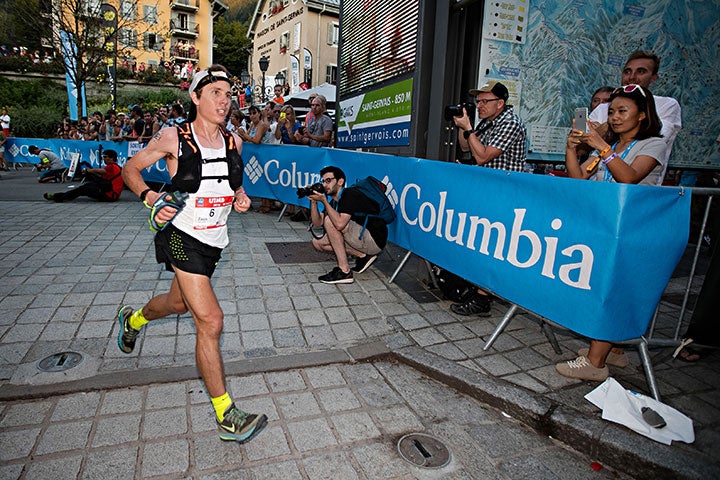 Onlookers loved Miller's aggressive start. He jumped out to an early lead in his first 100-miler, at one point running nearly a half-hour ahead of second place.
As Miller faded later in the race, though, both Tollefson and Laney methodically moved up—in Laney's case, despite minor equipment glitches that cost him several minutes.
On the final climb up Col Montet, Laney pushed so hard he stopped sweating. "I thought I was getting heat stroke," he says. "But at the top of the climb, a little breeze came up, and I hit the final, fun descent to Chamonix."
French UTMB crowds love the Americans—images of two-time winner Rory Bosio still grace shop windows, and Anton Krupicka seems to be a household name in this mountain town. But the course itself is decidedly less friendly toward American men, none of whom have yet claimed the top spot on the podium.
Nonetheless, when the three Americans were over the finish line, James Brown's "Living in America" started playing on the speakers scattered around town. When the day finally comes that an American is the first over the finish line, Chamonix will go absolutely bonkers.
4.
Rory Drops, and a Battle Ensues
After a year off, Bosio—the 2013 and 2014 champ—returned to Chamonix, a town she practically considers a second home. Unfortunately, Bosio dropped roughly a quarter of the way through the race due to a muscle strain.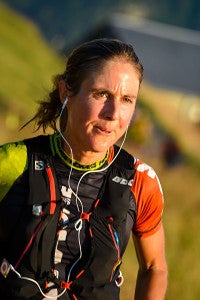 The top American slot went to Magdalena Boulet of Oakland, California, who won the Western States 100 in 2015 and finished second at last year's CCC. She placed fifth.
In the front, meanwhile, a battle raged between French runner Caroline Chaverot and Switzerland's Andrea Huser, who were never far apart over the 25 hours of the race. Chaverot, who had dropped out late in last year's race, once again battled leg cramps—but this time pushed through. In the end, Chaverot held on for the lead by a mere seven minutes.
"This victory is especially sweet, since it was a constant battle with Andrea," Chaverot said during the post-race press conference. "It's not like I had a two-hour lead. I had to really dig deeper than ever before to win."
5.
Somebody's Watching You
Online coverage of UTMB was more extensive than ever. Nineteen web cams dotted the courses, and 50 hours of live video streamed commentary in three different languages. Online, the broadcasts received over three million views, with 100,000 watching the start of UTMB live.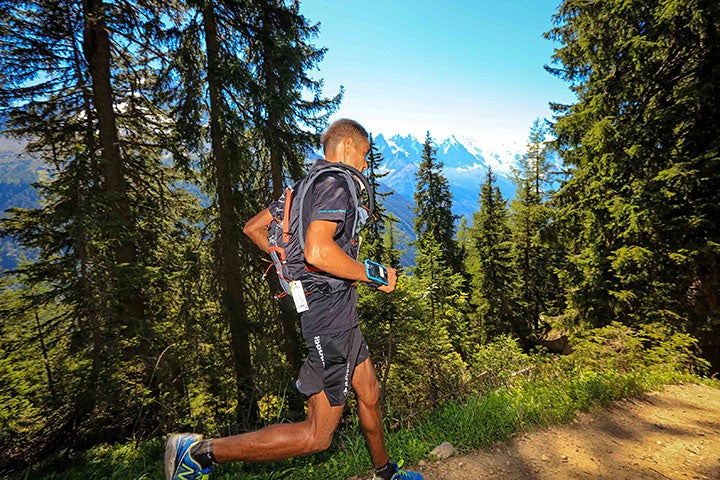 6.
Better Tracking Than Fed-Ex
No race has more sophisticated tracking of its participants than the UTMB series, thanks to developments from UTMB's partner company, Live Trail.
Family and friends can follow runners online as they pass dozens of timing stations, and see video of them coming and going from each aid station. A sophisticated software package uses the course profile to predict arrival times at the next aid station. Next year promises an entirely new algorithm and other improvements.
7.
Everyone's Number #1!
UTMB now features mini versions of each of its bigger siblings, for trail-running tykes aged 3 to 13. With a record 1,000 participants and six courses ranging from 400 meters to three kilometers, manager Alain Bustin had his hands full.
"The enthusiasm can be a bit much to manage," he said last week, laughing at the controlled chaos. "This year we added a holding area to contain the kids before moving to the start."
Race results had no rankings and every bib was #1. UTMB co-race director Catherine Poletti, who makes a point of attending the kids' races, explained the emphasis on the youth events, saying, "The top would not exist without a strong base."
In other words, UTMB is nurturing future generations of trail runners—and having a little fun along the way. "The enthusiasm is infectious," said Bustin. "After all, inside, all of us are children, right?"
8.
The World Intrudes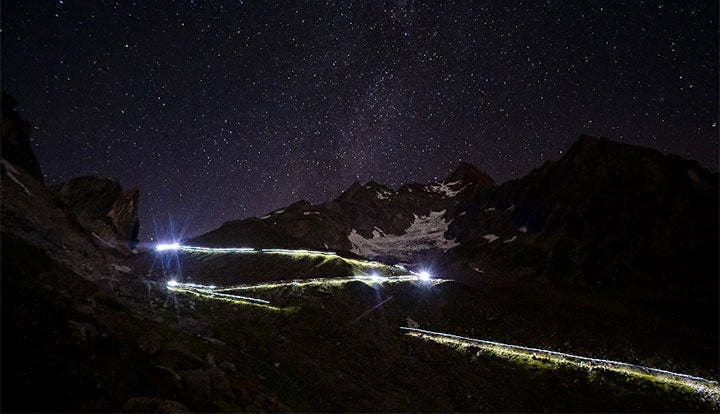 As the race series grows to greater international prominence, world political unrest invariably intrudes.
France remains in a declared state of emergency after a series of terrorist attacks in the past year, including one that killed 86 in Nice just six weeks ago. During race week, heavily armed gendarmes kept an eye on the crowd, their presence jarring but reassuring. This year's UTMB opening ceremonies featured an elaborate modern dance symbolizing the goal of world peace, while remembering those who have been lost to violence during the past 12 months.
"Life has to keep going, and hope must go on as well," Poletti says. "This is the message we need to give to the world."
9.
UTMB Gets More … UTMB-Like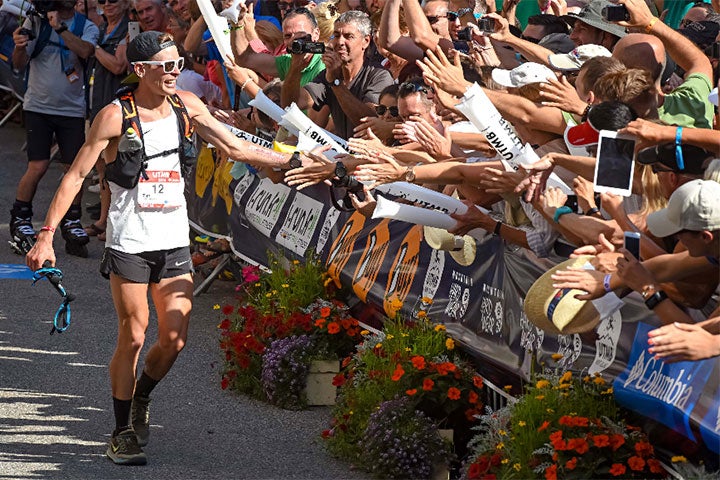 Every year, UTMB seems to get more festive and more competitive.
Says Britton, "Everyone in all the valleys through which a UTMB race passes is getting behind the races more and more. It's the pride of the region." In Orsieres, at the start of the series' shortest race, the 51K OCC, schoolkids had the morning off to cheer for the runners.
Other towns were not to be outdone. "As you left Saint-Gervais [during UTMB], the town had strung Christmas lights everywhere, and there were little kids cheering wildly," says Laney. "It's a very special feeling."
Meanwhile, the depth of the field gets more impressive by the year. "The level of competition and the depth in quality in all the races keeps growing and growing," says Britton. "It's exploded from a few top runners to all of them, turning up for a showdown."
10.
UTMB Still Has Heart—Lots of It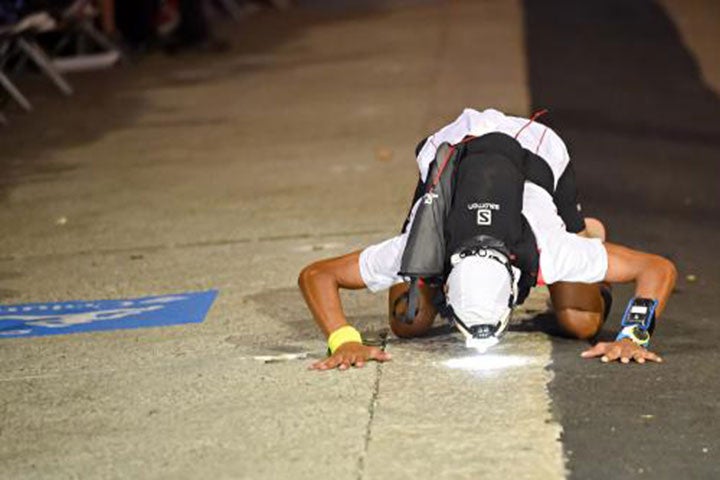 There is no bigger trail-race series in the world. But at its core, there remains the tremendous passion of a smaller event.
Two hours into TDS, some runners might have noticed a familiar face at an aid station. It was co-race director Michel Poletti, quietly supporting the volunteers and asking runners how their races were going. The man who, with his wife Catherine, created UTMB and then built it into one of Europe's legendary sporting events, was still concerned about ordinary recreational runners.
And there's compassion, too. The closing ceremonies—held just feet from the old church where the race used to begin and end—coincide with the last finisher who arrives under the 46 hour 30 minute time limit. That runner, Laurence DuPont, was then escorted by the winners to the stage for the longest and loudest applause of the week.
It's a concept borrowed from the "Lantern Rouge" last-place racer in the Tour de France. The world's best trail runners cheer enthusiastically for an unknown runner. Tears are shed onstage and off. The circle was closed for another year.
Then, before night fell over the Mont Blanc massif above Chamonix, volunteers and village clean-up crews were already hard at work returning Chamonix to its UTMB-free, Alpine self—and, surely, more than one local breathed a sigh of relief.