Joe McConaughy, Annie Hughes win second-ever Cocodona 250
The Seattle-based thru-hiker and the reigning Leadville champion dominated the men's and women's fields at the 250-mile race through Arizona.
Heading out the door? Read this article on the new Outside+ app available now on iOS devices for members! Download the app.
Nearly 230 miles into the 2022 Cocodona 250, Joe McConaughy was sipping pickle juice straight from a 2-liter jar. And he was grinning.
The Seattlite took the lead almost uncomfortably early in the 2022 Cocodona 250 this week, which started on Monday, May 2, breaking away from most of his competitors within the first couple hours of the nearly weeklong event. He finished late in the evening of Wednesday, May 4, in a time of 59 hours and 31 minutes.
A constant livestream of the event, put on by Aravaipa Running, reported that McConaughy had a sleep strategy of taking very short aid station naps, some as brief as eight minutes. By midday Wednesday, he'd accumulated a lead of over 20 miles on second place runner Michael McKnight.
The field behind McConaughy shuffled through the course of the race. First woman Annie Hughes, who ultimately finished third overall, spent much of the first day in second place overall, with McKnight, Jason Koop, Jeff Garmire, Matt Smith, and Kilian Korth all rotating through the top 5. Last year's champion Michael Versteeg dropped around the 60 mile mark, with livestream commentators citing back troubles as the reason for his DNF.
RELATED: Ultras Are Equalizers – Eric Senseman Prepares To Take On Cocodona
Korth challenged for a spot in the top 3 through the second day before dropping around mile 108, a little more than 26 hours into the race. Over the second night of racing from Tuesday into Wednesday, McKnight, who has a legendary record over 200+ mile distances, made a massive push to jump into second place, which he held onto through the second half of the race until the finish in Flagstaff, which he reached in 65 hours and 39 minutes.
Hughes, who was virtually never lower than fourth overall over the 250 miles of the race, rounded out the overall podium and finished less than six hours after McKnight, cranking her finishing pace down below 8-minute miles. When she finished, in a time of 71 hours and 10 minutes, the second place woman was more than 20 miles behind her.
Behind Hughes, Matt Smith rounded out the men's podium in a time of 73:01:19. The rest of the women's podium included Lauren Jones, who finished 10th overall in 78:34:16, and Sarah Ostaszewski, last year's 5th place female finisher, who was 13th overall in 84:21:24.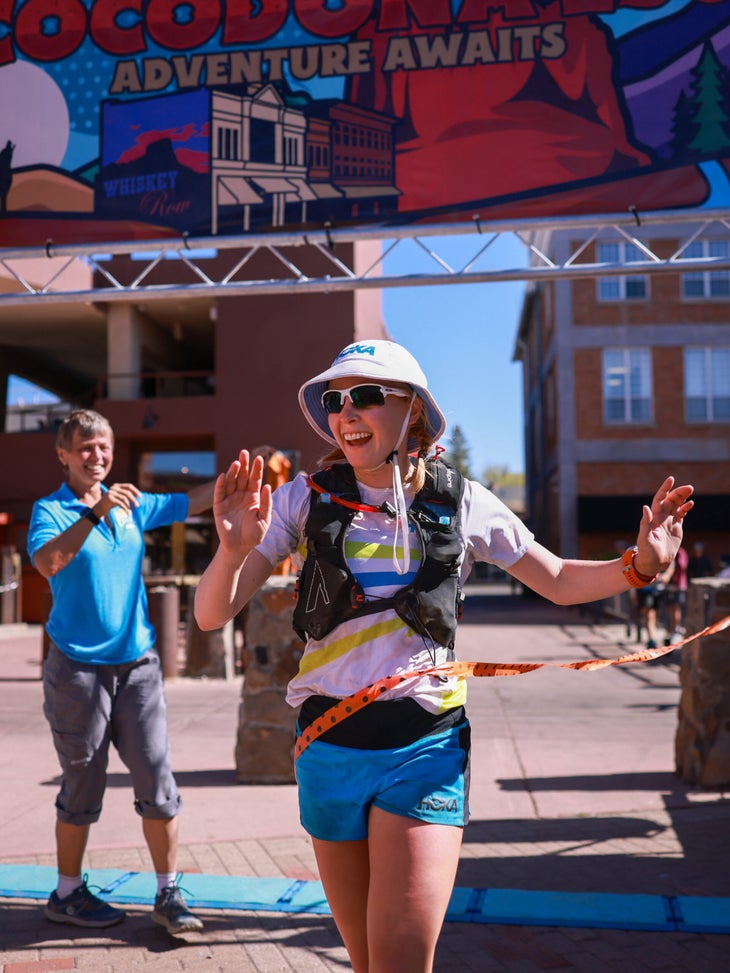 Both McConaughy and Hughes shattered the previous Cocodona course records, with an asterisk due to vast changes to the first 60 miles of the course. The Crooks Fire led to a reroute of almost a quarter of the race, which also significantly lowered the overall vertical change of the course. McConaughy's time was more than 13 hours faster than Versteeg's winning time from 2021 (72:50:25), while Hughes' overall finish bettered Maggie Guterl's 2021 record (85:30:38) by over 14 hours.
RELATED: Watch – Losing Light: Joe McConaughy's Long Trail FKT
This is a developing story, as runners are still finishing the Cocodona 250 through a cutoff on May 7 at noon. We will update it as we get more information.