Jonathan Albon Storms To CCC 100K Men's Title
Led by Dakota Jones' third-place finish, Americans put four runners among the top six overall.
Heading out the door? Read this article on the new Outside+ app available now on iOS devices for members! Download the app.
Jonathan Albon was able to withstand a hot start from China's Jiasheng Shen and Americans Dakota Jones and Seth Ruhling in the CCC 100K race on Friday morning and stay close enough and composed enough to make a definitive late-race surge.
SEE OUR FULL COVERAGE OF UTMB HERE. 
After Ruhling, an American runner, boldly took the lead early in the race not long after the start in  Courmayeur, Italy, Shen and Jones battled it out during the middle of the race over the Grand Col Ferret and through Switzerland. But Albon, a 34-year-old British runner who lives in Norway, continued to move up after Shen left the Trient aid station in the lead. As the race crossed over into France, Albon passed Jones on the descent into Vallorcine near the 80K mark.
After a fast transition through the aid Vallorcine station, Albon was suddenly just 39 seconds behind Shen. Albon continued to close the gap over the next 10K and then powered past Shen on the final climb of the race up to La Flégère. From there, Albon roared downhill over the final 7K back to the village, putting eight minutes on Shen by the time he reached the finish line in Chamonix.
After winning the OCC 50K in 2021 and taking second to Sweden's Petter Engdahl's record-setting performance in the CCC last year, Albon crossed the finish line in Chamonix to earn the 2023 CCC title in 10 hours, 14 minutes, 25 seconds. He also owns two wins at the Spartan Race World Championships (2014, 2018) and a victory at the 2017 SkyRunning World Championship.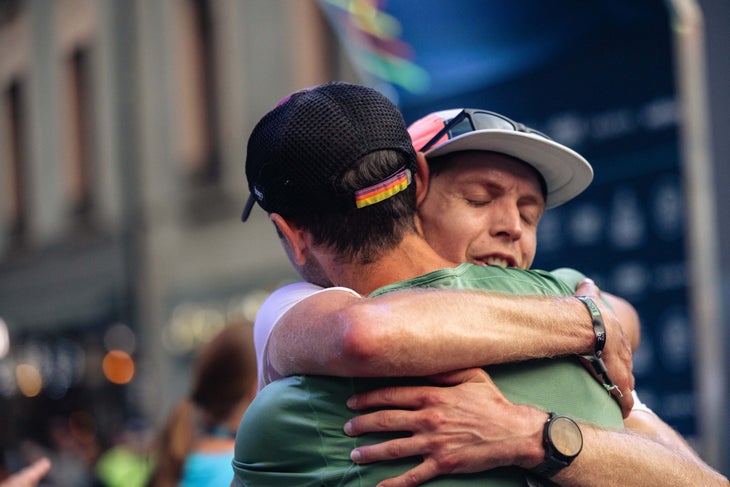 Shen held on for second (10:22:30), but then Jones took third (10:41:40) and led a string of U.S. runners down into the village to put an American flair on the evening.
"I went out hard, but I don't think I went out that hard. I felt good, it was a great day," said Jones, 32, who was racing in a UTMB event for the first time since 2014. "There was a lot more running than I anticipated. I was super fit for the big climbs because I trained on a lot of big mountains, but what makes this course so hard is that you have to run so much but there's also 20,000 feet of vertical. But I held on for third and I'm very proud of that."
Fellow American Jon Rea, running in his first international running competition, ran a stellar race and placed fourth (10:43:51). Not long after that, two of Rea's training partners—Drew Holman (10:47:49) and Seth Ruhling (10:55:14)—stormed into the village, making it one heck of a night for the U.S. men. 
Ruhling, Rea and Holman—who have been training together in Boulder, Colorado, for several years along with Adam Merry and Matt Daniels—all went out hard and paid the price at various points during the Switzerland portion of the race. But they all rebounded well, encouraging each other when they saw each other on the trail.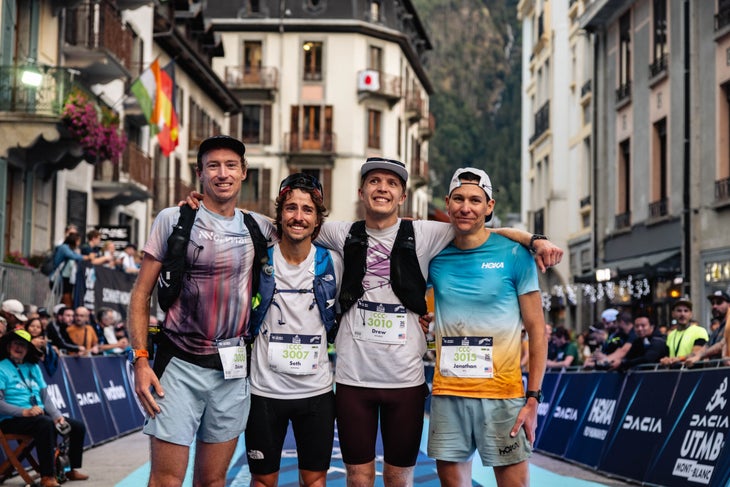 "It was my first international race and I didn't know what to expect," said the 31-year-old Rea. "Usually I am a conservative pacer, but I felt like that is how you have to run this race. So I went up the first climb with the leaders and just stayed there and then ran it one section at a time and see how long I could be able to hold on. I was hurting from mile 10 on, because it was like push, push, push, and do what you can right now. That's a really hard way to run the race. I've definitely never worked that hard in my life."
Two more U.S. men—Eric LiPuma (17th, 11:45:56) and Zach Garner (19th, 11:52:17)—also turned in top 20 efforts.
Ruhling didn't know if he'd be able to race in Europe after being diagnosed with a heart condition known as pericarditis in early June that kept him from running in the World Trail and Mountain Running Championships in early June in Austria. But he was cleared to continue training during the summer and 
"To be able to run and finish in the top 10 was pretty cool," Ruhling said. "It feels great. This is like the Tour de France of trail running, so this is pretty sweet. I can't believe I actually pulled that together."