Jim Walmsley Wins UTMB, Breaks the U.S. Men's Curse
The Arizona runner who lives in France became the first U.S. man to win the epic race, just ahead of Zach Miller
Heading out the door? Read this article on the new Outside+ app available now on iOS devices for members! Download the app.
When Jim Walmsley arrived at the Champex Lac aid station of the Ultra-Trail du Mont-Blanc race early on Saturday morning, he admits didn't feel exceptional.
After battling a bad stomach for a few moments during the night and early morning hours, the 33-year-old Hoka-sponsored runner from Flagstaff, Arizona, was feeling physically and mentally flat as he jogged into the big white aid station tent. He'd felt this way at the 79-mile aid station before, and it typically led to less-than-optimal results in his quest to win UTMB, the de facto world championship of ultra-distance mountain trail running.
However, this time, despite knowing that race leader and fellow hard-charging American runner Zach Miller had already come and gone, Walmsley had a hunch there was still time for the race to play out in his favor over the three big climbs and descents during the final 45K (or 28 miles) on the way to Chamonix.
As he sat down at a picnic table in the aid station, he was greeted by his wife, Jess, who gave him water and had an array of potato chips, rice balls, cashews and avocados. As Jess restocked his pack, he changed into a dry shirt and also changed shoes. He took off the pair of Hoka prototype shoes (based off the Hoka Tecton X 2 model) with a more durable and stable midsole/outsole chassis and laced up another pair of prototypes that were much lighter with a softer dual-density foam package.
"Going into Champex was a low moment, for sure, but we got things taken care of," he said. "I was able to get some chips and salts and ate a few things Jess had set up for me. And at that point, the pack starts getting lighter at the end of the race with nutrition and bottles and stuff. So after eating a bit and switching to shoes with a softer foam kind of gave me a new life."
Make no mistake, those moments in the aid station were the turning points of the race. Unlike last year, when he entered the Champex Lac aid station with the lead but feeling similarly flat, he didn't take in enough calories and he left with a sensation of running scared as Kilian Jornet and Mathieu Blanchard were soon hot on his heels as his stomach, legs and energy got weaker.
But things have changed considerably over the past year for Walmsley. He and his wife moved to France in May 2022, but it took several months to feel comfortable living overseas. After his disappointing fourth-place finish at UTMB last year, he was able to immerse in French life via ski mountaineering during the winter and then long days of running on the steep trails through the massive mountains of the Beaufortain Valley near their home in Arêches.
Combined with a revitalized nutrition strategy—that excluded candy and sugary junk food that he had been so accustomed to—he said he just felt fitter, better prepared and more confident heading to the starting line this year. 
Fast forward to his departure from the Champex aid station, he said he could sense a long-awaited UTMB victory was still within the realm of possibility—but only if he went out and made it happen.
"He got up from the table and the energy totally shifted," Jess said. "And as he was walking out, he looked back at me with a certain look. I know that face, it's his race face. So it's kind of like, 'Game on! Let's go!' And, and then that's what we saw after that."
We did indeed. 
RELATED: Courtney Dauwalter Wins UTMB in Grand Finale of Historic Summer
How the race was won
After taking in proper calories and nutrients and getting himself situated in the aid station, Walmsley headed back out on the course with Frenchman Germain Grangier in tow. The two ran together around the lake and into the forest that led to the 3,600-foot ascent up La Giette, the first of the three final punchy climbs on the course.
Walmsley said he felt strong going up the climb, both because his stomach was feeling better and because he quickly dispatched Grangier and soon had Miller in his sights. Feeling good on the long descent above Trient, Walmsley looked like a new runner or maybe just the best version of his old self. He caught and passed Miller above Trient and then, as the trail got steeper down into the valley where the Trient aid station was located, he gapped his American rival by two minutes.
Walmsley stormed up and over the next 3,200-foot climb into the small ski town of Vallorcine and expanded the margin to 15 minutes. From there, it was just a matter of putting one foot in front of the other—and, OK, not letting off the gas to make sure Miller wouldn't come back on him as he almost did last year—over the final 2,200-foot ascent and the remaining 17K (10.5 miles) to Chamonix.
When Walmsley arrived back in Chamonix to run the final 300 meters through the packed pedestrian village just after 1:30 P.M. local time (7:30 A.M. ET), he was greeted by a hero's welcome from a massive international crowd that seemed to appreciate the struggles and near-misses he's endured during four previous UTMB races since 2017. He had run it four times prior to this year with two good-but-not-great finishes (fifth in 2017, fourth in 2022) and two DNFs (2018, 2021).
Walmsley slowed before the finish line, then threw his arms up in the air and then immediately walked to hug Jess, who was waiting for him. It was less that he became the first American man to win the race, but more that he finally cracked the code (with considerable help from Jess) and finally won the race. His winning time of 19:37:43 was faster than Jornet's 19:49:30 course-record set in 2022, but the course was modified in three places this year.
Jess admitted he got a big boost from the massive crowds of American fans and the international spectators who were showing him such great support. (There were sections of the course with wildly cheering fans that seemed like they were extracted right out of the Tour de France.) Walmsley credited elevation-infused training in the Beaufortain region of France, his revised nutrition strategy, and his improved race-day execution, especially after his body language and demeanor changed for the better after the Champex Lac aid station. 
"It's all just kind of a synergy that just worked out this year and almost a bit of luck, because it seems at times things were going south and I just feel lucky that it turned around," he said. "That felt terrible for quite a while."
RELATED: American men put four runners among the top six overall in the CCC
Zach Miller Takes Charge
The race started out at 6 P.M. local time on Friday evening in Chamonix with the expected contenders—Walmsley, Miller, and British runner Tom Evans, who was just two months from winning the Western States 100— pushing the pace from the front through Les Contamines (31K/19.2 miles), Le Balme (40K/25 miles) and Col de Seigne (61K/38 miles) before Walmsley took a slight advantage and the trio split apart. Walmsley was first to the Courmayeur aid station (81K/50 miles) and took his time with a pitstop that lasted nearly four minutes.
Miller was next and, when he saw Walmsley was leaving ahead of him, ate some energy snacks, refilled his hydration flasks, pounded some water from a jug and headed out on Walmsley's heels after just 50 seconds. Evans, meanwhile, arrived at Courmayeur and promptly dropped from the race. (Evans was later taken to the hospital for precautionary treatment.) Miller admitted he was happy that the trio broke up, if only because he couldn't hike uphill at the same cadence as Walmsley and Evans, who are both much taller than he has and have longer legs.
From there, Miller caught and passed Walmsley running in the dark through in Italy and began to charge off the front. But Miller had been in that situation before at UTMB, only to fade several positions before the finish. In both 2016, 2017 and 2018 he led the race for significant portions in Italy and Switzerland, only to wind up with a sixth, ninth, and DNF to his credit. Last year he ran strong and moved up during the second half of the race to finish fifth. 
But this year he took the lead near the 95K (59-mile) mark along the relatively flat balcony trail after the passing through the Bertone aid station in Italy, ran hard over 8,323-foot Grand Col Ferret—the highest point on the course—and looked energized running into the Champex Lac aid station (127K/79 miles) in Switzerland.
Although he was passed by Walmsley and lost ground on him immediately, Miller didn't fade over the final quarter of the course this year. Instead, he kept charging and finished second in 19:58:58, successfully holding off Grangier, who was third in 20:10:52.
"It feels really good because like when he caught me going into Trient, I was like, 'I've been here before,'" Miller said with a laugh. "In 2016, Ludovic Pommeret caught me going into Trient and blew my doors off, so I was like, "I don't want to do that all over again.' So it feels really good to get caught by Jim, who's one of the best there is, but then give him my best fight—even though it was a pretty measly attempt—and then hang on to second place."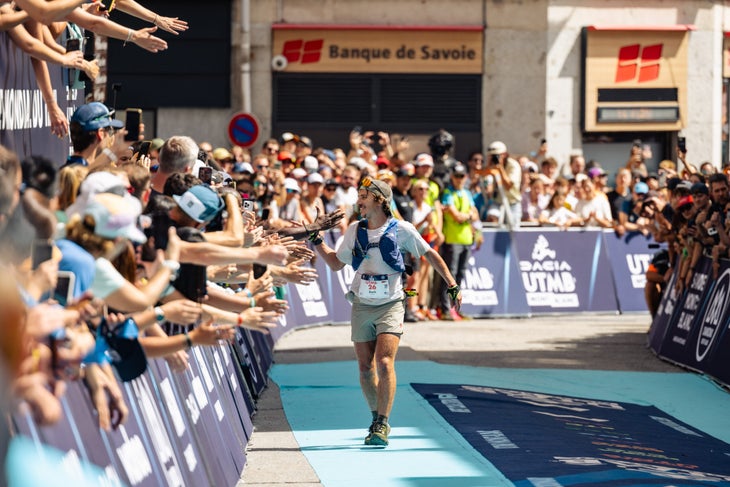 Grangier led three more Frenchman to the finish: Blanchard, last year's runner-up who was sixth at the Western States 100 in late June, finished fourth (20:54;25); 48-year-old Ludovic Pommeret was fifth (21:00:54); and Thibaut Garrivier (21:10:38) was sixth. The other top-finishing Americans in the men's race were Tyler Green (seventh, 21:19:21) and Rod Farvard (seventeenth, 22:32:59).
RELATED: 10 Things You Should Know About Jim Walmsley's Obsession to Win UTMB
Led by Walmsley and Courtney Dauwalter's historic win, it was a huge weekend for U.S. runners. Combined with Katie Schide's runner-up showing in the OCC 50K, third-place finishes in the women's and men's CCC 100K races by Helen Mino Fauker and Dakota Jones, respectively, plus several more top 10 performances, it was by far the best UTMB weekend for American runners ever.
When asked about what it's like to become the first U.S. male runner to win UTMB, Walmsley went out of his way to acknowledge the success of American women at UTMB. During the first 19 years of the race U.S. women claimed eight titles, including two apiece by Krissy Moehl, Rory Bosio, and Courtney Dauwalter and singular wins from Nikki Kimball and Katie Schide, who won last year. He said he was proud to follow their success and stand on their shoulders after all they had accomplished. 
Many of the all-time great American men have run UMTB through the years—Topher Gaylord, Scott Jurek, Anton Krupicka, Geoff Roes, Timmy Olson, Hal Koerner, Tim Twietmeyer, Tim Tollefson, Mike Wolfe, and Mike Foote, among others—but have come up just short or spectacularly short in their quest to win the race.
Walmsley's victory represents a new beginning. He's the first, but he's kicked opened the door for more to follow in his footsteps.
"Hopefully it's the first of many," Walmsley said. "But I'll be back."
RELATED: Defending UTMB Champion Katie Schide Takes Second at OCC