How a Blind Athlete Ran the Grand Canyon Double Traverse
A Q&A with Dan Berlin, the first blind athlete to run the Grand Canyon's legendary Rim-to-Rim-to-Rim Trail.
Heading out the door? Read this article on the new Outside+ app available now on iOS devices for members! Download the app.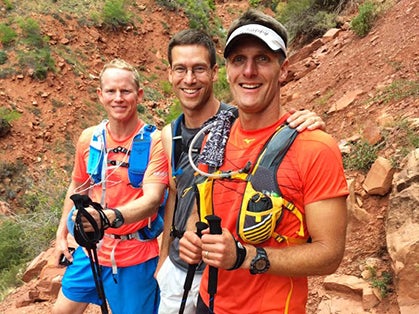 Last month, Dan Berlin, 43, a blind athlete from Fort Collins, Colorado, ran the 46-mile Grand Canyon Rim-to-Rim-to-Rim (R2R2R) route via the Bright Angel and North Kaibab trails. Berlin and his four guides left the South Rim at 5 a.m. on October 7, and finished the out-and-back the next morning after 28 hours of almost non-stop movement. According to Charles Scott, who organized the adventure and served as one of the guides, Berlin is the first blind athlete to have run R2R2R.
Before now, Berlin was at his most fit in his late 20s and early 30s. "My wife and I got really into working out and diet," he says. "I felt healthy and strong—but in a very 'gym' kind of way."
Around the same time, his vision was starting to deteriorate. As a child, he had been diagnosed with cone rod dystrophy, an inherited retinal disorder characterized by loss of central vision, color perception and night vision. After years of denial, Berlin realized that he would in fact lose his sight, and, by age 35, he could no longer read or drive.
"I knew I was going down the path of feeling sorry for myself and not being able to do a lot of things I wanted to do," Berlin says of those years. "It seemed like day by day, I was losing some ability, even going to the grocery store and trying to read what's on the shelf. I was looking for some way to regain control."
Berlin had abandoned his structured exercise regimen years earlier, but now he turned to running. He could make out shapes and contrasts well enough to move safely in familiar areas. He started going out for short runs through his neighborhood, working his way up to a half marathon. He has since completed two marathons and a Half Ironman.
Trail Runner caught up with Berlin and two of his guides, Charles Scott and Allison Qualter Berna, after their R2R2R run to chat about the experience of running blind on the trails, the challenges and rewards of guiding blind athletes and how running has "revolutionized" Berlin's life.
Dan, how did you first start running with Charles?
Dan Berlin: [After signing up for my first half marathon] I contacted the race director to see if I could find a guide who would be willing to run it with me, because I realized I might be a hazard to other people and myself. That was the first time I ever ran with a guide, and it really opened my eyes to, OK, there is something I can do here and there's a lot of people who would be willing to help.
Charles Scott: Dan called me up—this was after he'd gone blind and needed a guide—and asked if I would guide him in the New York City Marathon. I've run many marathons and Ironman triathlons and other things, but when he asked me to do that, my first thought was, "I don't know what I'm doing, and I'll mess up his race." So I hesitated and said, "I'm not sure if I can do it." He said, "Don't worry, I'll show you how."
Every other race had always been about me, and there's something profound that happens when you are now responsible for helping another person accomplish their goals in a race. I felt more stress and pressure than I did when I was just trying to break my own personal record.

Courtesy of Dan Berlin
What did you all expect going into the R2R2R run?
CS: The main concern I had was whether or not we could ensure that Dan could safely make it Rim-to-Rim-to-Rim. There are sections where if you take a wrong step you could die, particularly on the North Rim.
Dan, were you apprehensive on any of those more technical spots?
DB: My biggest concern coming into it was the trail itself. It's little things like the types of rocks that are on the trail that can throw me off considerably, because I'm relying on voice commands from [guides] Allison and Brad and Charles and Pete to get through the trail. It ended up being very difficult but very doable. The team did a great job. I never felt unsafe on the run at any point.
Did you all work out a system of voice commands ahead of time?
CS: [Dan and I] had worked together, as guide and runner, but we basically figured this out as we went along. Going down the South Rim, I started off guiding him with the others around, and what we figured out worked best was saying what was coming up immediately as the guide was hitting it. So, for example, "step over one foot" for a one-foot obstruction. There were a lot of these little logs in the way.
Then, when we were in the danger sections on the North Rim in particular, where a couple feet to one side was a sheer drop-off to certain death, we would have the guide in front giving those commands and then a second guide very close behind Dan so if he happened to step to one side or slip a little bit, the second guide could grab him or nudge him away from the edge.
DB: I ran with two trekking poles, and I would often have a guide in front of me hold onto one pole, so I'd have a rigid tether connection to him, with some direction. Otherwise, I don't push off with the poles. I use them in front of me, almost like a spider would walk, so that I can feel the ground coming up.
Allison Qualter Berna: As a new guide to Dan, I'm the opposite of Charles. I had never been with Dan before, so I was very intimidated going into this.
Dan is an extremely patient person. We all had different terminology: one of the guides would say "six inches up" or "12 inches over" and I would say "small, up," "medium, over," "step over." It only took about two minutes to get into a rhythm, and Dan adjusted quickly.
I also learned that, as a guide, you're extremely aware of your surroundings. I became razor-focused on the terrain, on my ability to remember. When we did the return, the parts that I'd guided Dan on were very memorable to me, whether it was a little puddle or even a pile of mule poop. Versus when I wasn't guiding Dan, I wouldn't even remember, had we crossed this bridge before?
Dan, how did you prepare for the various challenges of the R2R2R?
DB: I live in Fort Collins, Colorado, so I have a lot of nice trails near me and quite a few trail runners to go out and practice with. I tried to spend a lot of time out there, and quite a bit of it was really frustrating because I was running a lot of technical singletrack trails. It took me more time to go down than it did to go up most of them!
Eventually, I found just the right type of trail. There's one in town we call Towers Road, which is a pretty rugged access road. It has about 1,700 feet of climbing over about three miles. I would do that loop a lot to just get used to what's going to be underneath my feet.
I also interviewed half a dozen friends and acquaintances who had done [R2R2R] and had them describe the terrain. It's funny, when a lot of people describe it they describe the altitude, they describe the distance, they describe the dropoff, but I was always interested in, "How big are the rocks in the trail?"
Had you done any trail-racing events before this?
DB: No, this was my step into trail running. I started running about five years ago, and when Charles hatched this plan about a year ago, it was an exciting challenge to take on. Because I've been doing this, my wife has become a pretty avid trail runner, and my daughter, who's 13, has discovered that she likes running on trails. Through taking on this challenge and all the questions I was asking, I've developed a nice support network of trail runners at home.
CS: I live in New York City, and I had trained on trails in Bear Mountain and Rockefeller Preserve, north of the city. I spoke with Dan in detail about what he was comfortable with. For example, I've run the Appalachian Trail through Bear Mountain, and it would be very difficult to guide a blind person on that kind of terrain without snapping an ankle.
I'd run R2R2R before and knew the terrain and felt comfortable that the trails were groomed enough and the types of obstacles we'd face would be appropriate for Dan to run.
What's next for you in terms of running?
DB: [laughing] Dude, it's over. I need a massage!
Believe it or not, we were talking about it before we left the North Rim, two miles down. We started thinking, "So what's next?"
CS: One of the things we talked about is how much fun it would be to make this a regular thing, one adventure per year. I don't know what the next one will be, but this was so great to do together. It was so hard, but it's something you can accomplish as a group.
AQB: We're raising money for Foundation Fighting Blindness and Blind Institute of Technology. These two organizations are very different; one works on research and scientific research toward a cure, and the other is working to help employ blind people in the workplace.
We had a thought on the trail yesterday that if we did one adventure a year with Dan, we could keep this momentum going, both to inspire young blind athletes—I think it's really important for a blind young person to see some of the things that Dan does—and to keep raising money using the same sort of team.
DB: One of the things that I've learned from Charles and continued to develop is just about going beyond our own perceived limitations. I don't look at being blind so much as being a disability, more like an inconvenience.