How "Beast Coaster" Sarah Hansel set a new Nolan's 14 FKT
Heading out the door? Read this article on the new Outside+ app available now on iOS devices for members! Download the app.
Sarah Hansel is back in her small South Carolina town without many hills, but, last week, she ruled the mountains in Colorado.
The 38-year-old ultrarunner and professional horse trainer spent two weeks camping in a rented Jeep in and around Buena Vista, Colorado, training for a Fastest Known Time goal that eluded her on two other occasions.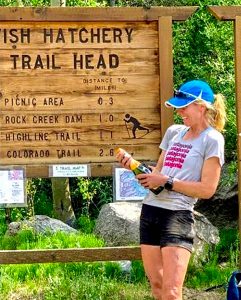 On the afternoon of July 8, she ran into the Mount Massive trailhead at the Leadville National Fish Hatchery and set a new women's unsupported northbound Nolan's 14 mark of 57 hours 43 minutes 34 seconds. She was weary and fatigued, with plenty of cuts, scrapes and bruises to attest to her efforts, but her smile reflected the joy of the arduous mission she accomplished as she was greeted by Meghan Hicks, who previously held the women's FKT, and several other trail runners.
"They surprised me. Everybody was awesome!" says Hansel. "Meghan has been so supportive and sweet and I hope she steals it right back. My FKT might be short-lived, but I'll take it. Way to go Beast Coast!'"
Nolan's 14 is one of the hardest combined trail-running and mountaineering marks in the world, especially when it is done solo and unsupported. The exact route is open, but distance is roughly 80-plus miles and elevation gain is about 40,000 feet at a minimum. Hansel's Strava account reported 45,135 of elevation gain during her journey.
The exact route is open, but distance is roughly 80-plus miles and elevation gain is about 40,000 feet at a minimum. Hansel's Strava account reported 45,135 of elevation gain during her journey.
Hansel lowered the FKT mark previously held by Meghan Hicks, who covered the route in 59 hours and 36 minutes in 2016. That's a strong effort for anyone, but especially for someone who lives in Aiken, South Carolina, at an elevation of about 515 feet above sea level.
"We don't have any mountains in Aiken and our biggest hill rises about 70 feet," says Hansel. "So I typically drive about four hours to Mount Mitchell in North Carolina almost every weekend. There's a section with about a 3,000-foot climb in 2.5 miles and I do repeats on that."
She also trained with a friend's altitude generator that required her to run with a mask on a treadmill, but that had limitations. There was no room in her house for the treadmill, so she had to put it into a horse trailer. Plus, it maxed out at a simulated 11,000 feet, so it wasn't really doing the trick.
"It was miserable," says Hansel. "Essentially, I was in a metal box in 95-degree heat everyday trying to run. I wish I had done it more, but it wasn't fun."
This is the fourth consecutive summer Hansel has visited Colorado's high country for training. In 2017, she was primarily training for the 104-mile Ultra-Trail du Mont-Blanc race in Chamonix, France. But the previous two years she's made attempts at Nolan's 14.
Two years ago, she got sick the first night and camped at treeline below 14,196-foot Mount Yale and was ready to quit after sleeping all night. "But when I woke up, I thought 'I can't come from South Carolina and do four mountains,'" she says. "So I went until I timed out and made it to Huron Peak and was done at Winfield. And I felt really good that second day."
That gave her impetus to try again. Last year, she was moving well through the peaks until she go to the back side of Huron, only to find excessive snow and ice in the couloir she had hoped to ascend. She found an alternate route, but had forgotten to bring the .gpx file and couldn't make it to the top.
"That was a fail," she says. "It was a little frustrating. But every year I have come out, it's gotten a little bit easier to adapt and run in the mountains. So I wanted to come back out and give it another try."
Hansel has trained race horses and jumping horses from her small farm in South Carolina, but she admits she doesn't have time to run in the winter when she's so engaged with work. She has been seriously trail running for less than 10 years. She got into running in her 20s and ran a few half-marathons, but then she saw a video of Kilian Jornet running the UTMB and it changed her life.
"I didn't even know what that was, but I saw that and thought, 'I have to go run that,'" she says. "And I got the points and went to UTMB a couple of years later. The advertising definitely works!"
She said her biggest challenge was overcoming extreme fatigue and exhaustion—as well as hallucinations.
The week before she started the Nolan's 14 attempt, she had spent four days fastpacking part of the route and bumped into Joey Campanelli between Mount Harvard (14,420 feet) and Mount Columbia (14,073 feet). He was also out scouting the route in the days before he eventually shattered the overall unsupported northbound mark.
"That's a great way to see the course," she says. "I would highly recommend that to anyone who wants to learn the route. It was really fun and you can take your time. And if there is bad weather, you can just stop wherever you stop. It definitely helped me a lot to know the lines I was going to take out there."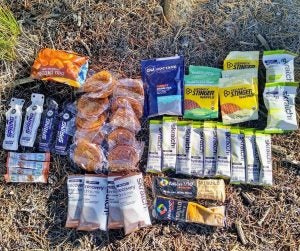 Hansel started at 6 a.m. on July 6 and enjoyed near-perfect weather, even though temperatures dipped into the 30s at night and the high 70s during the day. She consumed mostly liquid calories, but also ate BBQ Pringles, stroopwaffles and oatmeal cream pies. She drank a lot of water and plenty of Starbucks instant coffees too. She said she carried about 8,000 calories with her and consumed about 4,500 over the course of three days.
https://www.instagram.com/p/CCR66Njni3X/
She said her biggest challenge was overcoming extreme fatigue and exhaustion—as well as hallucinations.
"Everything was great until the second night when I was going up Huron," she says. "When I was approaching the peak, I thought I saw five or six tents and I assumed they were geologists studying the rocks. I was walking up the valley for an hour and looking forward to talking to them, but when I got there, there was no one there. I was definitely out of it."
On the last day, she summited 14,433-foot Mount Elbert, the state's highest peak, and then went up 14,421-foot Mount Massive, the No. 2 peak in Colorado and the last peak of the Nolan's 14 route. But when she was coming down, she didn't recognize the line she had scouted and got disoriented and couldn't figure out how to orient herself with the Gaia GPS app.
She ambled her way down and eventually found the path back to the Fish Hatchery trailhead, though not without stumbling and falling a few times.
Hansel finished at 3:43 p.m. on her third day and was greeted by a group of fellow trail runners who greeted her with hugs and high-fives. Included in that group was Hicks, as well as Ilana Jessie, who has been scouting the route for her own attempt sometime soon. With few races available to run, more trail runners than ever from across the U.S. are tackling Colorado 14ers this summer.
Even if Hansel's FKT is quickly usurped, she definitely made her mark.
"I couldn't be happier to 'pass the FKT torch' to Sarah," Hicks said in a social media post. "The Nolan's 14 route is something best experienced through a relationship of learning the line, being on the mountains in all their seasons and weather, and seeing what kind of person you become when you are on it. She's an amazing ambassador for such a special place on Earth. Yessssss, woman, I am so happy for you!"