Courtney Dauwalter Sets Collegiate Peaks Loop FKT
With the help of a supporting community, Courtney Dauwalter continues to push the envelope while playing in the mountains.
Heading out the door? Read this article on the new Outside+ app available now on iOS devices for members! Download the app.
Courtney Dauwalter loves her backyard. 
Dauwalter lives at 10,000 feet in Leadville, Colorado, just off the 486-mile Colorado Traill (CT) that runs from Denver to Durango. The CT forks through the Collegiate Peaks, an area of Colorado's Sawatch Range that contains several of the state's highest 14ers. 
It's one of the reasons the 37-year-old Salomon-sponsored athlete decided to move to Leadville full-time in 2020 after she stepped away from her career as a school teacher.
"It's basically my backyard," says Dauwalter. "I get to play on some of those sections occasionally, and it's just aesthetically pleasing to make a big circle around a huge mountain range."
The Collegiate Peaks Loop is a rigorous 160-mile odyssey through the Collegiate Peaks Wilderness with almost 40,000 feet of elevation gain, never dipping below 8,000 feet and cresting above 12,600 feet. The Collegiate East branch of the trail is part of the CT, and Collegiate West is part of the Continental Divide Trail (CDT). Linking the two creates an aesthetic line through some of Colorado's most scenic backcountry with plenty of environmental challenges that add to this feat of endurance.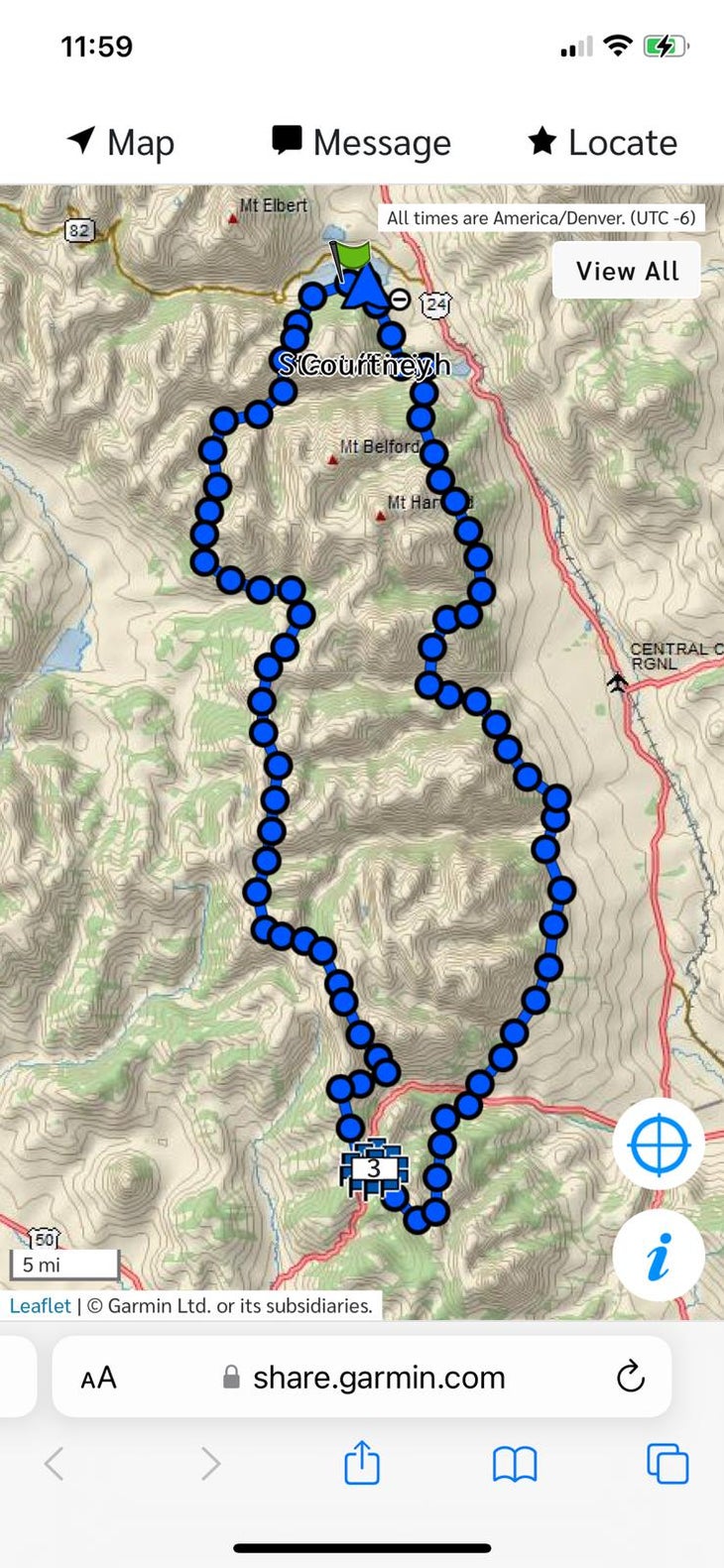 The seed of the idea to tackle this loop was planted after Dauwalter's incomplete Fastest Known Time (FKT) attempt on the CT in 2020, and reinforced when she paced a friend a few years back. While bronchitis forced Dauwalter off the trail early, she was intrigued by the challenge of traversing large sections of her home state's prize trails. 
"Experiencing a little bit of this on the Colorado Trail made me want to put this loop together," she says. "After Hardrock, my body and brain were feeling really pumped for it, so we decided to give it a shot."
In July, Dauwalter won the Hardrock 100, breaking the course record and finishing in the top 10 overall. After winning the Ultra-Trail du Mont-Blanc for the second time in 2021, she opted to take more time off this year and not return to race in Chamonix. She says she was patient with her recovery this summer and wasn't going to force any big adventures unless she was really feeling it. The proximity of the Collegiate Peaks Loop to her home in Leadville made it logistically easy to plan and train for in a shorter time frame.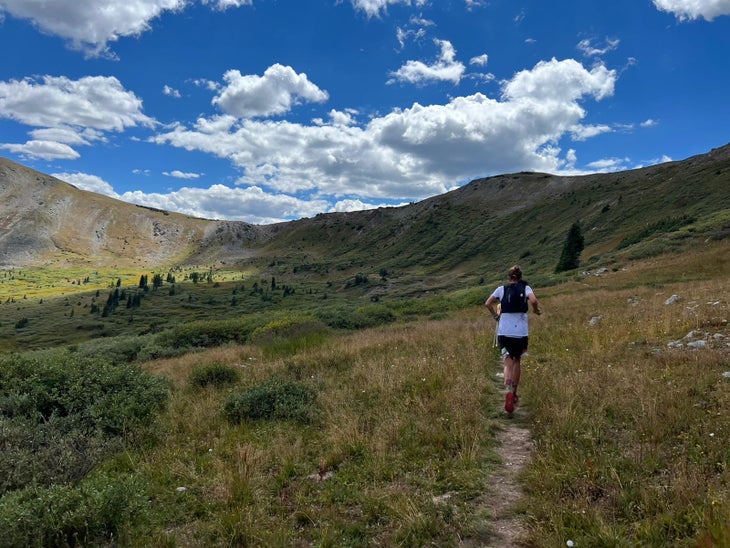 The Journey
Departing from Twin Lakes, Dauwalter ran solo for the first day, hoping to get in a groove and "tell my body what it was doing for the day." Then, around mile 50 she picked up two pacers, Paul Terranova (who Dauwalter paced on the loop a few years back) and Nick Pedatella, the previous overall FKT holder on the loop. 
"We had a blast," says Dauwalter. "It's super high altitude through the Collegiate West side, and I ran into some stomach issues. Anytime I was pushing the pace uphill, I was throwing up. So that first night was all about managing effort and trying to keep in some liquids or any calories so that we could problem solve."
Dauwalter loved the west side of the loop. 
RELATED: Inside The Adaptable Mind Of Courtney Dauwalter
"You get these huge views in every direction," says Dauwalter. "The fall colors were starting to show up, combined with the wildflowers that were hanging on from the summer. I also had some amazing sunsets and sunrises. I barely saw anyone out there, so it feels like, how lucky are we that we get to be out playing on this particular section? I think a lot of times throughout the course of the hours that I just was feeling really lucky, like, this is so cool. I get to do this, so cool that I'm getting to see these views and experience this trail like I am."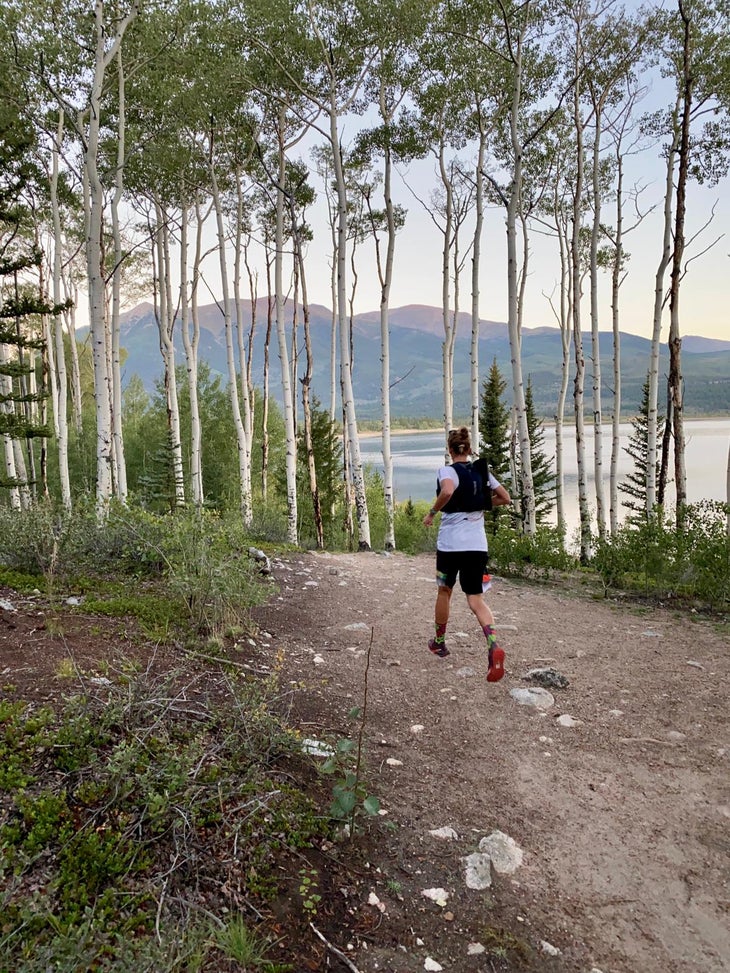 By the morning of the second day, Dauwalter and her pacers turned onto the lower altitude portions of the loop, she was able to keep more food down and things started to look up.
"Then, it got really hot," laughs Dauwalter. "I mean, I guess it was only like, 70 degrees, but at that altitude, it feels like one million degrees." 
Closing the Loop
Dauwalter hit a low patch from miles 110-130 near the Mt. Princeton hot springs. Around mile 132, she decided to take a five-minute car nap to reboot for the last 50k of the loop. Revitalized after some quick shuteye, Dauwalter was able to finish strong and complete the loop in 40 hours, 14 minutes and 20 seconds, taking almost a full day off the previous women's record (held by Dauwalter's friend and fellow Leadvillain, Annie Hughes—who also paced Dauwalter on the loop—and beating the previous overall FKT held by Nick Pedatella. 
Believe it or not, it's Dauwalter's first FKT. Part of what made this loop so special for Dauwalter is the community that helped her complete it. As ambitious and competitive as she is known to be, she also believes it's the people that make ultra-distance running so special, and that includes her husband and crew chief Kevin Schmidt.
"That's what this sport is really about," Dauwalter says. "Nick, who holds the record for the loop, was crewing and pacing me the whole time. And then Annie Hughes, who had the women's record, came out on the trail on the second day, and then hiked out to see me finish. I think that's so special, and such a cool aspect of this sport. People are supporting each other, whatever that looks like. Even if it's a record or whatever, they don't care. It's just cool that we can elevate each other. Everyone is just supporting each other to do their best."