Trail Running's Microplastics Problem
A new study shows our sport's impact isn't as light as we might think. From footwear to apparel and race-day waste, here's how trail running contributes to our planet's microplastics problem.
Heading out the door? Read this article on the new Outside+ app available now on iOS devices for members! Download the app.
As trail running gains popularity, with it are plastic materials ubiquitous in trail running apparel, footwear, and equipment as these materials offer desirable features such as lightweight, breathability, water-resistance, and high traction. These synthetic materials are typically artificially manufactured plastics. However, abrasion to polymer-based clothing and footwear during trail running can release microplastics in protected areas. 
A recent article published in the Journal of Environmental Management explored the impact of clothing and footwear release of microplastics in trail running. The study was the first to uncover previously unknown results regarding trail running apparel and footwear microplastics. 
"It's incredibly difficult to detect microplastics in soil, so most of the research has been done on aquatic systems where they're easier to extract and analyze using spectroscopy," said the study's lead author Nicola Forster, Ph.D. candidate at the University of New England in Australia."Even with that, there's been limited research done in conservation areas and national parks."
Out of Sight, Out of Mind. Right?
Well, no. Microplastics are harmful in several ways. Left unchecked, they can impact human health. Inside the body, microplastics can collect in organs (i.e., lungs, liver, and kidneys) and tissues, potentially causing inflammation, organ damage, and other health issues. Moreover, some microplastic chemicals, such as bisphenol A (BPA) and phthalates, are associated with hormonal imbalances, reproductive problems, and even cancer. 
RELATED: Your Guide To The Best Sustainability-Minded Trail Gear
Microplastics have some particularly adverse effects on trail systems and the surrounding environments.
"Microplastics contain a huge number of additives and different chemicals. Some of these chemicals can have toxic effects on vegetation and organisms," said Forster. "When small terrestrial organisms eat microplastics, they can also experience digestive distress as microplastics can abrade their gastrointestinal tract. In soil, microplastics and particularly microfibers can also disrupt the soil structure and impact hydrology, microbiology system, and soil enzymes once there are sufficient quantities."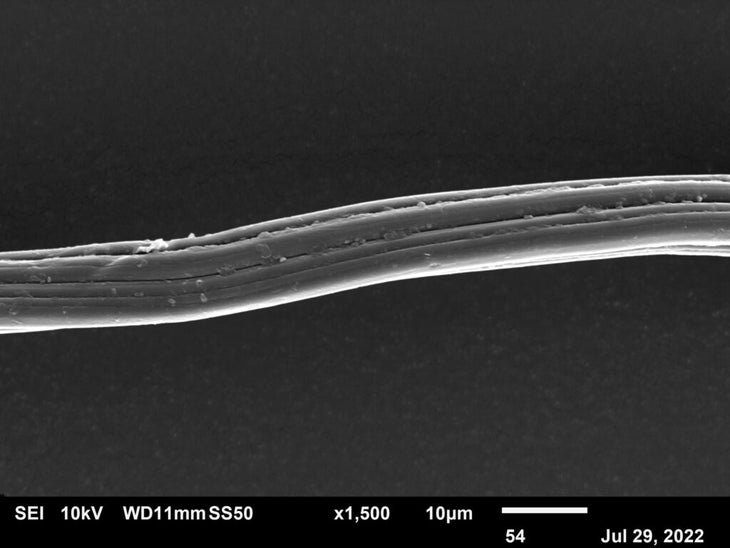 Microplastics may also disrupt food chains as they are consumed, then passed up the food chain to larger and larger animals. Moreover, they act as a sponge to leech toxins from environments where they have been found in drinking water, rivers, lakes, and oceans. This series potentially leads to exposure to chemicals and risks to human health.
To correctly manage the problem of microplastic pollution in protected areas caused by trail runners, land managers must foremost understand the likely quantities and features of these tiny particles, as well as the key factors that contribute to their release and proliferation. Only at that time can appropriate actions be taken to mitigate the harmful impact of microplastics on these ecosystems.
The Study
The research occurred at the Dumaresq Dam Reserve and Gibraltar Range National Park in New South Wales, Australia. The Dumaresq Dam Reserve is known for outdoor activities. The Gibraltar Range National Park is a World Heritage-listed area recognized for biodiversity and scarce plant and animal species.
Microplastic deposition during trail running was assessed using a controlled study with several standardized variables, and two trail running events. 
In the controlled study, microplastic deposition was examined for trail running shoes with different types of rubber and the relative amounts of microfibers shed by a shirt and running tights. Running shoes with colored outsoles were selected to facilitate the identification of rubber abrasion under a microscope, and the shirt and running tights were different colors. The study involved a single runner completing 300 run repeats on a section of a trail in three different trail running shoes, and samples were collected immediately following each run. 
Different clothing materials may be disproportionately responsible for microplastics on trails, with running tights accounting for most fibers deposited on the trail surface. The variation in microplastic deposition between the three shoe types was very high, with the soft rubber shoes shedding 77–343% more particles than the other shoes. The hard rubber shoes deposited the fewest microplastics on the trail surfaces.
Microplastic deposition during two trail running events was studied to determine the number of microplastics left on different trail surfaces during running events. The Duval Dam Buster 2021 event had 346 participants, and the Washpool World Heritage Trail Race 2022 had 122 participants. Participants in both events wore synthetic clothing and a variety of footwear.
Before each event, trail surfaces were swept to remove existing microplastics, and then samples were collected from rock and soil surfaces. A total of 900 cm2 was sampled per trail surface type for each event.
RELATED: 10 Ways To Reduce Your Single-Use Plastic Consumption
Fibers were more abundant than rubber fragments on the trail surface following running events, indicating that clothing abrasion may be the leading source of microplastics from trail running. Trail topography and surface type were vital contributors to trail microplastic deposition. Sloped surfaces had higher fiber deposition, with the highest number detected on the sloped rock. 
Microplastics deposited during the trail running events exhibited various physical and chemical characteristics. The most abundant polymer types were polyurethane, polyethylene terephthalate, polyamide, and polypropylene. Rubber fragments comprised micro-agglomerates likely to fragment into smaller microplastics and nanoplastics. Moreover, synthetic fibers detected during the study and events exhibited degradation, with fibers ranging from smooth and unmarked to extensively pitted, cracked, and scalloped. The presence of microplastics in these areas has the potential for a range of adverse effects on soils and the broader ecosystem.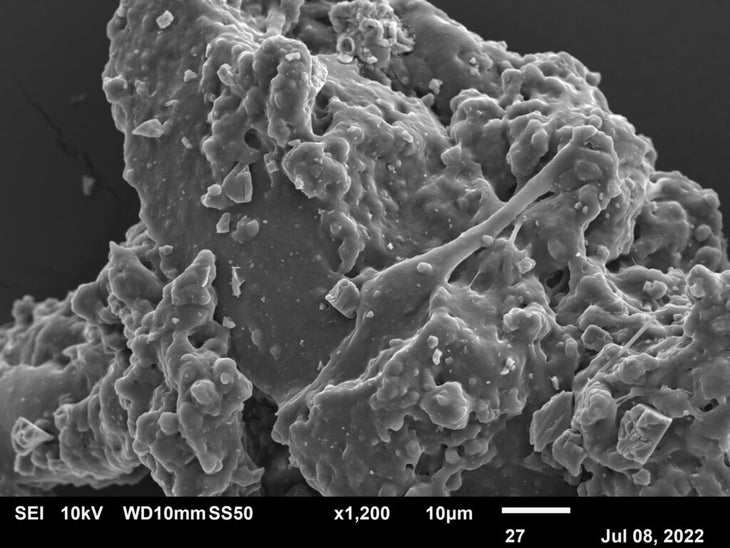 What's the Solution?
The study highlights the need for a multi-disciplinary approach to mitigate microplastic pollution and impacts, including runners, outdoor apparel manufacturers, event coordinators, and land managers. 
"I understand trail runners often need to wear shoes with soft rubber for better grip," said Forster. "But at the same time, soft rubber produces many more microplastics. If they're not running on a technical trail, it may be better to wear harder rubbers that are more abrasion resistant." 
The solution is a tricky balance for runners because manufacturers lack transparency regarding microplastic production. The onus is likely on the outdoor manufacturers to develop low-abrasion and low-toxicity textiles and shoe outsoles.  
"One of the things that I would like to come out of this research is to encourage clothing manufacturers to be a lot more cognizant of that when designing their clothing," said Forster. "And really target quality over quantity. Because people just aren't aware at the moment, making it hard to make an informed decision when you go to the shops."