How To Build A Sustainable Race
Experts weigh in on how we can reduce the environmental impact of trail races. 
---
Join Trail Runner Magazine
Create a personalized feed and bookmark your favorites.
Join Trail Runner Magazine
Create a personalized feed and bookmark your favorites.
Join for free
Heading out the door? Read this article on the new Outside+ app available now on iOS devices for members! Download the app.
This feature appears in our latest print edition of Trail Runner. We hope you'll join the TR family by joining here.

For Shelley Villalobos, sustainability started with softball. 
During her senior year playing for the University of Oregon, she inquired about the lack of recycling bins in the locker room. This question would lead her to the university's athletic department, to graduate school and eventually to sustainability projects far beyond the UO campus. Today, Villalobos asks much broader questions. 
She serves as the Executive Director at the Council for Responsible Sport, an organization helping event directors measure and manage their social and environmental impacts. Since 2007, the Council has certified over 170 events as environmentally and socially responsible—from the Chicago Marathon to the NCAA Final Four Basketball Championships. The Council's track record in large-scale event sustainability leads us to wonder: how might their guidelines translate to trail running? How do you create a vision for a comprehensively sustainable trail event? Villalobos thinks that question may be inherently flawed. 
"I hesitate to say there is one vision of what a comprehensively sustainable trail race looks like," explains Villalobos. "By necessity, it's always going to look different. Sustainability is determined by the culture of each city and place, the physical terrain, the features, and the people—current and past. The land determines the way that we could and should use it." In other words, there is no sustainability without specificity, and each environmentally-thoughtful event must be unique in its approach.
Before diving too deep into the specific, we must define the general term: sustainability. It's a buzzword, one that has been so drowned in the spray of marketing ploys that its meaning is  often lost. The United Nation defines sustainability as the "meeting the needs of the present without compromising the ability of future generations to meet their own needs." Truly sustainable events require getting specific about these "needs" and how they vary from place to place.
On trails, we welcome the sudden creek-crossings, the uphills, the downhills, and the rocks that cover our paths. Will we welcome this variation when it moves beyond the realm of fun? When it means survival, humanity– the ability of future generations to meet their own needs? 
Going Green
Luckily, through their Responsible Events Certification process, the Council for Responsible Sport helps event organizers choose their own adventures. To become certified, an event must comply with 27 out of 61 best practices spanning five categories: planning and communications, procurement, resource management, access and equity, and community legacy. In other words, the certification process is a menu, not a rulebook. It leaves room for the nuance inherent to sustainability and the variability inherent in trail running
5 Pillars of Event Sustainability
1. Planning and Communications
Planning a sustainable trail event requires that we ask honest questions: Is it taking place on a sensitive piece of land? Is a native wildflower on the race course nearing extinction? Is the trail single track? Will it be accessible to athletes with disabilities? Are you partnering with a hotel and, if so, what are its environmental practices? 
When taken together, these questions might appear overwhelming. So, Villalobos simplifies them: do you have a formal plan to reduce environmental footprint and increase social impact, and are you publicizing this plan?
"If you're a trail runner who wants to protect the environment, you need to get away from perfection," urges Dakota Jones, professional mountain runner, environmental advocate and founder of Footprints Running Camp. The camp's goal is to produce leaders in environmental justice. For each week-long session, ten selected applicants learn from experts on land maintenance and environmental science and apply these lessons to sustainability projects across the U.S. 
The summer 2022 camp will take place in Silverton, Colorado, where Jones hopes the snow-topped San Juan Mountains will inspire a type of creative thinking crucial to sustainability. 
"We've all witnessed how bringing people together in a beautiful place is empowering," he explains. 
But, Jones acknowledges, it's not all breathtaking mountain views and positive change. The planning for Footprints prompts complex questions, and none have easy answers. How do you decrease the carbon emissions of campers' travel to camp? How do you source food that contributes to the area's economic and environmental health?
Still, Jones considers the environmental costs of the camp to be valuable trade-offs for the type of stimulation that occurs there. He also works with brands to offset carbon emissions (more on this later). Ultimately, it's a tradeoff that feels especially justified when he sees tangible progress toward the camp's goal, such as an attendee's sustainability proposal for a major university or a community project come to life. 
When planning is done with care and transparency, the results will never be flawless—but what worthy undertaking ever is?
2. Procurement
If the planning phase requires event organizers to ask questions about social and environmental responsibility, then the procurement phase requires them to answer these questions through action. According to Villalobos, all race directors must ask: If I buy a product and do not know the working conditions of the people who made this product, am I responsible for the potential effects? 
"Some organizers might draw the line and say, '[factory conditions] are beyond my control.' But some might say, 'I'm going to do some research and ensure that the companies I buy from are abiding by good practices,'" Villalobos explains. Ideally, an organizer will do their research and decide to not buy products that spark human rights concerns. 
Kathleen Baker, director of the Mount Laguna Trail Marathon and board member at Runners for Public Lands, considers product sourcing to be crucial. In 2012, Mount Laguna's first year, there were no finisher medals or digitized results; the marathon felt more like a potluck than a formal race. Nonetheless, on race day, a community member surprised Baker with handmade ceramic medals to distribute to each finisher. Since that first year, Mount Laguna has grown to a field size of 134 participants. Today, Baker partners with companies that boast strong track records in environmentalism and inclusion, such as Patagonia, Injinji, and Rabbit. And she still upholds that finisher medal tradition — distributing awards handmade by local artists. In 2021, Baker eschewed medals entirely, partnering with a local, woman-owned soap business to distribute responsibly sourced soap to all finishers. 
"I'd like to think that if enough race directors prioritize environmental stewardship, we might change what runners expect to receive at races," Baker says. "We can change the culture to a focus on community, the land, and enjoying a special day, rather than what's in the goodie bag."  
In other words, a procurement decision as small as the finisher award can have wide-ranging implications—it can support a local business, nurture fair and environmentally-responsible practices, and foster community rapport. A win-win-win for sustainability. 
RELATED: What Running Can Teach Us About Sustainability
3. Resource Management 
Using statistics for 29 events, The Council for Responsible Sport found that 98.5% of mass participation events' carbon footprints come from event-related travel. While there are many resources for event organizers to consider—such as waste production and water use—when we think about emissions, it's most urgent to think about travel. 
Carbon offsets are one solution for event organizers hoping to address travel-related emissions. Basically, offsets allow an individual or organization to pay someone else to offset an emission they can't reduce themself.
Various projects have arisen to help individuals calculate their carbon emissions, and then purchase offsets. One example is the Carbon Calculator, developed by The North Face and Protect our Winters (POW). The Council for Responsible Sport has developed ReScore, a cloud-based application that provides organizers with a tool for calculating carbon footprints and opportunities to purchase offsets.
However, many argue that offsets do not prevent the carbon from being emitted in the first place. If I buy an offset that invests in prairie restoration, can that really account for my plane trip? Still, Villalobos and other experts consider offsets to be a necessary practice in our current economic model. 
"The GHG emissions that are causing climate change are an externality in the marketplace, which means we don't have a price on them. To rectify that, we need to put a price on carbon," Villalobos explains. 
Overall, carbon offsets should be considered important, albeit limited, tools. Event organizers should also consider investing in nature-based solutions—for example, donating some race proceeds to reforestation efforts or partnering with organizations engaging in more local sustainability practices. Race directors can also incentivize carpooling and more sustainable transportation options. 
To manage resource use, and other sustainability measures, Villalobos suggests organizers invest in a platform like ReScore, the cloud-based application used by the Council for Responsible Sport.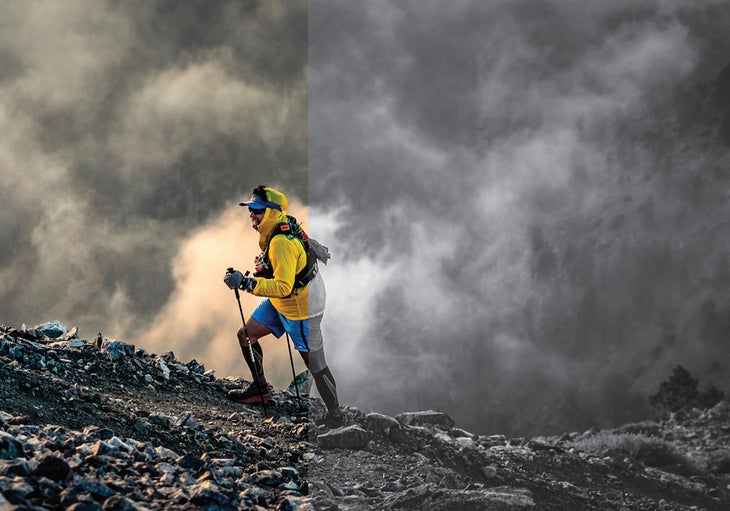 4. Access and Equity 
"We are at a moment in time when we recognize climate change is urgent. We recognize social justice is a necessity, and that we can't have climate justice without social justice," says Villalobos. An access and equity framework requires an organizer to ask: is this event accessible to folks of all races, genders, ethnicities, socioeconomic statuses, and physical abilities? Are we taking steps to make it more accessible? And if not, can we truly call it sustainable? 
Jordan Marie Brings Three White Horses Daniel is an advocate for Indigenous communities and environmental justice. Her organization, Rising Hearts, focuses on racial, social, climate and economic justice and presents important guidelines for the trail running community. In particular, the  Running on Native Lands initiative urges race directors to give a land acknowledgement—a formal recognition of the Indigenous communities that were forcibly removed from, have historically stewarded and still live on the land where the event takes place. Then, it urges additional actions, including giving back to the local community and/or Native-run organizations. 
 "The purpose of this initiative is to expand on [land acknowledgments] and make sure they're not just serving as a diversity, equity and inclusion check-in-the-box," Daniel explains.
For organizers hoping to implement a land acknowledgment, Daniel outlines a few crucial steps. First, it is important to give an Indigenous person, and hopefully someone from the local community, the opportunity to write and conduct the acknowledgment. If no such individual is available, Daniel outlines a series of next-best practices. Further, she suggests compensating the person who gives the acknowledgment for their time, transportation and work. These guidelines and more are outlined in the Running on Native Lands toolkit, a document available on the Rising Hearts website. The toolkit includes information on partnering with Rising Hearts, finding out which lands you are on, giving a land acknowledgement, and giving back to the local community
Daniel is invigorated by the feedback she hears following land acknowledgments. Often, they inspire attendees to have deeper conversations about the land—not only its history, but its vulnerabilities and how to protect it for the future. 
"You hear all the time in the trail community, 'I want to conquer this mountain, I want to conquer this summit,'" says Daniel. "But for Indigenous peoples…It's not about conquering anything. We don't see ourselves as above or below the land. We see it as equal." Hopefully, land acknowledgments can help runners shift their mindsets away from pure intensity of activity and toward intensity of purpose. Competition is awesome. But an understanding of the land, its history, its ecology, and how to best protect and revitalize it for the future? Well, that's necessary.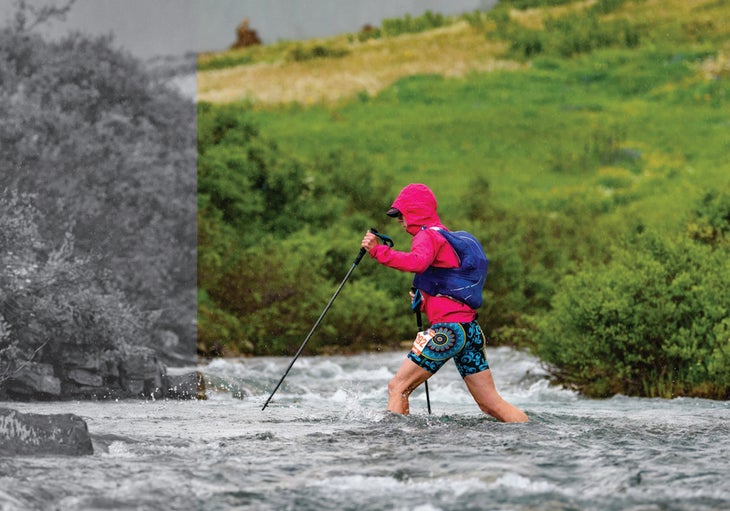 5. Community Legacy
If an event is truly sustainable, it will foster a long-lasting positive impact on the land and local communities. 
For Baker, community legacy means conducting the Mount Laguna Trail Marathon as a nonprofit. In 2021, Mount Laguna raised money for Runners for Public Lands as well as TrailFit, an organization dedicated to maintaining trails in the San Diego area. 
For Daniel and Rising Hearts, legacy is promoted through the Running with Purpose club. Here, athlete-advocates partner with companies to promote various social change movements—from Indigenous Sovereignty to Black Lives Matter, to an initiative to build small libraries in a rural Ohio town. Rising Hearts and Mount Laguna model how sustainable events can move far beyond race day, sparking long-lasting impacts on their communities and beyond.
Planning, procurement, resources, equity and community. It is with this final term that we arrive back where we began with another word: specificity. When interacting with the five tenets of responsible events, an organizer must never lose sight of the specific community in which they stand: the mountains surrounding them, the land under their feet and all the people who have made—and who continue to make—this place, this planet special. 
For all trail runners hoping to host a sustainable event or improve the sustainability of an existing event, the Council For Responsible Sport's framework is a great place to start. Other folks doing crucial work to push for sustainability in the trail community include (but are not limited to) the Kilian Jornet Foundation, the U.S. Trail Running Conference, UltraSignup and Runners for Public Lands.