How Trail Gear Became Streetwear
From Bill Murray to hip hop icons, trail shoes and apparel is catching fire on some of the biggest stages. Here's a look behind the crossover trend.
Heading out the door? Read this article on the new Outside+ app available now on iOS devices for members! Download the app.
Earlier this year, the Gen Z icon Zendaya was photographed wearing a pair of the Swiss running brand On's Cloud Ultras. The Cloud Ultra is one of the cushiest and most rugged offerings in the On lineup, meant for "epic mountain mileage," according to the company's website. Yet Zendaya was not accruing mountain mileage at the time, or any mileage at all for that matter. She was on the street in Boston holding a green juice in one hand and her pet Schnauzer in the other. 
Zendaya is not the first celebrity to take to trail runners. In a fashion shoot with Hypebeast, the rapper Pusha T called his Salomon XT-6s "the silhouette that's running the game." And Bill Murray, who seems to be every generation's icon, was spotted wearing a pair of On's Cloudventures at Cannes last year.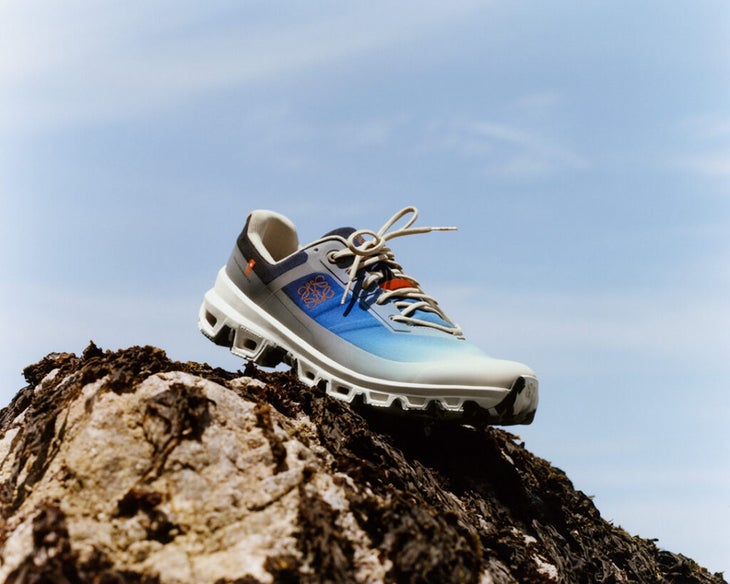 Of course, athletic apparel has a long tradition of finding its way from the courts, fields, and trails of competition to the closets of celebrities. "A Polo coat might be one of the most formal pieces of fashion menswear, but its origin story comes from a piece of functional clothing used for sport," explained Mike Belgue, the Brand Director for Reigning Champ, a performance brand that skillfully blurs the lines between fashion and function. The same brand that makes a super breathable Dot Air Running Pant also produces a $600 Handknit Varsity Sweater that has its roots in classic athletic wear. Like other boutique running brands, Reigning Champ seems to suggest that a company can be a one-stop-shop for looking your best and performing your best.
RELATED: The Gear Trends our Editors are Watching in 2023
Where the Runway Meets Running Trails 
What has been interesting, however, is the way running companies have responded to the recent surge of interest in the sport, both in terms of participation and influence, taking street style and incorporating it into their offerings. The inspiration now seems to be multi-directional. With the runway and running trails now sharing a surprising amount of DNA, high-performance and high-fashion have never been more aligned.
Take, for example, On's collaboration with the fashion brand Loewe. The product images from this collection do not feature people running but posed in various states of moodiness. The apparel on display is clearly designed to function as both a utilitarian piece of gear as well as a conversation piece. On's Active Jacket is an example of trail-ready streetwear with a nod to eye-catching design. Made of a lightweight and windproof ripstop nylon that folds down neatly into its own kangaroo pocket. I found it ideal for warm-ups, bike commutes, and cool jaunts. It also features an eye-catching angular neck-to-armpit zipper that sets it apart from purely performance-oriented windbreakers.
To Britt Olsen, the general manager of the Americas for On, such popularity beyond the trails isn't necessarily a surprise. "During the pandemic there was a clear signal that consumers were wanting casualization and comfort with style," she explained. "Performance will always be at the core of what we do, but as more people are wearing our pieces in a non-running environment, we are constantly exploring versatile and interesting new styles to fill those needs."
"Honestly, we used to be ashamed of our background in fashion," related Tom Daly, co-founder of the running and mindfulness brand District Vision. In their mid 20s, Daly and co-founder Max Vallot were working in the fashion industry in New York City and growing increasingly dissatisfied. They decided to start a brand that felt more in tune with their personal passions, but Daly now sees value in their fashion upbringing.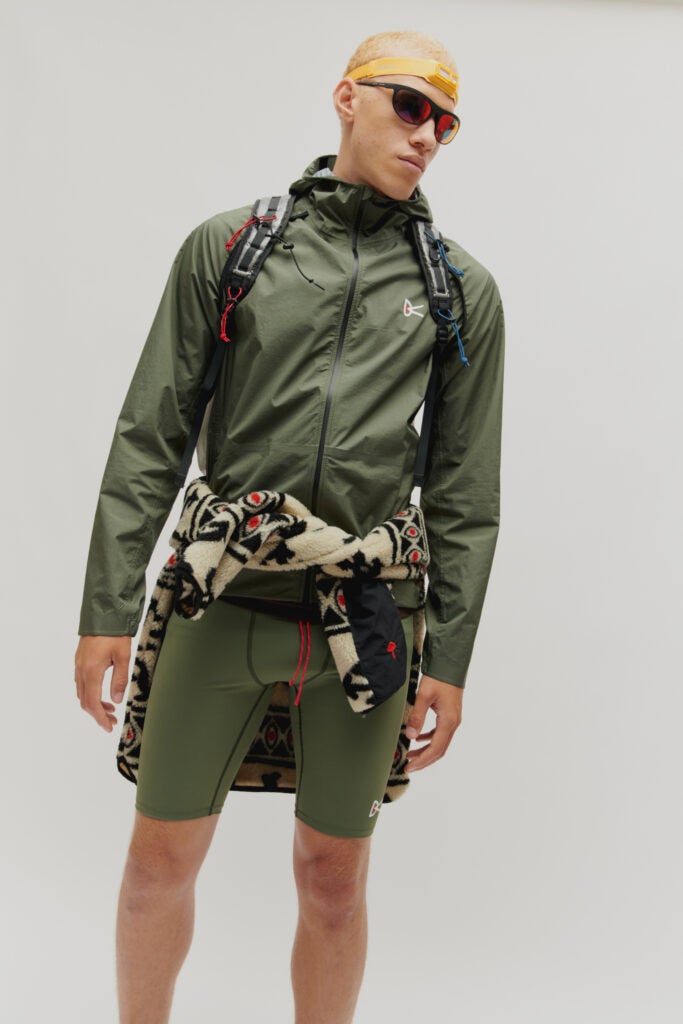 "Looking back, we can see a qualitative component to what we do that can be attributed to our backgrounds," said Daly, noting the care and attention they give to sourcing materials and creating products, steps too often overlooked in trying to achieve mass market appeal. "These things defy certain trends," he said. "And I suppose a background in fashion could give you the confidence to do that." 
Authenticity Is Fashion and Function
When I asked Daly why trail running gear appears to the current zeitgeist, he alluded to the palpable passion running brands have for their products and communities. "Fashion yearns for authenticity, and there's something really authentic and respected about outdoor brands with beautiful values." 
There is also something to be said about the overbuilt functionality of specialized gear. Belgue noted that "a shoe that one can run in for 20 kilometers in the mountains, in the rain, gives the user a sense of confidence and comfort when used out of the elements. It feels good to know that you have the gear on in case you need to run for the subway."
Ultimately, this sense of genuine joy might best summarize the unique union of street, trail, and fashion runway. "We love technical outdoor garments with hyper-specialized use cases," Daly explained. "We have a three-layer jacket with an external foraging pocket for fruits and vegetables and an internal waterproof compartment. This makes us happy."
RELATED: The Trail Runner's Gift Guide
It may just be that brands designing clothes that make them happy happens to be in vogue right now. The legendary costume designer Edith Head once said, "You can have anything in life if you dress for it." Perhaps what this marriage of trailwear and street style signals: what we want most right now, as we emerge into this post-pandemic cultural ecosystem, is one-part protection from the elements, one-part connection with the outdoors, and one-part joy in the guise of chunky mountain shoes, a swarthy zipper, or a foraging pocket. 
It won't be long before big brands will start designing clothes meant to mimic this trend and the fashion cycle moves on in some ever-evolving Hegelian Dialectic that is style. The pop icon Zendaya will be photographed in something more polished, and trail shoes will be exclusively for trail runners again. In the meantime, let's all channel our inner Bill Murray and keep style, performance, and comfort synonymous for as long as possible.
Want Trail Runner delivered directly to your inbox? Sign up for our newsletter here.