The Cow-Themed, Adventure-Seeking Trail Running Group in Seattle
Welcome to the world of the Cowgill Trail Collective
Heading out the door? Read this article on the new Outside+ app available now on iOS devices for members! Download the app.
Cow sightings have been frequent on the Pacific Northwest (PNW) trails in the last few years. Out of nowhere, grazing patterns have changed with groups gathering at trailheads for adventures in and around Seattle, Washington. If you've been witness to the cow-themed-short wearing runners, you've likely encountered the Cowgill Trail Collective.
Their group, or "herd," has grown to have more than 500 members. Beyond offering a place to connect, both online and at races, the collective organizes weekend-long adventures, almost daily events, and volunteering opportunities—all for free.
Unpacking this group has been a journey into a world with its own language and methodologies for breaking down barriers for new and experienced trail runners alike, even in a city with decent trail access in the PNW. 
Cowgill aims to limit those impediments. For hesitant, new runners, it offers beginner runs. For those without cars, a Slack channel helps to organize carpools. That Slack channel also has channels for buying and selling gear and organizing ski trips (#POWGill). For runners looking to give back, you'll find group-managed aid stations at races in the PNW and runs dedicated to trail work.
The herd is ever-evolving in its holistic approach to the sport. All people and ideas are welcome, and, as you'll see, it's led to some pretty epic adventures for members.
RELATED: Women-Only Trail Running Groups Are Key to Growing Female Participation in Trail and Ultrarunning
The Group According to Aaron
Aaron Long, Brad Leatherbarrow, and Rachel Dam were thirsty in 2020. As the trio shared miles within their pandemic social bubble, they realized that their Seattle home had no committed trail running group. There were over 10 groups for road runners, but for trails, nothing.
They wanted variety that the other groups couldn't offer.
"Groups often stick to the same routes, and while that's great, we wanted a little more novelty," said Long,  co-founder of the Cowgill Trail Collective. "We wanted sneaky pathways, some longer excursions, to be in the city and within two to three miles and be turned around, and to get out on the trails."
Thus, the Cowgill Trail Collective was born. With a name sourced from two Swedish twins that Long ran with at Wittenberg University in Ohio—Jarrett and Kyler Cowgill—the group's enthusiasm for trail running helped it spread across the city. Soon after, it organized the first Thirsty Thursday Throwdown.
"We woke up before work and just hammered on these routes with big elevation," Long said. "We ran into a problem quickly when we only attracted fast people, and that's not what we wanted."
Recognizing its intimidating cast and runs, Cowgill started to offer opportunities for all paces and abilities via shorter versions of longer routes and pace groups. As ideas came up on runs or over post-run drinks, the group worked to make them a reality.  It quickly took on a life of its own, with a 500-plus person Slack channel, its own language, and almost daily events, both running and non-running. They also got really into the cow theme idea.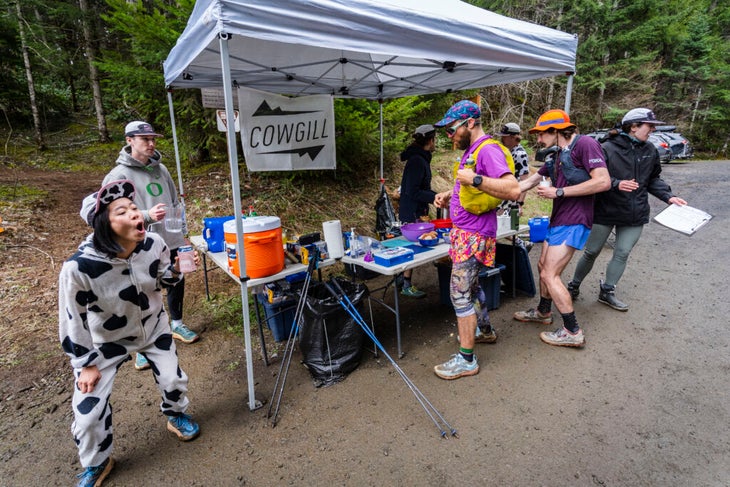 "We don't take ourselves too seriously," Long said. "I mean, we're out running and volunteering at events in cow shorts and gear. We want to have good runs for those who want to go fast and those just getting started, but it has to be fun."
With this guiding principle, they've sought to offer all abilities of trail runners the chance for Personal Growth Journeys, or PGJs. That's one of the many phrases you'd learn as part of the group, most of which are cow-themed because of the name and things like grazing are "literally cows moving and eating, and that's what trail running is," Long said.
PGJs, though, stand out among the rest though. There is no singular definition. It's more of a feeling. Group members describe those outings as "not the day you'd thought you'd have but learned a lot from," "a moment that was tough I was able to get through," and "digging deep alongside a group for an epic adventure."
RELATED: The Gritty-est Trail Running Group in Delaware
"We're a community that supports everyone's next big adventures," Long said. 
There's also no official leadership. The original three still do a lot of the planning, but they welcome anyone with passion for any idea to explore the possibilities of this group. Whether that's planning a run in the city or a weekend-long 100K adventure run (yes, they do that, and it's free), Cowgill is becoming a gleaming example of what's possible when adventurous trail runners come together with an inclusive mindset so everyone can have PGJs.
My First 100K
Clara Froeschner was cautious to run her first 100K in September 2022. She graduated college that May, and the farthest she had run was a marathon. Somehow, this group she joined in August was convincing her to go on a camping and running trip in the remotest parts of the North Cascades.
For one, the distance was intimidating. Plus, Froeschner noticed there weren't a lot of women who did these trips. 
"I haven't run that far. What if I see a bear? I don't want to run alone. I'm not familiar with the North Cascades," Froeschner said. "These were all things I kept telling myself. Then, I talked to Aaron."
Hearing her out, they made a sacred no-drop pact. Then, the crew of about 15 runners ventured out to a Cowgill member's mountain cabin to camp Friday night.
The first five miles were run as a group before different paces spread out. What followed was an adventure. There were no aid stations. Hydrating and fueling came from the supplies they carried, stops at Stehekin Pastry Company, and convenience shops in towns between remote sections.
"A trip like this usually costs thousands of dollars," she said. "I mean, I brought my own supplies, but it was absolutely free. It's just a bunch of people who want to cultivate these awesome experiences together, and who were so supportive of me sending it."
Upon their return, the conquering heroes were welcomed with camping thrones, cold drinks, and a bonfire. When the next camp and run approached, she heard similar concerns from other female members about joining a weekend-long event.
With confidence she built on her 100K, Froeschner shared her experience with them.
"That run gave me the space to build confidence and be my authentic self. That is something I don't think I would've been able to find on my own," she said. "I can't wait to see more badass women trail runners get out on the trails this summer."
Welcome to America…and Cowgill
It was Sebastiaan Valkiers's second week in the U.S. when he arrived from Belgium at a hostel in Vancouver. He didn't have a car, but these friendly Americans invited him for a 20-mile trail run 30 minutes from the Canadian border and then basically decided to just spend the night at a hostel in Vancouver.
As they unpacked, they mentioned moving quickly to head to the bars. Valkiers said he'd call an Uber. 
"They looked at me and said, 'No, we're gonna run from bar to bar,'" Valkiers said. "I was like, 'You must be joking. Run?' I think we ended up running 10 miles, drinking beers at each, after running 20 that day. That really set the stage for what's to come."
Again, Valkiers had only been stateside for two weeks. He was only going to be in Seattle for six months for a research program. Yet, he already had a group of running friends with whom he traveled internationally. 
"I'm in a new city as a foreigner, I don't have a social security number, and I don't have a car," Valkiers said. "Within months, I've been to Canada, Oregon, and explored trails in so many places because of all the things Cowgill does."
It all started with a Facebook post in a random Seattle trail running group. He was going to be new to the area. Long responded with details about Cowgill. After running 99 percent of his runs by himself in Belgium, Valkiers says he now almost never runs alone.
"When talking with friends in Belgium, they're like, 'Dude, did you end up in some kind of cult or whatever?'" Valkiers said. "It's definitely unique. For me, and a lot of other people, it offers so many opportunities and is so inclusive. My experience would've been so different without Cowgill."
Fun on the Side
As she gazed at the stars by a car at the trailhead with a beer in hand, a North Cascades park ranger checking vehicles approached Rachel Dam, another Cowgill co-founder. She had some explaining to do.
She started her tale about how she was waiting for friends who were out running. Being sidelined by injury, she volunteered for drop-off and pick-up duty for another 100K edition of a camp and run, similar to their Smooth Mooves events which involve camping and long runs over weekend once a month. During the day, she covered a marathon-distance herself with a smaller group of six. While the others held down camp, Dam borrowed a car and would shuttle finishers to the bonfire and grub.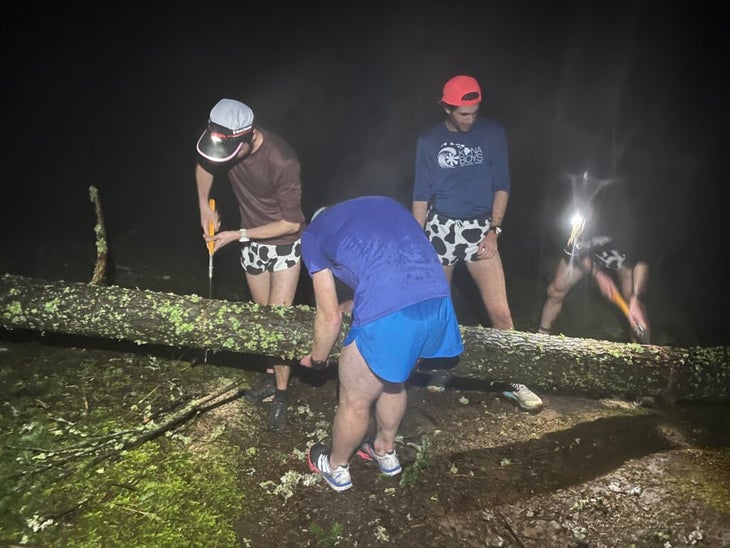 Dam could tell the ranger didn't really believe her, but there might've been a reason for that.
"I told him who we were, that we were this cow-themed group and some other details," Dam said. "He kept pressing me for details because I don't think he believed me. Finally one of the runners came in and the ranger goes, 'Oh, you weren't kidding.'"
Dam would've preferred to complete her own epic 100K adventure that day, but fun is had by all involved. Smooth Mooves was an idea a runner shared around a campfire. Now, it was a testament to the group beyond just doing epic adventures.
For this trip, it was dropping off and picking up. It was carpooling so runners, like Dam, who don't have cars, can partake in these trips. It's the months of planning the run. It's the spreadsheet for food and volunteers to stay back and cook. Everyone plays a part, running or not.
"Every single day I'm amazed by how invested people are in Cowgill, in their own community, and in each other," Dam said. "Everyone is just so stoked for other people to do hard things and bear witness to that and be right alongside them. That's what's kept me part of this."
Make Volunteering Silky & Filthy
The cow shorts don't just come out for runs and races. At many trail events in the PNW, you'll likely find a cow-themed aid station and crews present. Cowgill works so many races, the race directors know them and happily welcome their enthusiasm and experience. This year, they plan to volunteer at over 10 events as a group.
Ryan Keeling, a member of the group, remembers volunteering at the Backcountry Rise 50K near Mount St. Helens. The August event uses water caches in the remote areas. To do this, seven-gallon water jugs (filled using fresh water sources on the course), a table, and other supplies must be set up and taken down on foot.
Everyone is just so stoked for other people to do hard things and bear witness to that and be right alongside them. That's what's kept me part of this.
Enter Cowgill. With runners piled into Keeling's Honda CRV, they pitched a tent in the dark parking lot, and woke up at sunrise, strapped on supplies, and ran into remote sections of the course to stage the supplies for the race a week later. They had so much fun volunteering for that that they decided to go to run up Mount Margaret for a lunch of gels and Honey Stinger waffles before bombing back down.
"As a trail runner, you start to take trail work for granted," Keeling said. "Once you do it, you realize how important and challenging it is to clean up even a short section of trail after a big windstorm or put on a race."
Giving back is something not yet engrained in trail running as it is in mountain biking or climbing. Cowgill wants to be part of changing that mentality, and one way is to offer volunteer opportunities.
RELATED: Should Races Force Mandatory Trail Work?
Trail runners are not well-known (yet) for their trail work. Cowgill wanted to help maintain its home trails. They knew runners wanted to give back. They just didn't know how. Hence, the creation of Silky and Filthy runs. The name draws you in. The explanation, for most, throws you off.
"I thought they weren't serious," Keeling said. "We're really going to run into the forest with saws strapped to our backs? Yes. Yes we are."
Each month, Cowgill breaks out the Silky Bigboy 2000 Folding Saw (it's creators-given name) and the group spends hours cutting away branches and undergrowth, and clearing debris.
"Each time, you leave absolutely spent," Keeling said, "but with a smile on your face."
A Social Climber
There are some pretty fast names on the Cowgill roster: Joe "Stringbean" McConaughy, Rich Lockwood, and plenty of podiums in the PNW and beyond. A newer face on that front is Noah Dusseau, who placed fifth at the Black Canyon 100K in February.
Running this hard was not something Dusseau thought was possible when he moved to Seattle last summer. He was a structural engineer who ran. Shortly after his arrival, he found Cowgill. In addition to having people to run and train with, he found almost instant friends who wanted to meet up…a lot.
"There are weeks where your whole schedule can be Cowgill events every day," he said. "They host a lot of stuff, and it's all free."
In April, Dusseau described just a single week of his life with Cowgill. There was a Graze and Chill run and pizza dinner on Tuesday night, a Workout Wednesday on the track, a Thirsty Thursday Firsts morning running and coffee before work at Cougar Mountain, a Thirsty Thursday Seconds run and post-run drinks after work, and then a herd of cows drove down to the Cape Mountain 50K and 25K on Friday night to race a cheer on Saturday and Sunday.
RELATED: Local Running Stores And The Power Of Community
Not every week is like that, though there is usually the option to, if anyone feels so inclined. Other events Cowgill operates are women- and femme-identifying only runs, volunteering at races and for trail work, and demos with running brands.
Dusseau enjoys the balance of hardcore runners looking to push their limits and others out to just have fun. He'd never trained with a group before, but credits the Cowgill activities and enthusiasm to things he never thought possible, like his strong Black Canyon finish.
"It just makes running more enjoyable and fun with a group like that," Dusseau said. "I think Cowgill is well-known for being fast and ambitious. I didn't have these goals when I moved to Seattle. For me, it's great to have people who can push me and convince me to do things I wouldn't have done on my own."
A Parting Fact
That's not everything, but that is a glimpse of what we've come to know about the Cowgill Trail Collective.  One last note the group wanted to share was this: There are two rap songs about the group. For real, check them out here and here.