The Biggest Change I Made to Feel (and Run) Better
One runner's decision to change her relationship with alcohol, and how it impacted her life and athletics.
Heading out the door? Read this article on the new Outside+ app available now on iOS devices for members! Download the app.
I spent a weekend in Salt Lake City last year for the Running Up for Air timed event, which involved hiking up and running down a snowy three-mile, 2600-foot climb to the Grandeur Peak summit as many times as I could handle. I did five laps for 30 miles in just under 10 hours.
I needed that all-day grind to boost endurance for a string of other upcoming ultras: a 50K in March, a 50-miler and the Boston Marathon back to back in April, then a self-supported 155-mile stage race in May. I hope those races will whip me into shape for the race I care most about this year: the High Lonesome 100 in late July.
I've been feeling a little nervous, eager and motivated—all of the things I'm supposed to feel before ultras.
But I'm feeling different, too: healthier, calmer and in better shape. It's not just because I increased my training volume. In January, I added something to training that changed me for the better. Or perhaps I should say, I removed something from my life.
During the onset of winter, I had been feeling gross and unmotivated, heavy and sleep-deprived. Can you guess how I went from feeling gross to good, and what made the biggest difference in my training and life in general since new year's?
It's all about alcohol. I changed my relationship to it. We went through a breakup and have agreed to be just friends.
I've had a long and unabashedly close relationship to wine and beer in my adult life, having no qualms about two drinks a night (splitting a bottle of wine with my husband; or, having one beer and then one glass of wine). I would abstain the night before a race, sometimes a few nights, which felt like a sacrifice, but I recognized that not drinking helped me sleep better and feel better the next morning. Post-race, I'd resume my regular habit.
I was fully aware that the current medical literature on alcohol use defines moderate drinking by women as seven drinks per week, and I was having at least fourteen, so I fit the definition of a heavy drinker. My OB/GYN raised her eyebrow at me during our last visit, after I stated on the health questionnaire that I consume two drinks a night (I did not admit to three or more per night on weekends or special occasions), and she told me about cancer and other risks associated with drinking more than one drink a day.
Internally, I thought, "One a night? What's the point?" Having a single glass of wine or a single beer seemed as unsatisfying as half a cup of coffee in the morning. I'm accustomed to two glasses of wine with my meal, and sometimes a beer before or after dinner. That's how we do dinner in our household. No hard liquor, just some chardonnay and craft brews after 6 p.m. No problem.
And yet, increasingly last fall, two drinks became three, and at dinner parties, I'd drink to the point of getting sloppy—blurting and aggressively pushing my opinions—and I'd feel remorseful the next morning, or I'd ask my husband, "What did I say?…" because I couldn't trust my memory. Transitioning to this new life here in the new home we built has been a dream but also disorienting, leaving me to figure out a new schedule, new friends, new projects. That transition triggered insecurities, which in turn triggered over-indulgence in wine, beer and post-dinner comfort food (nuts and cheese being my favorites).
When I look back at my training log from the end of 2019, I see far too many runs labeled "detox run," when I'd run to clear my head and produce extra-stinky sweat. Many of these runs I'd do sleep-deprived, having woken up between 2 and 3 a.m. from alcohol-induced dehydration and the need to pee, and I'd lay in bed feeling bloated while processing anxiety about the state of the world along with shame about overdoing it with drink or food the night before. Sometimes I never fell back asleep and would feel strung-out and foggy the whole next morning until I took a nap.
For context, I'll also share that during the past six months (and more generally, the past seven years since he passed away in 2013), I've been struggling to process and write about memories of my dad, and this process dredged up a lot of the bad with the good.
Missing my father, yet pained by flashbacks of how alcohol altered his personality and brought out his most belligerent, unstable side, I repacked those memories and lost the motivation to dive deeper into family history, and consequently, I fumbled at writing. Watching TV and drinking wine at night dulled the disappointment I felt about getting stuck and feeling haunted by that misfired project.
In early December, around 4 a.m. one morning after yet another night when I woke up around 2:30, I wrote a note to myself and saved the file as, "how I know I'm a problem drinker and why I want to change." Among the points, I listed matter-of-factly as if creating a to-do list: concern about the role model I'm being to my two college-age kids, hypocrisy for being a healthy athlete and coach during the day and sabotaging my health at night, and a quote from the Centers for Disease Control website: "Excessive drinking may result in memory loss and shrinkage of the brain. Research suggests that women are more vulnerable than men to the brain-damaging effects of excessive alcohol use, and the damage tends to appear with shorter periods of excessive drinking for women than for men."
This brain-damage warning set off alarm bells in my head because of my mom, who is in a locked-up assisted living center more than an hour away from me with other patients suffering from Alzheimer's and dementia. I visit her weekly, reintroduce myself to her, make small talk about silly things because she only has the cognitive capacity of a child, and all the while as I study her withered body and confused expressions, I mull the prospect that this could be me when I'm her age in 35 years. The last thing I should be doing is pickling my brain and accelerating its decline.
So I got on the Dry January bandwagon. The group Moderation Management and others like it, which counsel moderate and mindful consumption, advocate a 30-day period of abstention to reset one's relationship to the desired substance, so the timing of Dry January was perfect.
I recall thinking on January 1 at dinner time, the first night going without wine, that it really sucks that January has 31 days. But with the help of kombucha or sparkling water poured into a wine glass, I managed to get through dinner without wine or beer. I did some yoga and read a book at bedtime.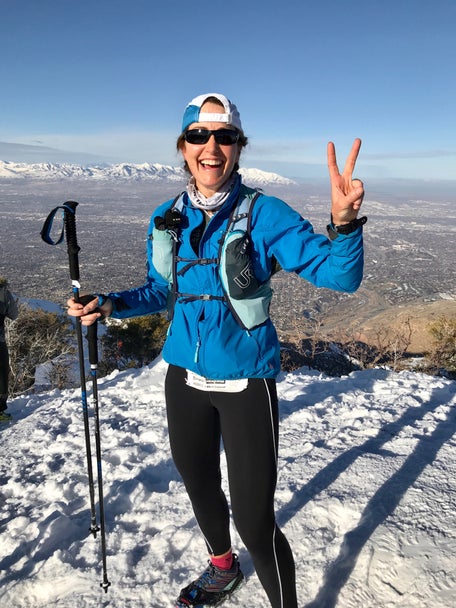 Then, a pleasantly surprising thing happened in the days during early January, which turned into weeks: Once I mentally took alcohol off the table as an option, I felt liberated. I felt like I did during the Grand to Grand Ultra, when we were out in the desert for a week with only plain water and the food we carry on our backs. I went the whole 31 days without drinking alcohol. Whereas I had been drinking to relax, I actually felt more relaxed in January because I didn't face the nightly struggle of how much to drink or eat followed by guilt from overdoing it.
And the sleep—oh my god, the sleep. There's a reason it's called the best legal performance-enhancer. I feel so much better and sharper in the morning after eight solid hours of sleep.
But really, Dry January by itself isn't that big of a deal; as the month went by, success built on success, and breaking a habit and developing a new normal got easier with each passing week. The real question was, what would happen in February?
My intention never has been to stop drinking completely and forever, but rather, to take a month-long break to assess my relationship to alcohol and to see if, in February and beyond, I could be a moderate drinker—just one drink a night some nights, not every night. Maybe I'll discover that it's easier and preferable to give it up completely rather than actively manage small consumption, but for now, my goal is moderation, not full abstinence, because I know that my rebellious streak craves anything off limits. I fear that if I were to give up alcohol completely, then I would set up a more adversarial relationship with it. This is the same reason I don't put any food off limits. I want the choice to have it in moderation, if and when I feel like it. I want to be able to enjoy a single glass of wine as a food accompaniment and have it not be a big deal.
We had a dinner date with another couple at an upscale restaurant on February 1, the first night after dry January. The couple each ordered a mixed drink, my husband ordered a beer, and I told the waiter, "I'll order wine with dinner, but I'll stick with a club soda for now." Hearing those words come out of my mouth, I felt tension melt away from me, as if I had been in a tug-of-war and let go of my end of the rope. The craving subsided, and I didn't feel deprived.
But I didn't want to fully abstain; I wanted to partake to fit in socially and to see whether I could enjoy a single glass. So I ordered a chardonnay with dinner, while the others split a bottle of red. The glass came with a mere 5 or 6 ounces. I had my first sip in a month, and it tasted lovely with my fish dish, but I felt as if I were drinking a special-occasion sweet thing for the sake of its tangy sweetness—like having Coke or Sprite at an aid station, when I never drink soda in regular life—and I appreciated its flavor without seeking the buzz. The stress-relief came not from the alcohol, but from feeling liberated from desiring more of it and from enjoying the company and food of the meal.
I made a single glass last all through dinner, something I can't recall doing any time in the past year or more. I felt relaxed but clear-headed afterward, and I did not feel compelled to drink more when we got home.
I did the same thing the other night for Valentine's Day. We cooked a special dinner and opened one of my favorite bottles of wine. I had a single glass, and that was that. One glass is enough to get me mildly buzzed now, and I didn't want to feel any more "off" than that. I wanted to be able to balance on one leg and do the tree pose and dancer's pose during ten minutes of yoga before bedtime, and I wanted to sleep soundly, which I did.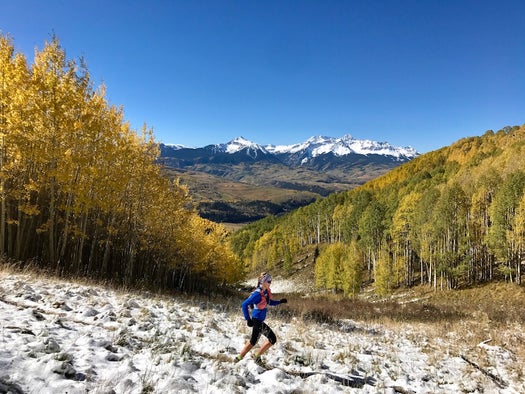 The other night as I drank kombucha and my husband drank wine at dinner, I asked him if he thinks I'm more boring now that I don't imbibe with him. Not at all, he said. He's totally supportive. I think he sees, as I feel, that I'm less moody or tense now that I'm not recovering from frequent mild hangovers or sleep deprivation during the day and struggling with cravings at night.
This new year, as I gear up for another cycle of ultra training and racing—thankful my body and schedule can handle it—I also feel calmer about the challenge of the ultras, and embrace the opportunity to do them, because my focus has shifted from competition to wellness. Now that I'm 50 and know so many people my age or older who are coping with health issues—many related to alcohol or smoking, or poor nutrition—I'm more grateful than ever for good health and mobility, and I'm determined to preserve it.
A couple of weekends ago, we went on a getaway trip with our 21-year-old daughter during her spring break, and alongside her, I took a kickboxing class and climbed high on rocks on a via ferrata course, and then I hiked and ran on trails for several miles, all in one day. When I posted some photos from the trip, a friend commented about our destination, "You got to really take advantage of its best features because of your great athleticism." That comment hit me and meant so much to me—the realization I can still do all the things that demand fitness and mobility that someone half my age can do, and that I'm athletic. I don't want to lose that ability. As the daughter of two parents who trashed their bodies with a two-pack-a-day lifelong smoking habit and heavy drinking, who suffered painful medical and dental problems in their senior years, I'm more determined than ever to take care of myself so I can keep running, or at least hiking, well past 80.
And so, I'm motivated to keep this new abstemious relationship with alcohol, and if the level of drinking creeps back up—if I start drinking nightly rather than occasionally and craving more than one a night—then I'll do another dry month and at that point consider making it permanent.
And, you know, it doesn't have to be January 1 to do it. You can start any day of any month.
Sarah Lavender Smith lives and runs near Telluride, Colorado. She's a coach and the author of The Trail Runner's Companion. She finished first female and 13th overall in the Running Up for Air Grandeur Peak 12-Hour event on February 22, 2020.
This article is reprinted with permission from TheRunnersTrip.com blog.