Trail Runner's Ultimate Car Camping Checklist
Heading out the door? Read this article on the new Outside+ app available now on iOS devices for members! Download the app.
While most trail runners are locked down at work during the week, many hit the open road for a weekend of trail adventuring and car camping. Others might aspire to more extended trail-running road trips, from a week to months or more.
Morgan Sjogren, who three years ago gave up on nine-to-five grind, bought a Jeep and camps out of it year-round, while exploring trails across the West.
I've always been a nomad, so the life change suited me," says Sjogren. "Being on the road pushes me to leave expectations behind. It's all about the unexpected, the mystery and the adventure."
Whatever your schedule and whims allow, here are some tips and tricks for picking your vehicle for life on the road.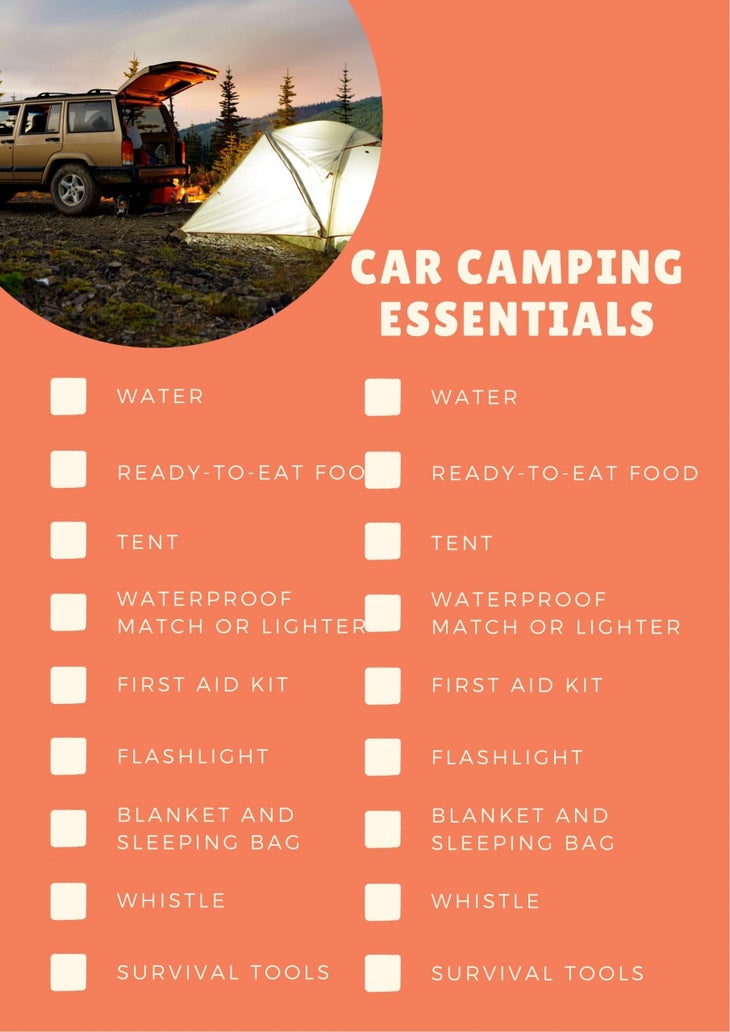 Your Daily Driver
Using a reliable vehicle you already own is likely your most affordable option, and, with a proper car-camping kit in
the trunk, you can live like a king. Most campers already have the outdoor gear you need—a tent, a sleeping bag and pad and a camp stove/cook kit. A basic setup can be affordable even for the most fiscally conscious. For simple overnighters or weekend trips in moderate weather, a car offers a simple, efficient option.
Simple upgrades won't break the bank. A spacious new tent can cost a few hundred bucks, and fun accessories like lanterns, string lights, folding camp chairs, double-burner stove, etc. may cost as much as a few trips to Starbucks. For extended trips where you've got more gear, a rooftop storage box is a worthy splurge.
A roof tent is a great option for year-round adventure mobiles. This popular set-up includes a solid, good sized tent that packs down to a storage box on the top of your car. Simply pull up to the campsite, pop it up and you're ready to rest.
"With a tent, backpacking setup and sleeping bag you have just as many possibilities to enjoy life outdoors as in a fancy van," says Sjogren. "Throw some leftover pizza, water and snacks in your pack, lace up your running shoes and get ready to see the world!"
Pros: Your cheapest option, using your car will save you money on more experiences while you're on the road.
Cons: Your tightest option. You'll find that you fill out your space quickly.
The SUV
From a Subaru Outback to a Chevy Suburban, a SUV/hatchback is a versatile option because the vehicle is multi-purpose and likely already your daily driver. It offers the option of sleeping in a hard-sided abode, providing more protection in inclement weather and personal security. This is especially useful if you plan on mixing your driving between open spaces and crowded cities.
As opposed to a Corolla or Camry, a SUV's back seats folded down can work as a nice sleeping space. You'll want to carry the same things you would if you were camping.
Pros: Versatile vehicle that can be equal parts comfortable and driveable. Cons: Not very customizable and will have a lack of space economy.
The Pickup Truck Camper Shell Combo
With its capability to handle different types of terrain, a truck with camper shell provides a comfortable, protected place to sleep and more privacy than a car-tent setup. Also, trucks with 4WD can handle rougher, high-clearance roads, allowing you to access more remote trails.
Truck caps are usually fiberglass and can cost up to $2,000, depending on truck size and options, but less- expensive and used options are available. How you kit out the shell area can run the gamut from tossing your car-camping kit in the back to built-out palaces. For a super-practical setup, consider a simple framed-out wood bed platform, with organized storage underneath. Pullout drawers have long been a favorite of dirt- bagging road warriors.
Pros: In short, driving a truck will give you everything you need and nothing you don't.
Cons: Minimal headroom is one drawback of this setup.
Start Here: The Toyota Tacoma is undefeated in durability and comfort. Most owners get well beyond 200,000 miles.
Van Life
Vans come in all shapes and sizes, from old-school VW Vanagons to built-out cargo vans to the popular kitted-out Sprinter. Overall, vans are great because of the space economy they provide, giving you enough room for storing the essentials and a comfortable, relatively private hang space.
A van will offer you a great blank
slate to keep a simple set-up or the opportunity for a full renovation. With a Sprinter, or similarly sized van, you're able to corral in as many extras as you'd like, including a full kitchen, bathroom or a full sized bed.
"As much as we love the Colorado mountains, we thrive on the road," says Cat Bradley, the 2017 Western States champion. "Having a van opened that up for us."
In 2020, Bradley and her partner, Ryan Lassen, rented a van for a couple weeks while traveling to the start line of the Bandera 100K in Texas. When they returned to their home in Colorado, they purchased their own van, a 2020 Dodge Pro Master.
"People should dive in," says Bradley, "don't let the process intimidate you."
Renovations, in a van or a home, are a big task. Luckily, plans and other tips and blueprints can be found online so those first couple of cuts and drills in the van aren't as scary.
Pros: Space, space, space. You'll be able to fit bikes, kayaks and any other sort of outdoor gear for your trip. Plus, the ability to spread out gear and the access to cleaning up is a big perk when you're putting in miles.
Cons: This won't be like driving your regular car. It'll handle differently, so be ready to get used to a new experience.
Vans We Love: The E-line class from Ford offers a no-nonsense van that will give you plenty of space and stealth. If you want to pare down to a smaller van, Ford's Transit Series has become quite popular for its van-like qualities with a truck-like size. If you want to look at Sprinter-sized models, the Dodge Pro Master is the best bang for your buck.
Slide-In Truck Campers, Popup Campers and RVs
For those short on time or handyman capabilities, purchasing a pre- fabricated, kitted-out camper has long been popular for people who are ready to go. Truck campers, pop-ups and RVs are popular options that are equal parts rugged and comfortable.
These will cost you a pretty penny if you're looking to buy new, with RVs being the most expensive option. Truck campers and pop ups will equip you with the amenities that you might find a kitted-out van or truck. As this is an auxiliary item to your vehicle, most likely, make sure that your car has the capability to take on the extra towing or weight.
Pros: Pre-fabricated means you're ready to roll. Also, having the ability to tow a slide in or pop up gives you the ability to not always carry it with you.
Cons: Can be limited with going on certain public lands and roads, as it will not always be as durable. Will need to get insurance for access to towing, flat changes and other mechanical help should something go wrong.
Car Camping Must-Haves
$199
Power your car-based campouts with this battery block. The portable solar generator churns out power to keep your GPS devices, phone or twinkle lights charged for days.
$84
These hefty stoves are built to last (this reviewer inherited her parents' from the 1980s). Windblocks minimize heat loss, and the simple design makes it easy to clean and pack away.  Simply plug in the propane and use the two burners to whip up a camp pad thai or pizza.
$75
No camp kitchen is complete without, well, the kitchen. Take your food-prep to the next level with this lightweight, easy-stow table. Heat-resistant aluminum offers a work surface that won't scorch or burn, and the sturdy design can hold up to 100 pounds.
$110
This is more than a camp chair—it's a camp couch. Complete with dual cupholders and plenty of sink-in comfort, this is the perfect seat for chillaxing in camp after a long run. Foldable and easy to carry, it also makes a statement at any finish line celebration.
Sea To Summit Pocket Shower
$35
Stay fresh with this portable camp shower. A large roll-top opening allows for easy filling, and black polyurethane-coated-nylon fabric absorbs heat from the sun (or you can simply add hot water) for a warm shower. A simple twist-head lets you control the flow, and the 10-liter volume gives you enough juice for a seven-minute shower right at the trailhead.
GSI Outdoors Java Press
$38
Enjoy up to 30 ounces of hot coffee wherever you camp with this lightweight French-press-thermos combo.
Stanley Even-Heat Camp Pro Cookset
$140
Skip the instant ramen and indulge in a gourmet camp meal using this 11-piece set. Each element fits into the large pot to save space, and it comes with a spoon, spatula, potholders and cutting board.
YETI Roadie 24 Cooler
$200
Keep your food and brews cool in this built-to-last cooler. The updated model is 10-percent lighter, and holds 20 percent more, with additional insulating power. Small enough to store in the front seat, this cooler also doubles as a nifty chair in camp.
Rumpl NanoLoft Puffy Blanket
$180
Perfect for added warmth on top of a sleeping bag, or as an insulating layer at the trailhead, this synthetic down blanket is a must-have addition for luxury car camping.
7 Gallon Reliance Jumbo-Tainer
$20
Don't leave home without a massive jug of water. This 7-gallon jug should have all your cooking, cleaning and basic hydration needs covered. Two handles making carrying and pouring easy, and a wide mouth makes it a cinch to refill.
Bonus item: Campsuds. $5. Wash your hands, body and dishes with this do-it-all soap.