The Evolution of Trail Running Shoes
From humble beginnings to advanced fabrics and plates, what a strange trip it's been.
Heading out the door? Read this article on the new Outside+ app available now on iOS devices for members! Download the app.
Five days after one of the best performances in the history of the Western States 100, Katie Schide said her legs felt so good that she was ready to run again. Schide finished second behind Courtney Dauwalter, both coming in under the course record.
It was the latest in a series of strong results for Schide, who has been on an upward arc in recent years. She credits her success to  more experience, enhanced training, and learning how and when to push harder during races.
But the other factor that can't be overlooked—for Schide or anyone racing on the trails—is the advancement of trail running shoes. Schide attributes her performance and her quick recovery at least partially to The North Face Summit Vectiv Pro shoes she wore. Combining a new proprietary blend of hyper-responsive Pebax foam with a curvy carbon-fiber plate, the shoes provide an ideal mix of shock absorption, energy return, protection, and traction.
"It's not just that they're giving you the benefit in the moment, which they are, I think it's more that it just helps save your legs more," Schide says. "It's more that you're not going to break down your muscles much earlier, and that allows you to run well longer and helps you recover better."
The North Face was one of the first brands to bring a trail supershoe to market, models designed for long-distance trail running with carbon-fiber plates embedded within hyper-responsive foam midsoles.
Several other brands are now expanding the field. This year, Nike is launching its long-awaited Zoom X Ultrafly Trail, while Adidas-Terrex, New Balance, Salomon, Saucony, and Hoka all have trail running supershoes in the prototype phase on the feet of their athletes at the various races of the Ultra-Trail du Mont-Blanc and Golden Trail World Series.
The supershoe revolution is the latest evolution of trail running footwear, the most recent chapter of a history that echoes the ups, downs, bumps and bogs of the terrain the shoes are designed to conquer—and is far from being over.
The early years of trail running shoes
When Buzz Burrell ran the Pikes Peak Marathon for the first time in 1975, he laced up a pair of white split-leather Adidas Olympia shoes. They weren't remotely built for trail running, but then again, neither were the shoes on anyone else's feet.
Various forms of trail running have existed for centuries in Indigenous cultures and since at least the mid-19th century in Scotland, England, and Ireland (there are tales of regional races dating back to the 11th century). Hill (or Fell) running has continued to have a dedicated following in the isles, and one of the first modern trail-specific running shoe, the Walsh PB, came out in 1970 and was designed to race over the sport's steep, harsh terrains.
The modern version of trail running can trace its roots back to races like the Dipsea Race north of San Francisco (1905), Pikes Peak Marathon in Colorado (1956) and numerous mountain races throughout Europe, including Switzerland's Sierre-Zinal village-to-village race (1974). But even by the late 1970s, when the Western States 100 got started in California, trail running shoes weren't yet a thing.
When Burrell lined up for the race up and down Pikes Peak, the modern running shoe industry was just emerging, in conjunction with the original running and jogging boom of the 1970s. Back then, runners were mostly running on roads, but if they were running or racing on trails, they were typically wearing road running shoes or light, low-top hiking shoes.
"The Adidas Olympia were flat on the bottom. It had no cushion, no outsole tread, so it was like a tennis shoe or a court shoe, which was a popular style at the time," recalls Burrell, who would later manage the LaSportiva Mountain Running Team and co-develop the Fastest Known Time concept. "Trail running shoes didn't exist. But when I got to Pikes Peak, a lot of other runners were wearing brightly colored nylon running shoes with rubber outsoles. It's such a distinctive memory. It's like a light bulb went off in my head, because I knew I needed some lightweight nylon shoes if I was going to run on trails more—which I got the next year."
By the 1980s, thanks to the small but growing notoriety of Western States and the urge of runners wanting to get away from the congestion of urban and suburban settings to run, trail running slowly and gradually started to become its own unique discipline. A handful of regional trail races started to pop up around the U.S. in the late 1970s and early 1980s, and, as a result, runners tried to find shoes that were better suited for the dirt, gravel, mud, rock and, sand surfaces off-road running.
Among the early cross–purposed shoes were the original Nike Waffle Trainer (1973) and follow-up models like the Long Distance Vector (aka, LDV, which came out in 1978), both of which had low-profile knobby-lugged outsoles that provided better traction than the smooth bottoms of many contemporary road running shoes.
In 1978, Nike donated $10,000 and a dozen pairs of LDV shoes to the American mountaineering expedition that would become the first U.S. group of climbers to reach the top of K2 unassisted by oxygen, despite not yet having any outdoor or trail product lines at the time. Many of the climbers, including expedition leaders, John Roskelley and Rick Ridgeway, wore the shoes for the 110-mile hike to basecamp and later reported back to Nike that the running shoes were more breathable and more agile than traditional leather hiking boots and much more rigid mountaineering boots.
That indirectly led to Nike's 1981 launch of the Lava Dome, a low-cut light hiking boot with a semi-aggressive knobby rubber tread. Although it wasn't developed or marketed as a trail running shoe—because the category didn't exist—Burrell considers it the first shoe that was adopted en masse by early 1980s trail runners.
"It was better than anything else at the time," Burrell says. "It had more grip and more stability and more protection than the nylon road running shoes available then."
A new category slowly rises in the 1980s
Not too long after that, Mark Parker, a Nike shoe designer at the brand's research and design facility in Exeter, New Hampshire, began tinkering with trail running shoe designs. A former Penn State track and cross country runner, Parker became an early adopter of trail running in New England and quickly realized the specific characteristics off-road running footwear required.
By 1984, a year after Parker helped launch the original Nike Pegasus road running shoe with the brand's Air cushioning technology, Nike released its first official trail running shoe, a Parker-designed model called the Escape.
"I literally laid paper out on the hood of a car and sketched the shoe," Parker explained later. Starting with a baseline of the Pegasus design, he added a more durable upper and knobby outsole to develop the Escape, had some samples made and gave them to a few fellow trail runners.
The trail runners of the era liked the shoe, but few running stores carried it because there wasn't really a market for it, and the model was dropped from the Nike running line by the next year. (Parker, who would eventually climb the corporate ladder all the way to CEO at Nike, now serves as the Chairman of The Walt Disney Company.)
It wasn't until the late 1980s, when Nike debuted its All Conditions Gear (ACG) shoes and apparel, that trail running started to become a real focus for the brand. In the fall of 1988, the Nike Air Pegasus ACG all-terrain running shoe hit stores, followed by the Son of Lava Dome and Air Wildwood light hiking shoes.
Nike would go on to launch several other notable shoes from its ACG line, including the Air Mowabb (1991) and the Air Mada (1994), both of which were relatively light and flexible hiking boot variations that fueled the crossover outdoor footwear trend popular in suburban and urban settings, as well as the rise of adventure-seeking weekend warrior recreationalists.
"Although the Air Mada was more a cross-hiking shoe, it was kind of eye-opening, on a global level, that there could be something in between hiking and trail running," says Jean Luc Diard, Global Vice President of Innovation of the Deckers Group and a co-founder of the Hoka shoe brand who worked for Salomon in numerous footwear and executive roles from 1982-2007. "It was already a revolution for hiking, and yet too far [on the hiking scale] to be considered for running, but, in a general sense, I think the Air Mada, because of the weight of Nike, kind of popularized a little bit more of this movement."
While more people were spending more time outdoors, the majority of runners were still running on the roads. By the early to mid-1990s, triathlon and marathoning were booming (especially after Oprah Winfrey ran her first marathon in 1994), but trail running remained small and very regional in its popularity, in part because it was mostly associated with ultra-distance races well outside of the mainstream. At the time, traditional outdoor shops that sold backpacking, camping and climbing gear were distant from running and other fitness activities in the mainstream. As a result, retailers were slow to pick up on the category.
"Consumers reacted faster to the options than the retailers did," Diard says. "There was really a difference between the rate of acceptance by retailers of trail running as a category getting into it versus the new users. Yeah, trail runners wanted to have those shoes, but retailers weren't sure how to sell them so nobody was considering trail running as a category, and, because of that, nobody was really making any development progress except putting a few bigger lugs on running shoes. They were not as rugged as hiking shoes, but they were definitely still very far from a running shoe at the time."
Adidas was the first brand to commit to the category and to capitalize on the growing trail running with the 1994 launch of its Response Trail shoe, a soft, EVA-cushioned model with a knobby outsole and an extended flap of outsole rubber off the back of the heel that was meant to be an aid in downhill running. Another top-selling trail running shoe of the 1990s was the New Balance 801. While the Response Trail became an authentic shoe of choice for many 1990s trail runners and ultrarunners, the 801 (and subsequent 802, 803, 804, etc.) took the suburban cool of the Air Mada to the next level and, by the end of the decade, was one of the best-selling running shoes of all time, although perhaps only seldomly used for trail running.
Meanwhile, despite fluctuating corporate interest in the category, Nike continued to launch trail running shoes through its Nike ACG and Nike Running lines. That included the popular Air Humara in 1996-1997, which had a mesh fabric covering over the exposed sidewalls of the midsole foam, a durable reinforced upper and a chunky carbon rubber outsole.
Salomon, meanwhile, pushed into the growing sport of adventure racing, which combined trekking, mountain biking, paddling, rappelling and occasionally some trail running in events that typically lasted from three to six hours to several days. The initial shoes Salomon developed in the late 1990s—including the Raid Runner and Vapor Trail—were grippy, breathable, quick-draining, protective and well-cushioned.
Adventure racing boomed in the late 1990s into the early 2000s, providing a venue for not only runners to delve into trail running without having to go to the extreme of triple digit miles, but also drew weekend warriors who were looking for a fun, less-structured way to enjoy the outdoors that didn't require a running background.
"The pure runner would never see that as a spark, and at the time, neither did run specialty stores and initially outdoor specialty stores did not understand it," Diard says. "In some ways, it was a blue ocean of opportunity, but, at the time, it was more of a blue swimming pool."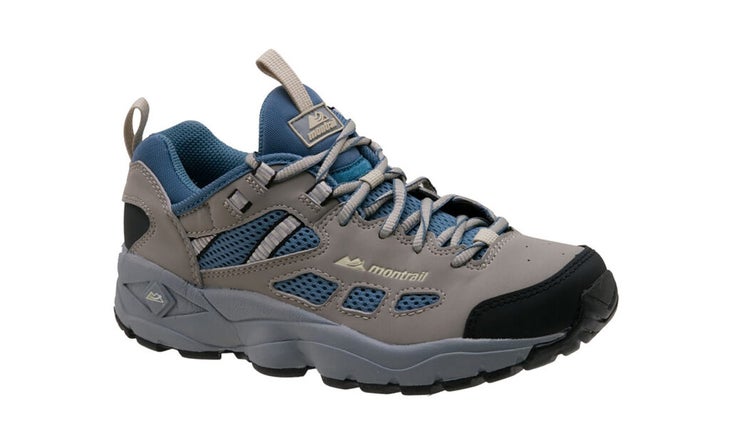 Grassroots finish line marketing
In 1995, Scott McCoubrey, an avid skier, hiker and trail runner who had worked in the ski industry and then gained 10 years of retail experience working for Nordstrom, took a job as the Pacific Northwest rep for a small, small Seattle-based company called One Sport. Sensing the regional growth of trail running, One Sport had developed a trail-specific shoe called the TRS Comp, which had a thick EVA midsole with a full-length flexible plastic rock plate embedded inside, a reinforced upper and a flat-lugged, durable rubber outsole.
Before long, Scott Tucker, a young shoe designer with a background in science and business, helped the brand develop a new shoe called the Vitesse that was specifically designed for the needs of running long distances over technical terrain, and would become one of the seminal trail running shoe models of the 1990s. Named after the high-speed trains in France (Train à Grande Vitesse), the shoe featured a lightweight EVA midsole with a flexible plastic rockplate embedded in the midfoot and an oddly flat and smooth rubber outsole.
By 1996, McCoubrey became part of One Sport's in-house marketing team and began expanding his reach to bigger races around the West.  That summer, he, and his buddies Dave Terry and Jim Kirby, ran the White River 50-miler wearing the shoes, and before too long his efforts started to pay off as Seattle-based REI began selling the Vitesse in a few of its stores.
Working hard to get the shoe into running stores in Washington, Oregon, and California, McCoubrey organized a One Sport trail running ambassador team of regional runners to help promote the brand. In order to show the shoes off to as many runners as possible, he loaded up his 1993 Volkswagen Eurovan with boxes of shoes and hit as many trail races as he could. He ran the Way To Cool 50K that summer in Cool, California, where he connected with Tim Twietmeyer and Luanne Park, two of the top ultrarunners of the mid-1990s.
"I had literally called 4-1-1 directory assistance to find a phone number for Twietmeyer, and with Luanne, I was running with her in the race, and I told her if she beat me, I'd give her a sponsorship—and she did," McCoubrey recalled, adding that Park and Twietmeyer became the first two members of the nationally focused One Sport trail running team, along with emerging trail running champions Ben Hian, Scott Jurek, and Kirk Apt.
By 1997, One Sport changed its brand name to Montrail and McCoubrey got a bigger budget to promote the Vitesse. McCoubrey connected with Western States 100 race director Greg Soderlund and started lending a hand in marking the course and organizing aid stations (including boiling potatoes)— as well as setting up a Vitesse demo station at the finish line.
"I was the only one out there promoting to the ultrarunning community. There was nobody else showing up at those races," McCoubrey says. "Everything was so regional at the time. Everybody was just racing in their own little areas. Meeting people, visiting key territories, talking with race directors, you could tell this sport could become much more of a national scene."
In 1998, McCoubrey flew to the Vermont 100 and found Ian Torrence, a top East Coast runner, preparing to sleep in his car. McCoubrey got Torrence a hotel and gave him some shoes. The next day, shortly after Torrence finished second in the race, he joined the Montrail team.
Patagonia soon joined as a co-branded sponsor of the ultrarunning team, essentially doubling the resources and marketing exposure of the Vitesse, the athletes and the discipline of trail running in general. That increased exposure and notoriety didn't bring trail running into the mainstream, but churned and reinvigorated interest among many other brands, including Nike, Adidas, New Balance, Salomon, Hi-Tec, and The North Face.
Later that year, McCoubtrey flew Jurek and Apt to Washington D.C., so they could connect with Torrence and then drive down to Virginia to the Mountain Masochist 100-miler organized by David Horton, who had been running ultras since the late 1970s and won the first two editions of the Hardrock 100 in Colorado in 1992-1993. By the end of that summer, Horton, Eric Clifton, and Courtney Campbell were all on the Montrail-Patagonia team, which became a marketing vessel that started to gradually transcend the niche of ultrarunning.
"It's funny how that team model with Montrail and Patagonia really provided a marketing boost," McCoubrey says. "I just needed to find a network to get the word out and support sales, you know? And so I tried to meet a couple people that could help my reps who were climbing reps approach the running shoe stores in, in the territories. Patagonia helped Montrail's exposure quite a bit."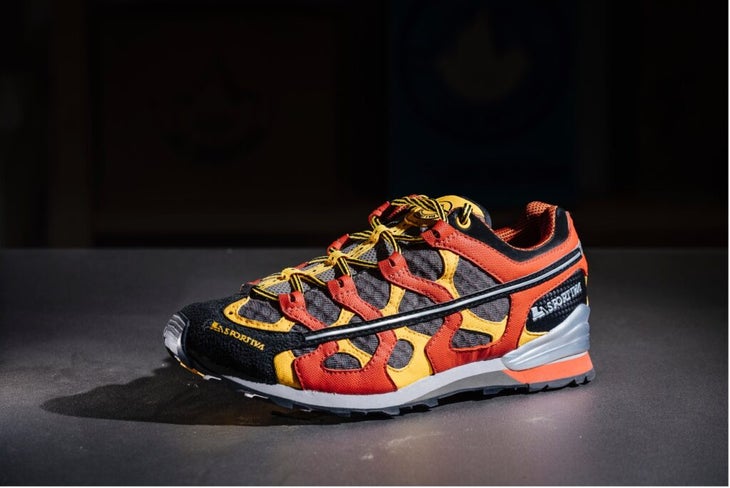 Next generation
By the early 2000s, trail running had finally begun to gain mainstream appeal and a definitive category at running stores and outdoor shops. At the time, though, shoes lagged behind, generally fell into two distinct categories: lighter, flexible and less durable models from running brands like Nike, Adidas, New Balance, ASICS, Saucony and Brooks, and more durable, more protective— but decidedly heavier and often clunkier—models from hiking boot brands like Salomon, Vasque, Garmont, Tecnica, Merrell, Timberland and Scarpa. The lighter, road-oriented models were OK for smooth trails and gravel roads, but weren't capable of handling technical terrain. The sturdier shoes at the other end of the spectrum lacked agility and flexibility, and typically weighed a hefty 12- to 16-ounces.
It wasn't long, though, before the design paradigms began to merge, and a new category of trail-specific brands began to materialize. Led by its elite team of ultrarunners dominating race podiums and media coverage, Montrail remained the most popular brand within the competitive trail running scene, but soon The North Face and new upstarts Inov-8, Keen, Pearl Izumi, GoLite and Teva briefly became key players in the category. (Although Teva was most known for its Wraptor trail running sandals, it also developed trail running shoes.)
But even in the early 2000s, trail running shoes still occupied only a tiny portion of the shoe walls at most specialty running stores.
"Good ideas existed, but sometimes the realization was maybe not as great, or above all the sport was not picking up," Diard says. "There was no real large market and for many brands, it was like a side project. The category kind of went up and down, depending on whether there were passionate people at companies that were into it. But from a business standpoint, it would be scratched all the time because it was too small and not developing. It's only when there is a moment in which it gets big enough that brands can really see the enthusiasm of users that a larger market can really exist."
As trail running finally began to grow gradually outside of the narrow focus of ultrarunning and gained more mainstream appeal, there was suddenly a flurry of faster and lighter performance-oriented trail running shoes that combined the best aspects of traditional road running shoes (soft, cushy midsoles, breathable uppers and a lightweight design) with key trail specific features (grippy outsoles, flexible rock plates and reinforced uppers). A few top models of the early 2000s included Montrail's Leona Divide, The North Face Fire Road, New Balance 805, Nike Air Tupu, Salomon Speedcross and Teva X-1. But the two shoes that really exemplified the new direction of the category were the La Sportiva Slingshot and Brooks Cascadia, which both launched in 2005.
The Slingshot was a relatively light (10 ounces for a men's size 9), fast and agile model that had a snug fit and featured a thin dual-density midsole, a durable reinforced upper and and multi-surface outsole with segments of shock-absorbent rubber from road running shoes and sections of sticky Frixon XT rubber typically found on the brand's rock climbing shoes. As one of the first true adrenaline-fueled mountain running shoes, it was a mix between a modern-day racing flat and a durable ridge-rambling approach shoe. The wildest thing about it? The $75 price tag!
In 2004, Brooks had lured Jurek away from Montrail after he had racked up his fifth straight win at the Western States 100 and he immediately contributed to the design of the forthcoming Cascadia, one of the first trail shoes that provided copious amounts of EVA cushioning and an internal structure of firmer pivot posts aimed at stabilizing the ride over uneven terrain. Although it wasn't particularly light (about 12.5 ounces for a men's size 9), it was fairly agile, and with a breathable upper, a rocker profile and forefoot flex grooves, the Cascadia felt like a road running shoe built for the trails.
Marketed to both hard-core trail runners and road runners who occasionally ran on trails, the Cascadia helped expand the scope of the trail running shoe category, and would eventually become one of the best-selling models of all-time, still striding strongly in its 17th edition.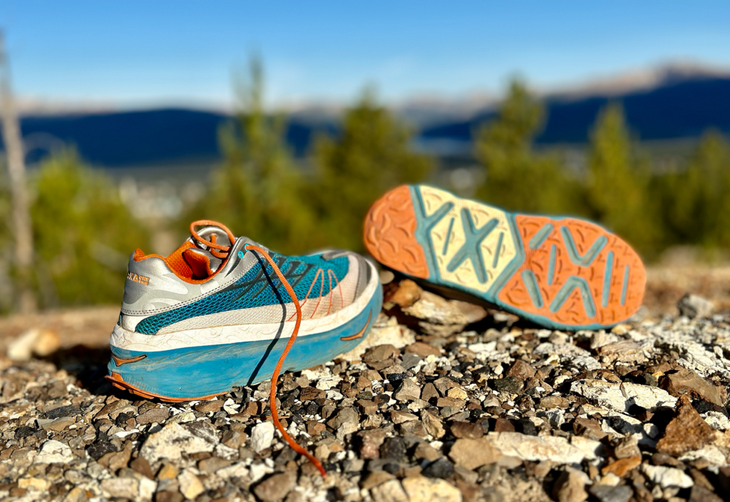 From Minimalism to maximalism
Just as it looked like trail running shoes were on an upward trajectory with practical designs, smart innovations and increasing sales, both the sport and the industry stumbled through a hiccup known as minimalism.
The movement was fueled by diverse elements, including research showing that shoe cushioning and control mechanisms do not prevent injuries (and can cause them), the debut of Nike's line of Free shoes, a bizarre, cultish, Internet-fueled barefoot running trend, the rise of ultrarunning wunderkind Anton Krupicka, who won the Leadville 100 in 2006 and 2007 wearing featherweight, low-to-the-ground shoes, the oddly popular Vibram Five Fingers toe shoes, and, of course, "Born to Run," the 2009 New York Times best-seller from Chris McDougal about the sandal wearing Tarahumara runners in Mexico's Copper Canyons. When these elements converged, suddenly every running shoe brand was making shoes with negligible cushioning and a "barely there" feel.
While the minimalist shoe design paradigm gained mainstream headlines, worked for some runners and produced a few interesting shoes—the New Balance 101 and Merrell Trail Glove were two of the most popular models of the trend—it turned out to be the exact opposite of what most trail runners seemed to want. By 2011, the minimalist boom dropped off almost as sharply as it had arrived, but its legacy lived on in the world of running shoes. While it was clear that most runners appreciated more cushioning and protection while running on trails, the minimalist design ethos had forced shoe developers to source out the new components that were lighter, more durable and more dynamic, and to pay attention to how the shoe interacted with the foot and its movements..
As trail running grew and evolved, designers came to understand that trail running shoes needed the right mix of three key elements: cushioning, protection and traction. How those features are incorporated into a shoe—along with a secure fit, breathability and the right amount of "feel for the ground"—depended on both the personal preference of runners and the type of trail running they were engaging in.
With the concurrent advancements in materials science that were propelling innovation in numerous industries—new foams, fabrics and rubber compounds, and eventually new and more readily available green and recycled materials—shoe manufacturers began to develop innovative ideas and better manufacturing techniques, while taking more input from elite-level trail runners at the start of the design process. Three of the key innovations of this era were the launch of Hoka's maximally cushioned shoes, the launch of Altra's zero-drop and foot-shaped design elements, and the development and wide use of Vibram's Megagrip outsole.
Even as minimalism was becoming a phenomenon, Diard was leading a curious group of trail runners in Annecy, France, who were working to develop shoes with crazy-thick midsoles.This design construct aimed at creating a larger "sweet spot," much the same way that widebody powder skis, fat-tire mountain bikes and oversized tennis rackets evolved performance in those sports.
Diard, Nico Mermoud and Chrisophe Aubonnet tried a lot of unique designs—including a strap-on overshoe concept that a runner could carry in a pack running up a mountain and then put on for extra cushioning while running steep descents—but eventually the oversized midsole concept and rocker geometry became the key elements of the new Hoka brand of shoes. The maximally cushioned Mafate trail running shoe launched in 2010, at the height of the minimalist craze. While it took a few years for the concept to take hold, by 2013, when Hoka was purchased by Deckers Outdoor Corporation, the brand had become one of the fastest-growing shoe companies in both road running and trail running.
RELATED: The Mastermind Behind Your Favorite Shoes Is About to Disrupt the Shoe Industry. Again.
At the same time, a Utah-based trio of curious trail shoe connoisseurs—Golden Harper, Brian Beckstead and Jeremy Howlett—had been tinkering with ideas that would allow runners to move through a gait cycle with more natural form. Harper and Beckstead were experienced trail runners who had been fitting runners in new shoes at Runner's Corner in Orem, Utah.Following scientific studies and, their first-hand observation of the perils of existing shoe design that seemed to lead to overuse injuries, combined with their own experiences on running ultra-distance trail races, they came up with novel shoes that had a level or "zero-drop" platform and a wide or "foot-shaped" toe box. These would become the key characteristics of the trail and road running shoes of their new Altra Running brand.
Altra instantly gained grassroots appeal, particularly their initial Superior and Lone Peak trail running shoes. The company continued to evolve after two corporate ownership changes, and but has kept those two design elements as it launched numerous other trail runners such as the Timp, Olympus and Mont Blanc shoes.
"I have always seen myself and what we're doing as a champion of the average, every day runner who wants to improve their experience, who wants to move better, who wants to move more efficiently, who wants to be more comfortable, who wants to be quicker but not at the expense of getting injured," Harper said when the brand celebrated its 10th anniversary in 2021. "Sadly, I think there's too much of a focus on marketing bullcrap, as an industry, and not enough focus on scientifically based principles of biomechanics. We need to be talking about running technique and injury prevention and right now we're just talking about running fast but not running better. "
As for Vibram, it successfully pivoted from having to settle a class-action lawsuit—that alleged the company made false and unsubstantiated claims about the health benefits of its glove-like footwear—back to a trusted name in the evolution of outsole rubber. While La Sportiva and Five Ten (Adidas Terrex) moved the needle by bringing sticky rubber to trail running shoes, Vibram worked with shoe brands to morph its grippy MegaGrip rubber outsole treads into custom applications for dozens of partnering shoe brands. It wasn't the first, but it became the most notable of proprietary rubber compounds on trail running shoes  and helped brands create differentiated outsole configurations for specific types of traction for dry, hard rock surfaces to wet and muddy terrain.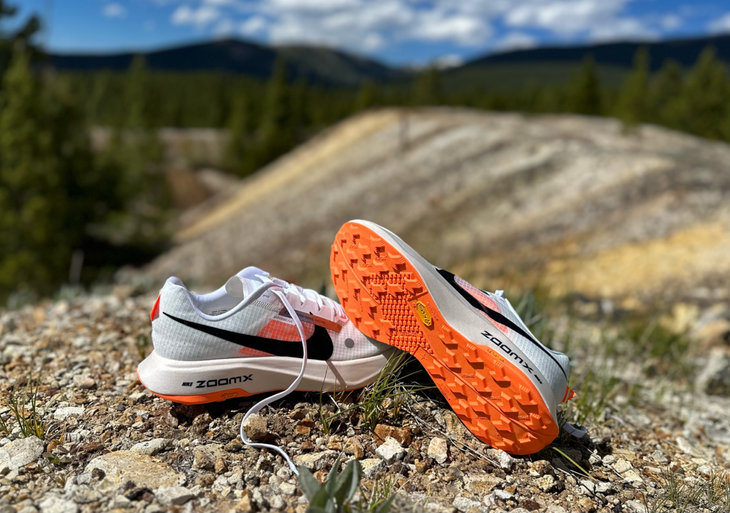 The Golden Age
Fast-forwarding back to modern times, we're living in the Golden Age of trail running shoes. Not only do a lot of the best modern running shoes have an optimal blend of cushioning, protection traction, but there are models specifically built for multi-hour, ultra-distance running, shorter and faster trail running and everywhere in between. But, given the nature of the running shoe industry—and the notion that there is always a way to improve a model for next year—shoe designers and trail runners aren't resting on their laurels.
Just as hyper-responsive midsole foams and carbon-fiber propulsion plates have taken road and track running to new levels of speed, efficiency and recovery, so too are those elements finding their way into trail running shoes. While the jury is still out on how to best way to implement the elements of that design paradigm in an unstable environment, most of the big brands have already unveiled carbon-plated training shoes and most are fast into the development of high-end ultra-distance racing shoes, such as the newly released New Balance FuelCell SuperComp Trail ($199).
There are inherent challenges to incorporating rigid, full-length plates into the soft midsoles of trail running shoes, the biggest of which is that those shoes are often very tippy side-to-side, both because the foam is squishy and because the plate can act like a level pivoting on a fulcrum of a rock or root underfoot. On the other hand, without the right formulation of foam, a shoe can feel too firm, especially after the halfway point of any long trail race.
That said, Hoka's strategy is to insert two parallel plates in the midsole of its Tecton X shoes to help moderate the left-right stability while still offering superior forward propulsion. Other companies like Saucony and Speedland have incorporated a Carbitex plate that bends in one direction to adapt to the trail but not in the other to provide propulsion. And The North Face added outrigger "wings" to its plate for stability.
RELATED: First Look: Hoka Tecton X 2 Reviewed
The fall of 2023 and spring of 2024 are bringing the launch of several new models with proprietary energy-returning super-critical foam midsoles and curvy carbon-fiber plates for propulsion and protection. Nike, which is launching its long awaited Zoom X Ultrafly Trail ($250) in August, seems to be back in the trail game for the long-term. While the updated Trail Pegasus continues to be heavier and more cumbersome than an entry-level shoe should be, the brand's updated Wildhorse and Kiger models have continued to improve since 2015, and last year's Nike Zoom X Zegama was a big success even though they've all lack sufficient sticky-rubber outsoles.
Nike was so meticulous in developing the Ultrafly Trail as authentically as possible, it released a prologue edition of the model in June 2022 to retailers, athletes and media close to the sport. That version of the shoe was light, fast and energetic, but the foam midsole was too squishy and unstable and the rubber outsole ranged from barely grippy to downright slippery on various types of terrain. Nike took the constructive feedback—especially from Nike Trail athletes Tyler Green, Matt Daniels, Addie Bracy and Drew Holmen—and improved the foam midsole with a thin fabric casing and, for the first time, partnered with Vibram and incorporated a MegaGrip Litebase outsole.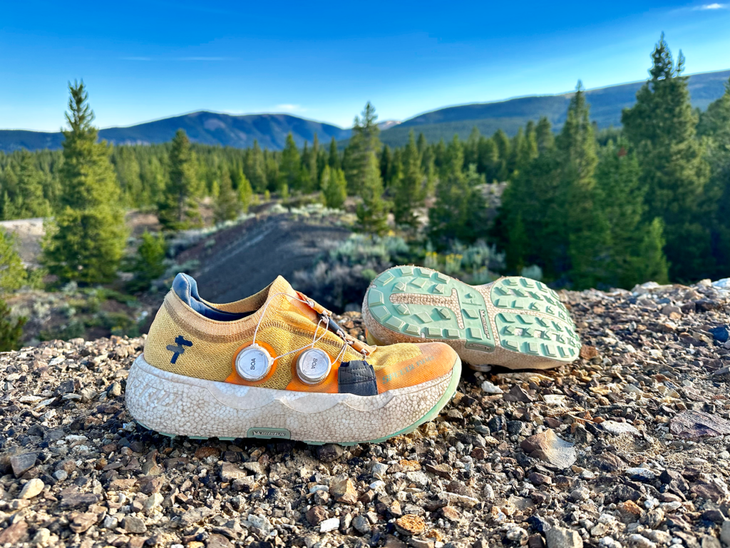 Where Next?
While high-end racing shoes will make a big splash, the hottest category of trail running shoes for 2024 might be centered around models with high-rebound foam midsoles without propulsion plates, such as the newly released Saucony Endorphin Rift ($170) and Salomon Thundercross ($140).
"Most runners are looking for more rebound and more cushion, even if they're not looking for the highest amount of cushion possible," says Mike Genauer, director of product and planning at La Sportiva, which is launching a high-rebound mountain running shoe in 2024. "The biggest technology that everyone's talking about right now is the foam, but there are so many different ways that you can apply that to get lighter weight shoes with longer lasting midsoles that provide more rebound."
In the past several years, the rise of smaller brands like Speedland, Norda, Atreyu, Craft, VJ, Topo, NNormal and Vimazi have brought their own interpretation of what trail running shoes can look like—and cost.  Speedland's first two models—with a dual-BOA closure system, high-end Peba foam midsoles and dynamic (and removable) Carbitex midsole plates—sold for $375, and its latest shoes—the GS: TAM and GS:PGH—retail for $275, which is similar to the Norda 001 ($285). Meanwhile, Atreyu released its utilitarian, no-frills Base Trail model this year with a $115 price tag, while Vimazi, which launched a collection of pace-tuned road running shoes this summer, is about to launch a pair of pace-oriented trail running shoes this fall, and Tucker, who developed that long-ago Montrail Vitesse, designed them.
Increasingly, trail running has become a global sport and brands like NNormal (Spain), Mammut (Switzerland) and Kailas (China) are also making big splashes in 2023, even if those shoes aren't yet readily available in North America.
The bottom line is that trail running shoes have evolved to deliver fit, comfort and performance for any specific pace, distance or type of terrain. Diard thinks the true evolution of trail running shoes has just begun. In addition to more shoes with super foams, he expects to see key innovations in the area of lighter weight uppers that don't absorb water and more features to create personalized fit for a wide range of foot shapes.
"More people are aspiring for more freedom to go into more places than ever before, and the trail is where people are going, and because of that, during the next three years I expect a big, big evolution in the trail shoes with more segmentation, and much better performance overall," Diard says. "The cool thing is that this is a category, just like the road running shoes, it is about to evolve quite a bit. I would say that 2023-2024 is the equivalent for trail running shoes of what 2017-2018 was for road running shoes. Trail running shoes are just at the beginning of their next generation."
RELATED: 10 Things You Didn't Know About Altra Running Shoes