First Look: Skydio 2+
Turn your trail runs into movie magic with the Skydio 2+ autonomous drone
You already know that drones changed the action-footage game. With seemingly unlimited options for maneuverability and cameras that can now capture 4K HD footage, a solid drone is essentially an aerial film crew that you direct. What you might not know: autonomous drones have changed the game again, taking "set it and forget it" to a new level. Once the drone takes off, it follows a beacon signal, either from your phone or a small remote. Drones like this are perfect for running trails. All you have to do is set the drone down, hit the takeoff button, put the beacon in your pocket, and head out.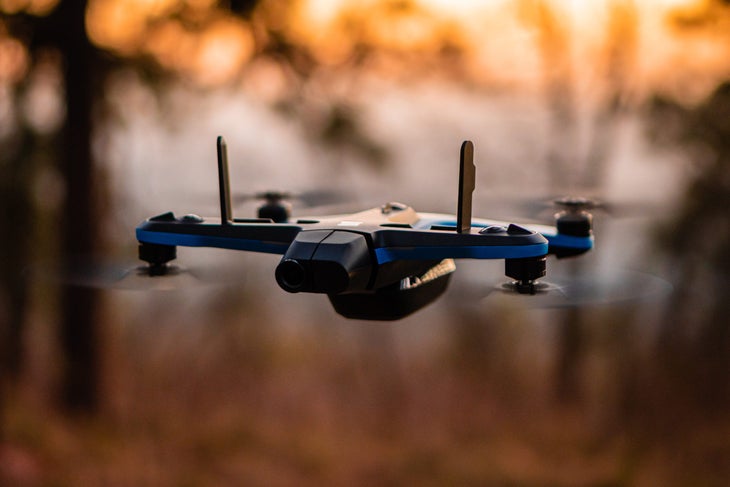 The Skydio 2+ is a 4K autonomous drone that sees you—and follows you—through the densest forests and tightest trails. The Skydio 2+ boasts a max speed of 36 mph and an updated battery life of 27 minutes, meaning this drone will be right there beside you as you traverse rough terrain. Skydio 2+ also enlists 360-degree obstacle avoidance to keep the camera out of the branches and fixed on you. 
The Skydio 2+ comes in four kits (Starter Kit, Sport Kit, Cinema Kit, and Pro Kit). For something like trail running, the Sport Kit is the way to go. You get the drone, the beacon controller (about the size of a flip phone), three batteries, a dual charger, a 128MB micro SD card, and a protective case for all of it. Depending on your comfort level, you can control the Skydio with an app or the Skydio Beacon, the latter of which is the most user-friendly way to fly. Simply click a button on the drone to launch, choose where you want the drone to follow you—in front, behind, orbiting, etc.—and take off on the trail. As you run, the Skydio 2+ will capture you in 4K60 HDR, creating an incredibly beautiful video, all while autonomously avoiding trees and getting aerial angles usually reserved for the pros. You can focus on your run while the Skydio 2+ focuses on you. Elite runner Alexander Holmblad says, "The Skydio has let me have more control, without even being close to the controller. Imagine that. Getting to focus on your running." 
As for specifics, the Skydio 2+ weighs just over one pound and measures about seven by nine inches, so it's unobtrusive to store. All the components are securely held on a durable magnesium skeleton, and in the event you need help, Skydio offers a comprehensive support plan.
With autonomous tracking, a beacon range of up to 1.8 miles, the ability to shoot in 4K60 HDR, and total obstacle avoidance, the Skydio 2+ will turn your next run into movie magic.
---
Skydio 2+ is the only drone that brings you new feature updates and fun new functionality long after your first flight. For those looking for a gift that keeps on giving, the company is offering the Skydio 2+ for $899 while supplies last. With a $200 discount across the entire Skydio 2+ Kit lineup, there has never been a better time to buy a Skydio. The Holiday promotion is live now at shop.skydio.com.