The Fastest Trail Shoes in Chamonix
Here's a rundown of the shoes on the feet of the top runners in the 2023 UTMB World Series Final races in Chamonix.
Heading out the door? Read this article on the new Outside+ app available now on iOS devices for members! Download the app.
If you're a trail runner or a running shoe geek, being in Chamonix is like being a kid in a candy store. Not only are there great trails and races to run, but because every brand and almost every elite athlete is there, it's the perfect place for people watching and shoe spotting, too. 
In the days after the races, we dug through photos, texted with athletes and talked to brand managers to come up with a list of the shoes worn by the top 10 men and women in the Ultra-Trail du Mont-Blanc 172K race, as well as the podium finishers for the OCC 50K and CCC 100K races. (Many runners changed shoes at various points during the race—including UTMB men's winner Jim Walmsley and runner-up Zach Miller, who both switched to lighter, softer shoes at the 127K Champex Lac aid station about 75 percent of the way into the race.) 
The most prevalent shoes on the UTMB World Series Final podiums were the Adidas-Terrex Agravic Speed Ultra, a Spring 2024 shoe that the brand unveiled to the public two days before the race, Salomon S-Lab Genesis, Hoka Tecton X 2 (including custom variations and prototypes) and The North Face Summit Vectiv Pro (including 2024 prototype variations). The Salomon shoe has a flexible rock plate embedded in the midsole, while the shoes from The North Face, Hoka and Adidas have some variation of a carbon-fiber propulsion mechanism built into the midsole.
Two other forthcoming shoes were unveiled during the UTMB race expo: the Craft Pure Trail (available in mid-September) and the Scarpa Ribelle Run Kalibra HT (available in early 2024).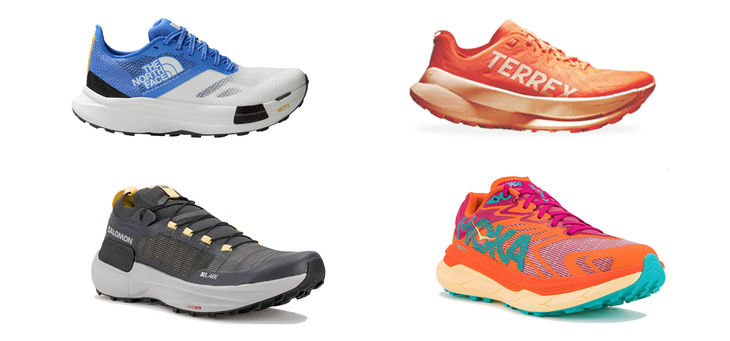 UTMB
WOMEN
1. Courtney Dauwalter, 38, United States, 23:29:14, Salomon S-Lab Genesis
2. Katharina Hartmuth, 28, Germany, 24:10:52, Hoka Tecton X + Hoka Tecton X 2
3. Blandine L'Hirondel, 32, France, 24:22:50, Decathlon Evadict MT Cushion 2
4. Fu-Zhao Xiang, 32, China, 24:50:33, Hoka Speedgoat 5, Tecton X + Mafate Speed 5
5. Maite Maiora, 43, Spain, 25:02:26, Hoka Tecton X 2
6. Katarzyna Solińska, 33, Poland, 25:20:23, On Cloud Ultra 2 + On Cloud Vista
7. Ailsa MacDonald, 43, Canada, 25:48:54, Saucony Peregrine 13
8. Leah Yingling, 32, United States, 26:21:24, Salomon S-Lab Genesis
9. Sabrina Stanley, 33, United States, 26:58:53, Adidas-Terrex Agravic Ultra + Adidas-Terrex Agravic Speed Ultra (Spring 2024)
10.. Lucy Bartholomew, 27, Australia, 27:39:23, Salomon Ultra Glide 
MEN
1. Jim Walmsley, 33, United States 19:37:43, Hoka semi-custom prototypes (two different variations of Hoka Tecton X 2)
2. Zach Miller, 34, United States, 19:58:58, The North Face, The North Face prototypes (two variations of 2024 shoes)
3. Germain Grangier, 33, France, 20:10:52, The North Face, Summit Vectiv Pro
4. Mathieu Blanchard, 35, France, 20:54:25, Salomon S-Lab Genesis
5. Ludovic Pommeret, 48, France, 21:00:54, Hoka prototype (Spring 2024)
6. Thibaut Garrivier, 33, France, 21:10:38, semi-custom Hoka Tecton X 2 prototype (Spring 2024)
7. Tyler Green, 39, United States, 21:19:21, Nike Ultrafly
8. Hannes Namberger, 34, Germany, 21:20:46, Dynafit Ultra 100
9. Arthur Joyeux-Bouillon, 29, France, 21:31:22, On Cloudsurfer Trail (Spring 2024)
10. Baptiste Chassagne, 30, France, 21:38:11, Salomon S-Lab Genesis
OCC
Women
1. Toni McCann, 29, South Africa, 5:18:21, Adidas-Terrex Agravic Speed Ultra (Spring 2024)
2. Katie Schide, 31 United States, 5:26:25, The North Face Summit Vectiv Pro
3. Miao Yao, 27, China, 5:27:07, Salomon S-Lab Genesis
MEN
1. Stian Angermund, 36, Norway, 4:42:50, ASICS FujiSpeed 2
2. Francesco Puppi, 31, Italy, 4:44:58, Nike Zegama
3. Antonio Martinez Perez, 32, Spain, 4:45:19, Scarpa Ribelle Run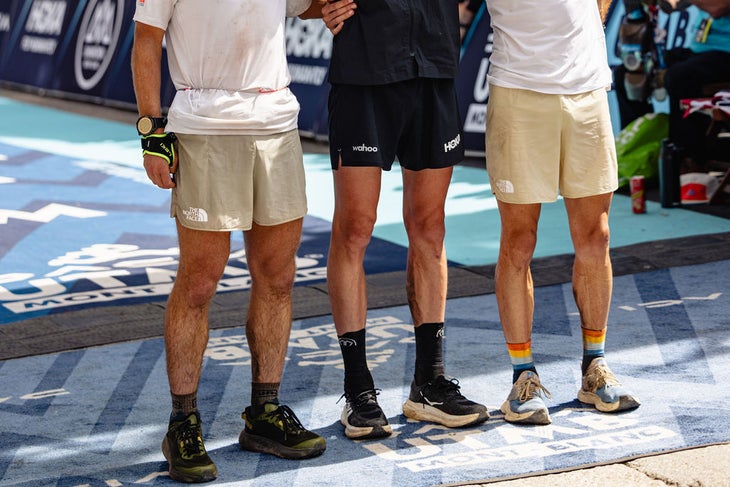 CCC
Women
1. Yngvild Kaspersen, 28, Norway, 11:51:22, Adidas-Terrex Agravic Speed Ultra (Spring 2024)
2. Emily Hawgood, 29, South Africa, 12:28:19, Adidas-Terrex Agravic Speed Ultra (Spring 2024)
3. Helen Mino Faulkner, 27, United States, 12:38:05, Hoka Speedgoat 5 
Men
1. Jonathan Albon, 34, United Kingdom, 10:14:25, The North Face Summit Vectiv Pro
2. Jiasheng Shen, 28 China, 10:22:30, The North Face Summit Vectiv Pro
3. Dakota Jones, 32, United States, 10:41:40, NNormal Kjerag