First Look: Nike Ultrafly, Reviewed
Enhanced with a carbon-fiber plate, responsive foam, and Vibram rubber, the Ultrafly is Nike's first high-performance trail racing shoe
Heading out the door? Read this article on the new Outside+ app available now on iOS devices for members! Download the app.
Nike has been in the trail running game for as long as any brand in the shoe biz, dating back to its original models in the early 1980s. But despite being one of the predominant brands in track and road racing, its line has lacked high-performance trail racing shoes. 
Until now, that is. 
The mid-August launch of the Nike Ultrafly ($260) puts the brand on the map with other trail running supershoes and reinforces its recent all-in commitment to trail running. The shoe features a curvy carbon-fiber, propulsion-enhancing Flyplate embedded in a hyper-responsive ZoomX foam midsole, a lightweight micromesh upper, and a grippy Vibram outsole with low-profile 3.5mm lugs.
RELATED: The Evolution of Trail Running Shoes
Nike released a near-final prologue version of the shoe last summer to its athletes and select retailers, influencers, and media, and it took the feedback it received—namely that the outsole rubber wasn't tacky enough and that the foam midsole was too soft and was very unstable in the heel—to make the shoe much better. Although the new Ultrafly is  essentially the same shoe, the final production version has a Vibram Megagrip Litebase outsole and a ZoomX midsole that's tightly wrapped in a thin, durable mesh fabric that stabilizes and moderates the foam. 
Although the Ultrafly is not quite a max-cushioned shoe—it has an 8.5mm heel-toe offset with a 38.5mm stack height of foam and rubber under the heel and 30mm under the forefoot—it's light and nimble enough to run fast, but cushy enough to run long distances. The ZoomX foam—the same material found in Nike's high-end Vaporfly and Alphafly marathon racing shoes—is incredibly responsive and literally puts a noticeable spring in every step. Plus, the lower forefoot provides good proprioceptive feel for the ground that makes it conducive to quick footsteps and sharp cornering at faster speeds. 
The Ultrafly arrives at a time when The North Face, Adidas Terrex, Craft, Saucony, Salomon, and Hoka have launched, or will soon be releasing, high-performance trail running shoes that follow a similar carbon-plated design that has already revolutionized road and track racing. Although the jury is still out as to how much a carbon-fiber propulsion plate is needed or wanted for long trail races—as always, it depends on the terrain, course profile, and runner preference—Nike has put itself among the top of the heap of high-performance trail running shoes. 
RELATED: FIRST LOOK: The North Face Summit Vectiv Pro, Reviewed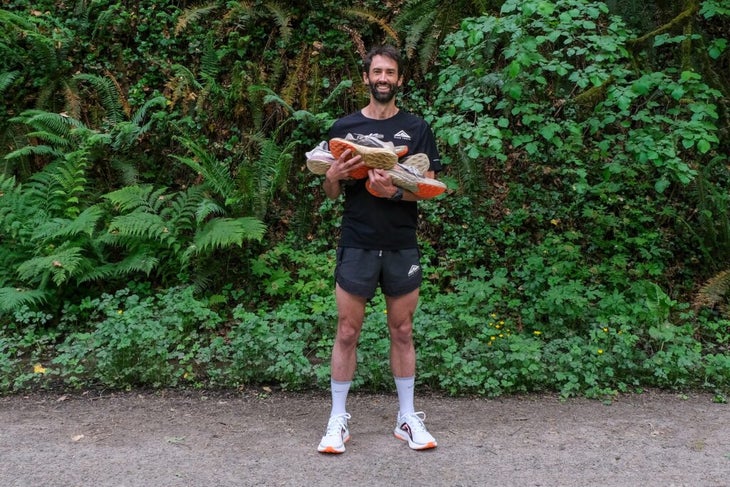 The Nike Ultrafly: Fit and Feel
The Ultrafly fits true to size, with a narrow-medium interior volume (but a little bit of toe wiggle room in the forefoot) that's secured by a thinly padded, semi-gusseted tongue and a moderate heel counter. It feels light (estimated at about 8.3 ounces for a women's size 8 and 9.8 ounces for a men's size 9), agile, energetic, and stable on mild to moderate trail terrain and fire roads, which is where it excels. 
Although the foam is soft and responsive like a road running shoe, it's not marshmallowy (thanks to the nylon mesh-reinforced wrapping of the midsole foam) and with a wide forefoot profile, it provides a bit more stability (especially compared to last year's version) on off-camber terrain. As expected, it's a little less at home on technical trail terrain, although the outsole rubber and interior plate do a good job at keeping under-foot stingers from sharp rocks at bay. The rip-stop micromesh upper is modestly reinforced (but barely so around the toe box), and it could make your feet vulnerable to sidewall abrasions and stubbed toes. 
The Vibram Litebase outsole rubber, although not nearly as tacky as the sticky rubber of the industry-leading Frixion outsoles of La Sportiva trail shoes, is a huge upgrade from all previous Nike trail running shoes. Over the past several years, Nike has improved its line of trail running shoes—especially the Wildhorse, Kiger and Zegama models—but the biggest shortcoming has always been that they've lacked optimal traction for high-performance running. Nike solved that problem with the Ultrafly by partnering with Vibram for the first time, making it the best light-and-fast trail shoe in its lineup since the Air Tupu in 2002-2003.
Compared to other carbon-fiber trail running shoes out on the market, it falls somewhere between the the stable and durable Hoka Tecton X 2 and the light and exceptionally springy and propulsive Summit VECTIV Pro from The North Face. And although looks don't have anything to do with performance, the bright white upper and midsole become dingy and dirty after the first run. (But the fast and agile ride remains even when it becomes a shade of grimy gray.)
Nike athletes Tyler Green, Nienke Brinkman, Brittany Peterson, Matt Daniels, Addie Bracy, Drew Holmen, and Erin Clark have been wearing prototypes of the Ultrafly for two years, and Green wore a pair (a custom model without the plate) en route to a second-place finish at this year's Western States 100, while Bracy wore them in her recent third-place finish at the Speedgoat 50K.  
The other notable aspect of the Ultrafly is that it's not cheap. In fact, with a $260 price tag, it's downright expensive and might make you think about whether you need such a high-performance shoe or whether you'd rather buy a pair of versatile Altra Superior ($130), Saucony Peregrine ($140), Salomon Ultra Glide 2 ($150), or Nike Zegama 2 ($160) and spend the difference on other trail running gear you need.
Bottom line: The Ultrafly is a top-tier, high-performance shoe that blends a great combination of speed, agility, cushioning, and traction. If you're interested in fast-paced training and racing, it's definitely a shoe to consider adding to your quiver.