The Science of Thermoregulation Fabric Design
Wool, fleece, Polar-grid, and waffle knit: here's the science behind certain fabrics that keep you warm and comfortable in a variety of conditions.
Heading out the door? Read this article on the new Outside+ app available now on iOS devices for members! Download the app.
In 1972, Alfred Wainwright completed a 190-mile walk across Northern England, from the Irish Sea to the North Sea. In his book about the walk, Coast to Coast, Wainwright remarked, "There is no bad weather, only unsuitable clothing."
While it is hard not to admire Wainwright's moxie, committed trail runners might have a few addendums to this statement. It turns out there is bad weather, be it freezing rain or a particularly icy slog. But given innovations in thermoregulation, there is also highly suitable clothing and innovative fabric design. 
As Dr. Tasha Lewis, a professor of fashion and retail studies at Ohio State, explain that there are indeed fabrics that can effectively move moisture away from the skin, provide warmth without weight, and protect against wind and water in a layered arsenal that can keep you toasty and dry, even when the weather is anything but fair.
"Power dressing is not just for the office," says Lewis. "It can be a way to approach outfitting oneself in the right garments in order to face the elements in a variety of situations so that you feel confident in both the level of protection and comfort."
Of course, we're not all going to become experts like Lewis, but understanding the basics can help consumers select gear wisely, rightfully placing the cool weather running emphasis on the experience rather than the conditions. There are quite a few options out there for those of us who aspire to be four-season runners enjoying three-season comfort, that range from classic to cutting edge. Here are some fabrics and designs worth considering for those chilly springtime jaunts.
The Thermal Classics
Waffle Knit Wool
There is a reason certain fabrics and patterns have become synonymous with thermoregulation. On a recent outing, I ventured to the Middlesex Fells Reservation, north of Boston, and promptly got lost, thanks to a wrong turn (and stubbornness). Considering the frigid conditions, things could've deteriorated quickly, but I was never too hot or too cold, in part because I was wearing the eponymous Tracksmith Fells Waffle Merino Layer with its tried and true grid construction. 
RELATED: What Our Editors Loved in February
Humans have been using wool since at least 10,000 BC as a material for clothing and textiles. Wool is able to retain heat because small pockets of air in the fibers circulate heat, which means it's better able to react to fluctuations in temperature. It can help keep you warm when it's cold, and cool when it's hot out. Keratin, a protein found in animal hairs, acts as a natural insulator, and comprises about 90 percent of the weight of wool. Another reason for wool's high profile as a performance material is that it can still keep the wearer warm even when it's damp out. Wool is highly absorbent, meaning it can hold moisture for longer before you feel damp. Wool also remains warm even when saturated (a fact that can save lives).
"Before 1940, there was no polyester or nylon. They used natural fibers for a reason," says Dr. Juan Hinestroza, a professor of fiber science and apparel design at Cornell. "Animals can survive in the North Pole and in extremely hot environments at the equator. They learned how to control their temperature through centuries of evolution."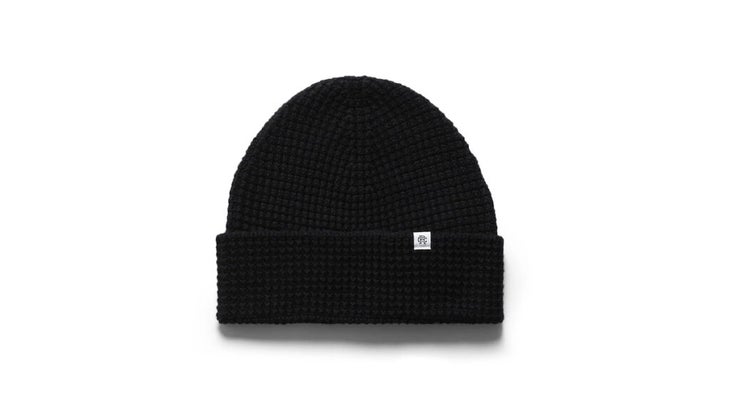 Now, I might not be able to survive at the North Pole for long, but during my run I was also wearing the Reigning Champ Waffle Knit Merino Beanie, which helped preserve the 10 percent of heat loss that occurs through the head. Waffle-patterned merino layers are both breathable and able to trap heat in the pockets created by the waffle pattern (think about how the pocketed texture of waffles so deliciously traps syrup). Merino is also antimicrobial, thanks to the lanolin in a sheep's wool that protects it from infection, so you can work up a sweat without working up a stench. This feature also allows it to be resistant to mold and mildew, leading to a longer-lasting fabric.
Power Grid Fleece
There are no fleece-lined polar bears out there braving the Arctic winter (adorable as that image may be). Fleece is a synthetic material invented in the 1970s at the Malden Mills (now Polartec).
"Fleece refers to a brushed knitted fabric and it provides warmth because of the small fiber's ability to hold heat close to the body," Lewis says. 
Fleece is made from polyester, a fabric made of threaded plastics that was invented in the 1940s. It's a mixture of petroleum and petroleum derivatives (more on the environmental impacts of synthetics here) that goes through a chemical reaction to create polyester fibers, which are spun into threads. The fabric has a raised, textured surface "pile" that creates air pockets that trap body heat inside a garment and keep it from escaping. Synthetic materials like fleece shed water well and can retain warmth, and they can also dry quickly when damp. The air-pocket construction helps wick moisture away from the skin, which helps the wearer feel warm and dry.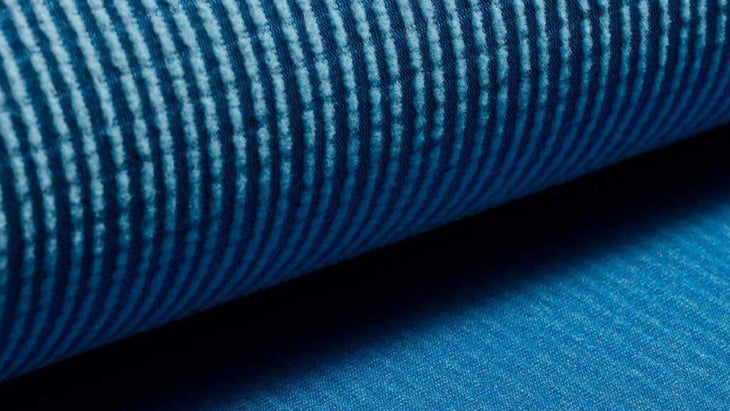 Power Grid fleece was designed by Polartec to reduce overall mass but also trap heat using a gridded pattern that is essentially a waffle knit that uses fleece rather than cotton or wool. Imagine a uniform sheet of fleece. If you hollowed out much of this fabric in a rectangular pattern, you'd be left with a garment that maintains the same thickness in the raised areas but considerably less thickness in the hollows. 
Such knit patterns increase room between the yarns, Lewis notes, which provides warmth thanks to the space created between skin and garment. Because they are designed for high-output activity, as a runner begins to generate body heat, that warm air essentially becomes part of the garment, staying trapped in the grid. So the overall garment can be both lighter and warmer at the same time.
Satisfy's GhostFleece Polartec Power Grid Half Zip is a feature-rich option for runners looking to invest in their winter kit. It is exceedingly warm and light, and has ventilation panels to dump heat, a chest pocket for storage, thumb loops, and flat seams to prevent chafing. 
RELATED: Three Ways To Be A More Environmentally-Friendly Trail Runner
For a hooded version, District Vision's Johannes Thermal uses an Italian gridded fleece along with a high neck gaiter and built-in fold-over gloves for supreme versatility. Patagonia's classic R1 Fleece Pullover keeps it relatively simple on features but provides plenty of lightweight warmth. REI also has a line of trail running tops that employ Power Grid technology at a more affordable price point, including the Swiftland Half-Zip Running Pullover.
The Newcomers
Mono Air Fleece
Fleece may be breathable, warm, and quick-drying, but it also tends to shed a lot of fiber, making it less durable than other materials. Unlike cotton or wool, synthetic fabrics like polyester, nylon, fleece, and spandex are made from petroleum-based materials. Whenever these garments are washed, tiny particles are shed that eventually contribute to the proliferation of microplastics into local ecosystems.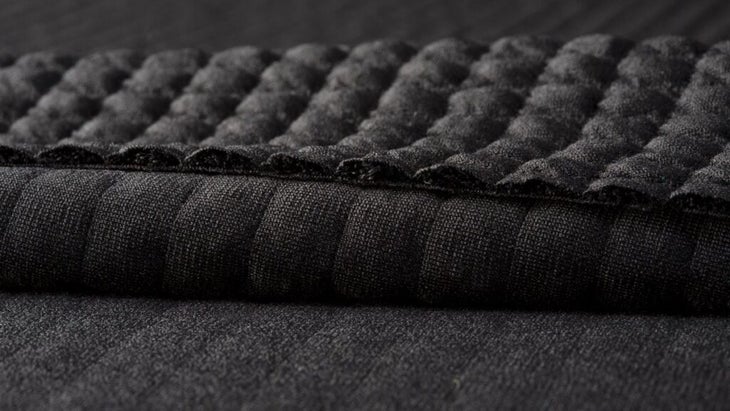 To address this issue, Swedish brand Houdini, in partnership with Polartec, developed Mono Air Fleece, which, thanks to a circular design within the fabric, sheds a fraction of the fibers. The fleece pockets are woven into a knit barrier that prevents excess fibers from escaping the garment. Thus, heat is still trapped within the fleece, as in a waffle or a gridded texture, but those pockets are not open-ended. One retains all of the heat as well as most of the microplastics that would otherwise seep into watersheds.  
The Mono Air Houdini not only uses recycled materials but is itself recyclable, and, thanks to its durable construction, would take a thorough beating before you'd want to part ways with it. It features four-way stretch, thumb loops, and a funnel neck so you can zip it all the way up for those extra cold days. Though it is lightweight, this piece is on the burlier side for a running layer, making it ideal for lower mileage days in the woods when exertion won't be too high and warmth is prioritized.
Alpaca Fiber
For those who prefer to trust evolution and keep it au naturale, there are brands expanding beyond classic sheep's wool, with compelling results. PAKA makes wool using alpaca fiber. Its Everyday Baselayer has been an incredibly soft and warm surprise on my trail runs this winter. 
Alpaca fiber is three times lighter than sheep's wool, and considering that alpacas graze between 11,000-16,000 feet above sea level, the shape of the fiber naturally traps heat. The water retention weight of alpaca fiber is also 8 percent, compared to 16-20 percent for sheep's wool, meaning you can sweat to your heart's content in this layer without getting soggy and cold. 
Arms of Andes also makes Alpaca Wool Leggings that are meant for hiking, but in the lightweight version are plenty warm for running without causing you to overheat. Alpacas of Montana recently launched an alpaca fiber running vest as well. Throw in some running socks from Fluff Alpaca and the All-Paca Fleece Beanie from the Appalachian Gear Company and you can confidently and comfortably alpaca from head to toe.
It All Comes Down to Layering
When it comes to staying warm, nothing beats knowing your body and layering intelligently. Hinestroza cites many factors that influence thermoregulation, from the personal—like heat generation and sweat—to the environmental—like air quality, temperature, and conditions. "It is all about the interface between these two environments," he says. Sure, layers can help manage this interface, but just as everyone has different preferences about waffle toppings, there is no one-size-fits-all solution to staying warm on winter runs.
Both Lewis and Hinestroza stress caution regarding the claims companies make. Fiber science is a nuanced field, and marketing claims aren't always backed by rigorous research. "There are some brands that are carbon neutral, but only on Facebook or Twitter," jokes Hinestroza. "Or they say that they use this chemistry, or their fabric mimics this behavior. But you have to provide evidence of that. Of course you can mimic that behavior—on Instagram." 
Lewis agrees. "There are testing methods to measure the warmth provided by garments and the claims may be true," she says. "But we need to see the data!" Still, when it comes time for her to layer for the cold, she has a go-to garment. "A jersey lightweight wool turtleneck has been one of my favorites," Lewis says. As with waffles, sometimes the classics are simply the most fulfilling options.