Meet the GS:TAM, Speedland's First Max Cushion Shoe
The boutique Portland brand debuts its best shoe yet, a versatile ultra crusher that's modular design can be customized to you.
Heading out the door? Read this article on the new Outside+ app available now on iOS devices for members! Download the app.
Portland-based Speedland made waves in the trail shoe market in 2021 with the SL:PDX, a $375 shoe that was marketed more as "equipment," like a mountain bike or skis, than a simple trail shoe. The goal with their initial run of 1,200 pairs was to build the best shoe possible, with performance, not price, being the primary factor. 
Speedland's founders, Kevin Fallon and Dave Dombrow, have teamed up with Freetrail's Dylan Bowman to launch the GS:TAM, a high-stack, maximum cushion shoe that continues Speedland's legacy of ultra-customizable bespoke trail shoes.
Testers note: While I wasn't a huge fan of Speedland's initial shoes, which felt simultaneously a bit too much (price and features-wise) and too little (insufficient support/cushion/protection on more technical trails) the GS:TAM has made me a bit of a convert.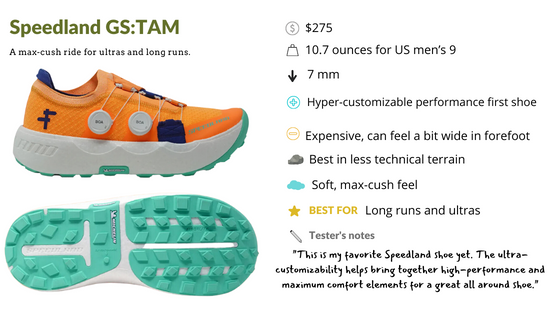 Upper
The GS:TAM retains many of Speedland's trademark features, with a slightly more approachable price-point and ultra-distance sensibility. Rather than a traditional lacing system, the GS:TAM uses BOA's Li2 (same as the SL:PDX), a dual-dial system that allows for quick and easy tightening (and loosening) so that runners can cinch the sock-like upper for a custom fit for more security on downhills, or loosening it accommodate swelling in ultras. 
The upper uses hyper-durable Dyneema (also seen in Norda's shoes), and a hearty, moccasin-style stitching to fix the upper to the midsole. 
Tester's note: There's not a female-specific fit, which I typically look for in shoes (as a woman with a narrower foot), and the toe-box felt a bit wide for me, though most sloppiness is resolved with the BOA system. 
RELATED: The Trail Running Shoes We're Most Excited to Try in 2023
Midsole
This shoe comes in at the higher end of trail shoes, with a 37mm stack under the heel (30mm under the forefoot) but didn't feel too unstable when paired with the security of the BOA fit system. The GS:TAM's midsole uses beaded Pebax, a highly-engineered foam that's lightweight and responsive (and similar to what's used in a lot of supershoes). 
The GS:TAM retains its stability with a high stack height by the customizability of the midsole. There's a removable internal insole, so that you can remove some height and settle your foot further into the shoe for a less max (though definitely still not minimalist, like Speedland's previous offerings). Even with the carbon-fiber plate and insole removed, there's not a lot of trail-feel in this shoe, so if you're looking for a lot of proprioceptive sensitivity, this is not your shoe. However, if you like a plush ride with the option to put a bit of pep in your step, via an optional carbon plate, this is a great option. 
The removable carbon-fiber plate (sold separately for $35) is made from Carbitex DFX, which is a rigid compound that provides additional propulsion. The plate provides a snappier toe-off but with enough downward flexibility to feel stable on uneven and technical terrain. 
RELATED: The Summer 2022 Carbon Trail Shoe Roundup
This shoe's massive stack handles downhills well and has a really snappy toe-off, which can be hard to find in a more maximalist shoe. The rocker of the GS:TAM felt a bit sportier than previous Speedland offerings, and the natural rocker assists the snappy toe-off. 
Tester's note: I really preferred the GS:TAM with the Carbitex plate in the midsole, for extra propulsion and protection on rockier trails. 
This is definitely not an ultra-light shoe. It carries its weight well, (sample size Men's size 9 weighs 10.7 oz, without the plate), proves to be a bit heavier than some options on the market, but is not an outlier for max cush shoes. 
Outsole
The outsole uses a unique (and uniquely expensive) Michelin rubber that uses thin, web-shaped reinforcement layers for extra strength and durability. Its 4.5mm lugs are more versatile than the SL:PDX, which might be great for muddy laps in Portland's Forest Park, but felt excessive or even cumbersome on drier, rockier mountain and desert trails. 
Tester's note: The lugs on the GS:TAM are less customizable than the SL:PDX, but I felt like not having to clip off superfluous bite is a plus. 
Takeaways: This is a great shoe for longer training runs and races, particularly ultra distances. If you've been skeptical of Speedland's approach or price point, this could be a tipping point shoe for runners looking for something that is definitely performance-oriented but doesn't have unnecessary bells and whistles. It's a higher-performing maximalist shoe, and if you've liked offerings like the HOKA Speedgoat Evo or Altra Mont Blanc with BOA, this could be another great shoe to add to your quiver. 
Zoë Rom is Editor In Chief of Trail Runner magazine, and Managing Editor of Women's Running. When she's not running, she's writing, and when she's not climbing she's cooking or eating. Southern story-teller turned mountain-dweller, she starts every day with a cup of strong coffee and a good story. Her work has appeared in  REI Co-op Journal, Discover, Rock & Ice, Trail Runner, Backpacker, and Threshold Podcast. She currently hosts and produces the DNF Podcast. She is co-author of the forthcoming book, Becoming a Sustainable Runner with Tina Muir.