We Live In A Golden Age Of Recovery Apparel
The world of recovery gear is a wild, wild west. Here's your complete guide. 
Heading out the door? Read this article on the new Outside+ app available now on iOS devices for members! Download the app.
It's generally accepted that humans started running about two million years ago. It wasn't until the 1960s, however, that running for exercise really took the world by storm, and since then there's been growing interest in specialized gear with which to embark on this, the running life. Of course, the more you commit to the running life, the more rest and recovery is required, which leads to an even more specific, emerging wing of gear designed to help runners do, well, nothing at all.
Welcome to the Golden Age of Recovery Apparel.
There is compelling evidence suggesting that, for elite athletes seeking the most minuscule of edges in their performance, the biggest gains might come not only from how they train, but how they recover. 
In a recent episode of the podcast The Good Life Project, Sara Mednick, a cognitive neuroscientist and author of The Power of the Downstate, mentioned the story of UFC fighter Glover Texiera, who, at age 42, became the oldest first-time champion in the sport's history:
"He took himself by two hands and just decided, 'I need to work on my recovery processes.' And he basically started working on improving his sleep, improving his heart rate, improving all the things that are not about working out, they're actually about not working out. They're about really resting deeply. He became a world champion only after that happened. So it wasn't any of the stuff that people do to themselves now that push themselves beyond what they think is superhuman, it's actually getting into the most natural state of your most natural recovery."
RELATED: The 10 Commandments Of Injury Prevention
For years, runners have preached about the importance of recovery. As ultrarunner Larisa Dannis pointed out, "The body grows stronger during the recovery process vs. the actual race/workout. Learn to embrace the downtime and view it as a welcome physical/mental break from the grind of training." Or take it from mountain running legend Killian Jornet: "We need to think that, when we train, it is a stress to our body. We need the rest to recover and improve. If we get this stress from training, from not sleeping a lot, from the stress of the world, then we need more time to recover."
So, if recovery is so important, is recovery apparel a marketing trend, or will you actually benefit from a running kit featuring clothes designed to optimize your non-running time? 
The irony of the recovery craze, explained Christie Aschwanden, former elite athlete, science journalist, and author of Good to Go: What the Elite Athlete in All of Us Can Learn About the Strange Science of Recovery, is that our frantic recovery attempts ironically can have quite the opposite effect. 
"When I was an athlete, recovery was a noun," Aschwanden says. "Now it's a verb that people try to attain by doing all of these things, whether it's foam rolling or the cold bath. All these extra things are, in a sense, the antithesis of what recovery really is, which is rest and downtime."
The same principle, she noted, also applies to recovery gear. 
"If you're putting on these things and sitting around and relaxing, that's beneficial," said Aschwanden. "But it's the relaxation and rejuvenation that's helpful, not some magical property of the garment."
In order to determine how gear designed for stillness can play a role in influencing movement, I decided to go on my own restful deep dive into down time. Here's what I found. 
It's Nice to Walk on Clouds
When Lusso launched their line of super cushy footwear, I was a skeptic. After all, $135 for slip-on sandals seemed extravagant, especially when compared to the ubiquitous $20 slides many athletes wear. But a lot of those athletes are teenagers with seemingly indestructible feet. After being kept off the trails by injuries in recent years, I finally decided to invest in my feet.
RELATED: Here's What Our Editors Loved In April
I wasn't sold on Lusso's Pelli slippers until putting them on after a run. Sure, almost anything feels better than your running shoes when your feet are swollen after a session in the woods, but to put on something that features a triple layer of supportive footbed, memory foam, and natural latex was next-level. Plus, the waffle knit and breathable lining was comforting without being hot. Full disclosure? I'm wearing them right now as I type, as the Pelli makes for a decadent house shoe.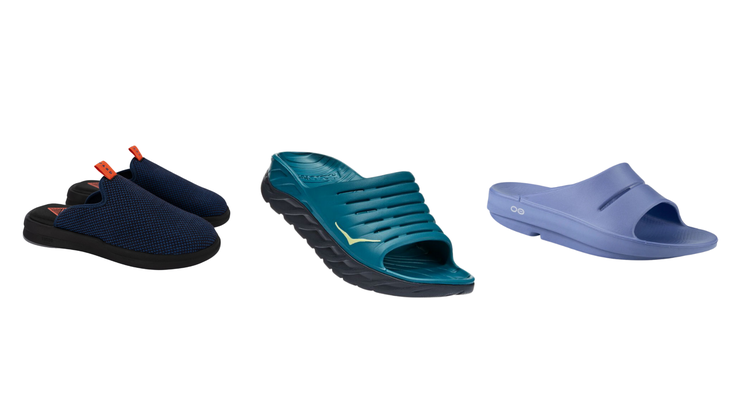 There are other players in this category, including HOKA's ORA Recovery Slide ($50), featuring a dual layer construction of soft EVA foam top layer and resilient and supportive midsole and outsole, and OOFOS OOahh Slide ($60), made from OOFOS proprietary OOFoam which is said to absorb 37% more impact than traditional footwear. My parents swear by the OOFOS for recovering from, well, just being older, but style-wise? I can't seem to get there. Yet. Which I suppose is what kept me rocking the Pelli's beyond my recovery needs; they give off serious lounge vibes. Sure, you're paying a premium, but the premium look and feel is worth it.
Don't Skip Leg (Recovery) Day
There is nothing wrong with sweatpants, and certainly during the pandemic, many Americans have discovered there is plenty right with them. They are cozy, comfy, and stretchy—all features one might seek after putting their legs through the paces. But cheap sweatpants can become dumpy, losing shape and pilling over time.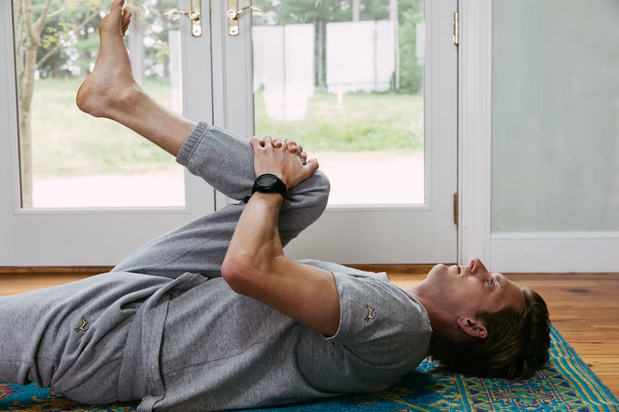 For a pair of sweatpants that is a little more post-performance oriented, On has brought their Swiss engineering pedigree to their lightweight Sweat Pant ($120) with moisture-wicking fabric (recycled polyester, Tencel, and Elastane), zippered pockets, and a trim fit. These have become my preferred pair for slipping on after a run, as they will keep muscles warm while letting excess heat out, thanks to their breathable construction. Plus, their clean cut means I can wear them outside the house without looking like I've totally given up.
"If you're putting on these things and sitting around and relaxing, that's beneficial," said Aschwanden. "But it's the relaxation and rejuvenation that's helpful, not some magical property of the garment."
The Trackhouse Sweatpants ($98) from Tracksmith are designed for those recovery days where inaction takes precedence over most anything else. They are made from an 80% cotton / 20% polyester blend that feels substantial enough to hold its shape while retaining a classic athletic vibe. Tracksmith has made its mark by elevating old-school running basics to meet modern standards, and these sweatpants are no slouches. They aren't necessarily a go-to right after a run, as they're more cozy than cooling with their heavier weight fabric – but they've become the first pants I reach for in the morning as I'm stumbling toward the coffee machine, or stretching pre-run, or chasing my toddler around in an off-day "light workout."
RELATED: Your Guide To The Best Sustainably-Minded Trail Gear
Care For Your Core
What's the main difference between old-school sweatpants and sweatshirts and modern ones? Breathability. That old cotton crewneck will retain all your post-run sweat and become a swamp, while new technical fabrics are far more breathable. For example, Ten Thousand's Recover Crew ($108) is made out of a cotton/polyester/spandex blend that features a permanent anti-odor treatment. Paired with their Recover Pant ($108), you can get kitted out in a super soft (and apparently very "in" right now) monochrome sweatsuit that doubles as suitable cold weather active gear. I've been living in this kit this spring, and though I'm not exactly crushing ultras, it is paying dividends.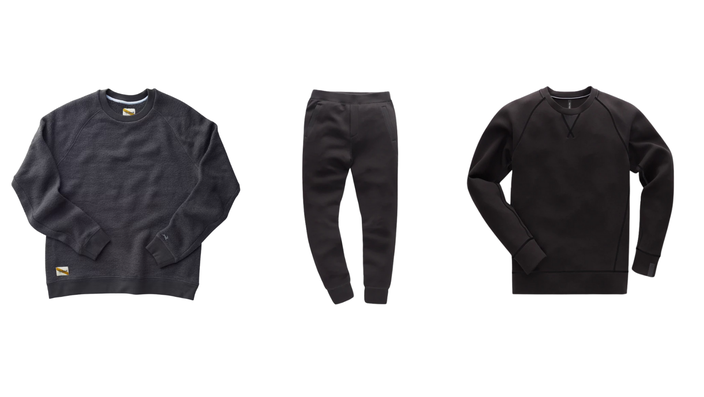 My favorite piece of recovery apparel, though, is Tracksmith's NDO Merino Crew ($188). Though it does not come cheap, this might just be the best wool I've ever worn. Wool is naturally anti-microbial and breathable, making this an excellent post-run option for retaining warmth without overheating or smelling like an old sponge. Tracksmith describes its texture as "nubbly," and, though I don't know if nubbly is even a word, the NDO Crew has etched its nubbly way into my wardrobe and my heart.
The Bottom Line
When it comes to recovery gear for the weekend warrior, marketing might outweigh functionality. But marketing can have a propulsive placebo effect. I'm slightly more amped after a Powerade commercial and more likely to do it when Nike tells me to. Furthermore, by offering an array of recovery apparel, companies are fleshing out a more complete picture of the active lifestyle they are selling. 
These aren't just sweatpants; these are recovery pants because I worked hard enough to need to recover. Consider it a humblebrag for your legs.
But aspiration can also be inspiration, and adding a recovery kit to your training arsenal can make lacing up and getting out all the more appealing, as you look forward to the run and the comfort awaiting you on the other side. 
Like your favorite aprés ski flannel, the right piece of recovery gear is a luxury that probably won't make or break what happens when you're out on the trails, but it can definitely make the aftermath more gratifying and your recovery more intentional. In a way, it is an extension of that spark of enthusiasm that gets us going in the first place, a way to linger in the afterglow of our achievement. And so, if resting and recovering in functional apparel becomes a potentially beneficial part of my training regimen, well, I suppose I can live with that.