Space Inspo: How NASA is Influencing Trail Running Gear
In 1969, we put a man on the moon. Now two brands are weaving moon-worthy innovations into performance gear. 
Heading out the door? Read this article on the new Outside+ app available now on iOS devices for members! Download the app.
Consider yourself forgiven if a lingering, pasty aftertaste of astronaut freeze dried ice cream has forever turned you off from NASA-inspired consumer goods. Sure, beyond the stratosphere, super advanced technology is essential for survival, but does it have any functional place here on Earth? 
According to OROS and Ministry of Supply, two brands that are incorporating technology designed by NASA into cutting edge apparel, the answer is a resounding "yes." 
OROS: SOLARCORE
As a four-season bike commuter and runner, I started my space (gear) exploration by putting OROS' SOLARCORE® line-up to the test through the fall and winter months. SOLARCORE® is the commercial use of Aerogel, a NASA technology that insulates spacecraft down to -450°F in a foam layer designed to minimize bulk. 
True, down fill is lightweight, but you need to really pack in the feathers to retain warmth in apparel, creating that thick, pillowy feel. And those feathers? They often come from geese and ducks. Now this might be ideal for coziness, but less so for cold-weather performance and cruelty-free production. 
RELATED: Got A Race Coming Up? Here's Your Essential Gear List
OROS, on the other hand, lines their apparel with SOLARCORE®, intended to create the a minimal layer with maximal warmth. Here are three gear pieces that incorporate SOLARCORE technology: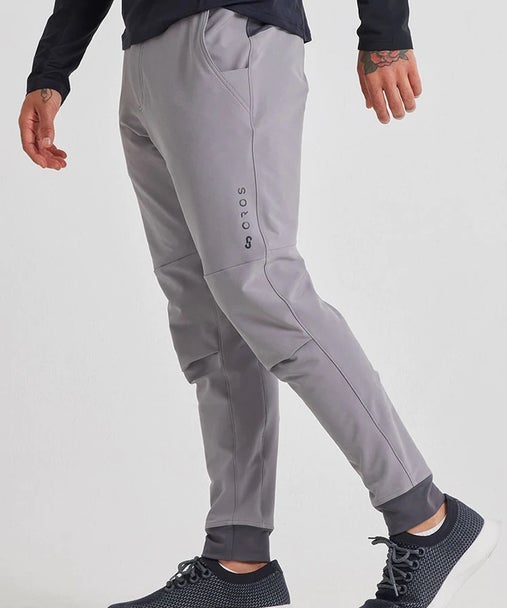 This winter, The Wayfinder became my jack-of-all-trades pants. They are cut like a jogger and are, despite the SOLARCORE® lining, comfortable as a lounge pant, too. I often wore them all day, through my morning meditation, bike commute, coaching sessions, and in the woods. 
During one subzero Vermont day, I wore these pants on a trail run and was grateful for the low bulk warmth and stretchy performance. With the insulation centered around the thigh area, airflow through the knees kept me from overheating once I'd warmed up. I no longer need to wear liners that can quickly become sweaty, or baggy shell pants that are awkward when agility is essential. 
The Wayfinders were ideal for virtually any high output activity in cold weather, and even many low output ones. It turns out astronaut pants are kind of the opposite of astronaut ice cream: high satisfaction, no aftertaste.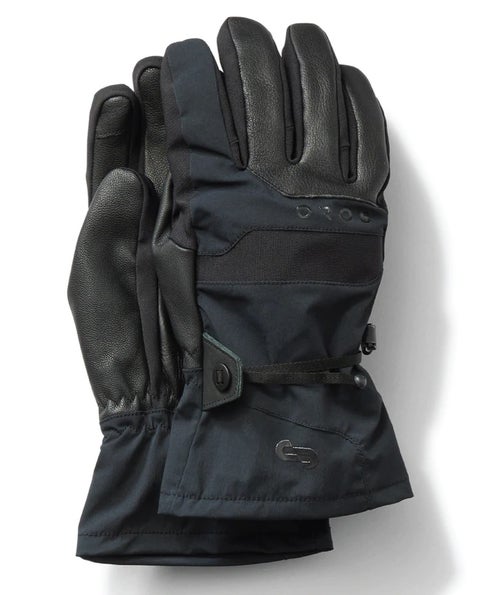 The Endeavour Glove was comfortable and cozy above freezing, but, unfortunately, no match for my poor circulation when the temps really dropped. I suffer from Raynaud's, and eventually pulled the trigger on battery-heated gloves. OROS does make a lower profile Itinerant Glove that seems a much better match for cold weather running.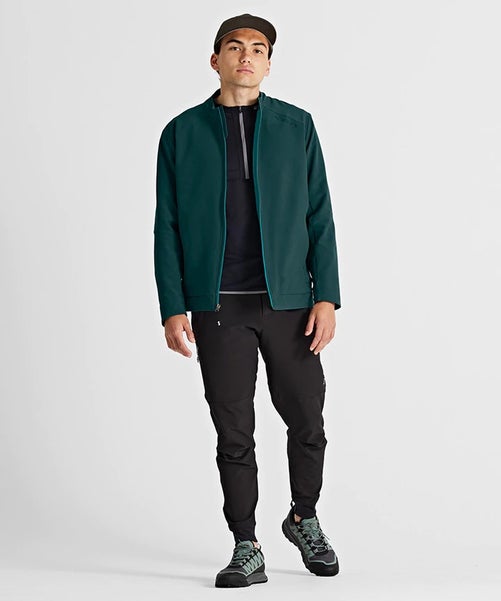 The bomber-style Itinerant Jacket offers plenty of warmth during moderate activity and reminded me of my motorcycle days. Plus the look was wife-approved.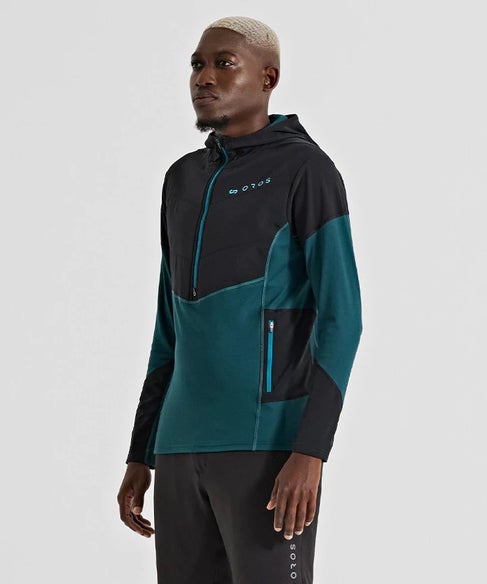 Full disclosure: I didn't get to try this hoodie, but it has a very strong reputation as a stellar cold-weather performer, thanks to similar targeted insulation and stretch as the Wayfinder Pant. Don't take it from me, though. Take it from one reviewer, Jimmy B., who stated: "I'm not exaggerating when I say this thing is probably the single best piece of running outerwear I've ever owned." I don't doubt you, Jimmy. 
RELATED: The Best Trail Running Shoes You Can Find Right Now
Ministry of Supply: Phase Change Material
As winter began to thaw, I sought space inspo for sunnier runs, and that's when I turned to Ministry of Supply. They've been on my radar since 2012, after launching a line of stretchy dress clothes. 
As someone now allergic (figuratively) to non-stretchy clothing, my wife saw this as an opportunity to upgrade my wardrobe, while remaining true to the spirit of stretch. I have since worn their dress shirts to every wedding, formal dinner, and work event since. The temperature-regulating "Phase Change Materials" are NASA-developed, and the clothing is super breathable and sharp-looking.
When Ministry of Supply launched their Active Kit, I was naturally intrigued, and when the first signs of spring arrived I put them to the test.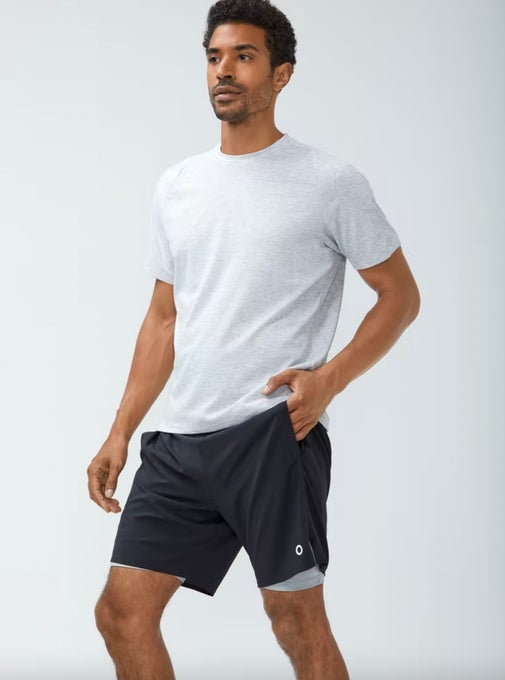 Like the dress clothes, the Active Kit is built with breathability in mind, yet geared more toward performance (though any doubt about the performance of their lifestyle clothing line was quelled in 2015, after the cofounder and his wife set records for the fastest half-marathons in a suit while wearing the Kinetic Blazer and Pant!)
The Newton Short has an odor-resistant liner threaded with S.Cafe, a fabric that naturally wicks moisture and controls odor thanks to its polyester construction and coffee grounds. (Unrelated, but this coffee tech made me research how astronauts made coffee in space.) Lastly, the short features a hidden liner phone pocket and lightweight polyester and elastane shell. 
In an era when running shorts seem to be getting shorter and shorter, I appreciate a pair I can wear on my bike, or playing tennis, or simply picking up half-and-half at the corner store without having to bedazzle everyone with the seasonal paleness of my upper thighs. Despite all this space-age tech, having a simple inseam that varies by size might be the most brilliant innovation of all.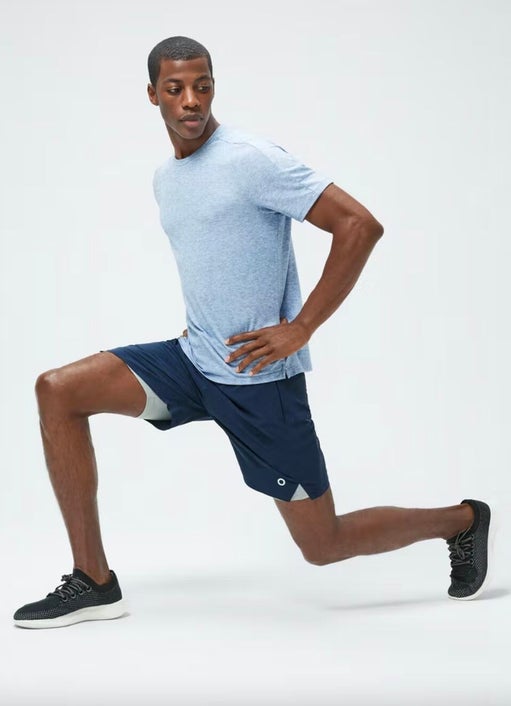 Honorable Mention: Composite Merino Active Tee 
I own a fair number of performance tees and, eventually, odor always becomes a problem. Many of these shirts are polyester, so they repel water and dry quickly, but they also attract oils and begin to smell like a locker room. This can lead to a) fewer friends and b) a shorter shelf-life for otherwise high-quality clothing, since no one wants to walk around reeking. 
The Composite Merino Tee addresses this problem with Phase Change Materials, a blend of fabrics designed to control the temperature of astronauts in space . . . and also your body while bounding through the forest. Early returns on the shirt suggest this to be entirely true. Lots of sweat, no stink, and total comfort in a wide-array of weather.
RELATED: Our Favorite Trail Running Gear For Under $50
The Bottom Line?
When running in OROS and Ministry of Supply's cutting-edge gear, it was hard to tell if the NASA-inspired innovations were actually contributing to my performance. Whether this NASA heritage is a marketing ploy or a performance revolution, what mattered most was that I felt comfortable, confident, and nimble under gravity's sway. (And that I didn't smell like a sponge.) Such high-tech infusion made it easier and more enjoyable to drop into the low-tech environments of wooded trails. And this? This is good enough for me. After all, one wants to feel like an astronaut in this space-age apparel—daring, adventurous, capable—but not necessarily look like one.