Are Oversized Sunglasses Overkill For Trail Runs?
There's a new trend in trail running eyewear and it's large, fluorescent, and retro. But how? But why?
Heading out the door? Read this article on the new Outside+ app available now on iOS devices for members! Download the app.
There was a time when less was more. Sporty shades were unobtrusive and sleek, providing enough coverage to shield your eyeballs and nothing more. If minimalist Oakleys were good enough for Michael Jordan, then they would no doubt suffice for the rest of us.  Everyone from elite runners to cyclists to Brad Pitt rocked a pair (which you can now purchase for two thousand dollars on eBay).
Fashion is cyclical, and these days it appears that more is more, especially for trail athletes in an era of full coverage. Whether one aspires to the unironic vintage ski bum aesthetic—say, Pit Vipers ($89)—or the highbrow uber elite athlete aesthetic—say, the ROKA Matador Air ($240)—it is imperative that one's brow be covered. Alpine-inspired, extra large retro shades are having a moment, which begs the question: are oversized sunglasses overkill for trail runs? 
Not All Sunglasses Are Equal
Sunglasses serve a fairly simple purpose: to protect one's eyes. Whether this is protection from the bright sun or an unseen twig hanging at eye-level, a quality pair of shades can go a long way towards making a run safer and more pleasant. It only takes one shadeless slog toward the blazing sun, or an unfortunate meeting with the business end of a branch, for one to start amassing an arsenal of running shades for when the going gets bright.
But not all sunglasses are created equal. There are varying degrees of coverage, lens type, and protection. As with shoes, each runner will want to find the right blend to suit their preferences and facial structure. There is no right pair of sunglasses, but seeing one too many goggles more suitable for Everest while out in the woods can make one begin to think there is certainly a wrong pair.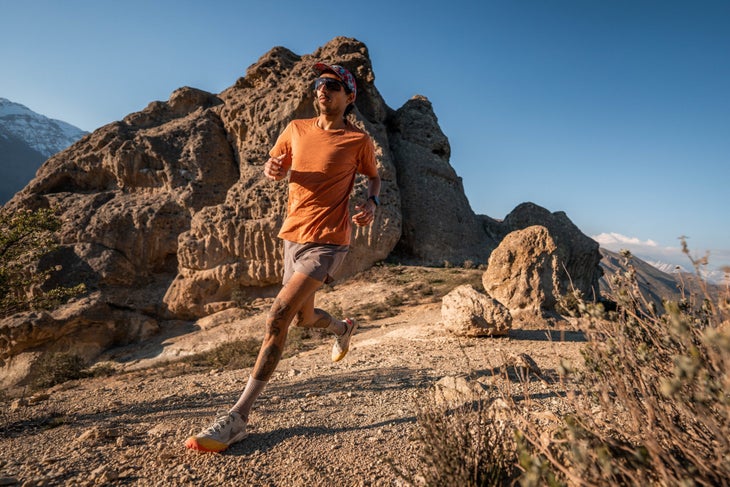 Alpine sunglasses, also known as glacier goggles, offer maximal protection, featuring side shields to protect one's peripheral vision from harsh rays reflecting off of snow and ice. They are also designed to allow a lower percentage of visible light transmission, or VLT, since the assumption is that above the clouds one will be contending with serious glare. Whereas typical sunglasses might allow 10-20% VLT, true glacier goggles fall in the 5-7% range.
Under the variable light conditions on a trail, however, where a tree-shaded stretch can give way to a ridgeline and clouds come and go, glacier goggles are more of a hindrance than an asset. Wear them beneath a canopy of trees, and you might as well be running with your eyes closed. In addition, a lack of peripheral vision could easily lead to a turned ankle when making hair-trigger decisions on the next footfall. And lack of ventilation can mean inadvertently hotboxing your eyes when working up a serious sweat.
Suffice it to say, glacier goggles are overkill for trail runs.
And yet, the extended coverage of many retro running sunglasses purposefully evokes the spirit of the mountains, albeit with a higher VLT allowance. I picked up a pair of the District Vision and Tracksmith collaboration Kazu Tourers ($250) in Blue Ice, and the 23.56% VLT allowed plenty of light while still blocking all UV rays, while giving the world a soothing tint. The sunglasses feature what might be termed "minimalist side shields" that don't obscure anything essential, while ventilation holes between lens and frame ensure they don't fog up. Plus, even though I was merely ascending  a local trailhead that went "up" to an elevation of 194 feet, I kind of felt like I was cruising around 29,000 feet.
When I asked Tom Daly, the co-founder of District Vision, about the popularity of alpine design, he noted that many of the early manufacturers of safety glasses transitioned to making alpine glasses, hence the more comprehensive protection. He also mentioned the opportunity that updating these designs brings. "There's a certain appreciation for the way things have been traditionally done, but now we can update these classic silhouettes with contemporary technological innovations, engineering our frames in Japan to be lighter in weight than ever before." Indeed, there is nothing retro about a pair of sunglasses that weighs 25 grams but provides such crisp vision and coverage. 
RELATED: The Best Sunglasses of 2022
Nuclear Gnar
Not all oversized running shades owe their inspiration to alpine style, however. Some seem to draw inspiration from ostentatious 90s wrestling chic. Pit Viper has notoriously played up this image to great success, and other companies are taking note. After all, the idea that one should own a separate pair of shades for running is relatively new, and if this pair can be audacious, thereby boosting the all-important stoke factor, then why not go bold? goodr, which makes affordable, polarized running shades that can take a beating, released the WRAP G ($45) this year, a full shield style with names like, "I Do My Own Stunts" and "Nuclear Gnar." 
Wearing such ostentatious sunglasses might not be for everyone, and there are certainly more understated overstated retro styles out there, like Sunski's Velos ($89), that suggest a general sportiness without needing to be worn solely while engaging in sport. At the end of the day, this kind of alignment with athleticism is what many are seeking in their gear, and this is why everyone wanted Michael Jordan's Oakleys in the 1990s, and why athleisure continues to boom. 
Alpine-inspired sunglasses are an indicator that one enjoys the mountains, and bright AF, full shield wackadoos practically scream, "I like to go fast!" Oversized sunglasses are merely the latest in the ever-expanding range of sport-specific gear that is definitely not always specifically used for sport. Strong enough for Everest, while  a conversation starter at your local convenience store ,and enough grip for a keg-stand.
My friend Hunter, a weekend ultra runner, recently picked up a pair of Smith Wildcats ($209). I have a pair of their slightly scaled down version, the Bobcat ($209—thank you, Smith, for accommodating those of us with a smaller domes), with photochromic lenses that start almost clear but shift between 85-20% VLT depending on the conditions, and I use them for everything from mountain biking to bike commuting to cloudy ,runs. When I asked Hunter about his Wildcats he admitted they were decidedly on trend. 
"They are a fashion statement," he said. "But they also have a function. They keep your eyes more protected. Regardless, they are a lot of fun, and whatever keeps you excited to run is a net positive." And with that, we donned our huge sunglasses and hit the trails, with a little extra coverage and perhaps a little extra fun and kick in our strides.