The Backcountry Bucket List
Here are 6 of our favorite long trails that every trail runner should add to their bucket list for maximum backcountry adventure.
Heading out the door? Read this article on the new Outside+ app available now on iOS devices for members! Download the app.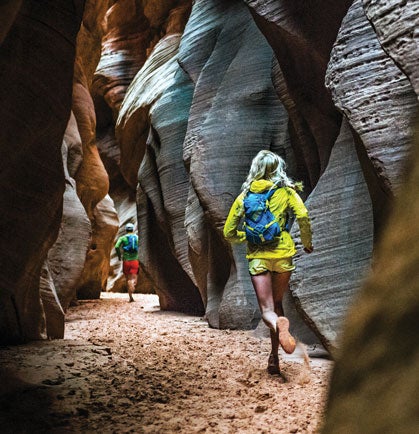 We all have it—that craving for the ultimate adventure on the perfect trail. And who doesn't have a bucket list of trails and races that we obsess over? Many trail fiends dream of running high-energy events like Western States 100 or Ultra-Trail du Mont-Blanc, while others yearn for the solitude of remote backcountry trails—trails where there are no entry fees, lotteries, aid stations or cut-off times. Trails where you go where you want, when you want and for as long as you want in the most wild and inspiring places on the planet.
Well, we have a list of six epic trails in North America that should be on your bucket list. Also, we give a little trip-planning beta and some nearby trails to round it out or bring you back for more. Now get out there and start ticking this list before you kick the bucket.
1. The Hoh-High Divide Traverse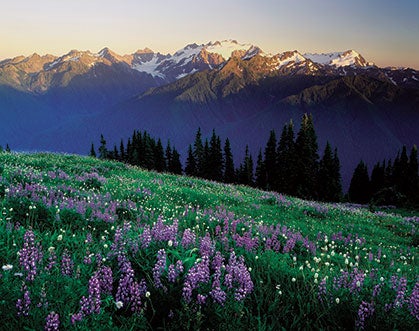 Washington / 45 miles
Olympic National Park in western Washington is one of the most diverse and extreme places in the country. Pacific Ocean storms pound the Olympic shoreline and western slope of the Olympic Mountain Range, which rises 7,979 feet above sea level and nourishes a rainforest canopy. The east side of the range, in contrast, forms a rain shadow, offering a much drier, sunnier clime. Head above treeline along the range and find 266 glaciers adorning rugged mountain peaks.
All of these extremes can be experienced on one trail, the Hoh-High Divide Traverse. Douglas Scott, 32, of Olympia, Washington, and owner and tour guide for Exotic Hikes, says that along this route you travel "under the rainforest canopy, along high-alpine ridges … and next to picturesque lakes in wildflower-filled valleys." He adds that diverse wildlife sightings are also possible, including elk, marmots, salmon, eagles and mountain goats.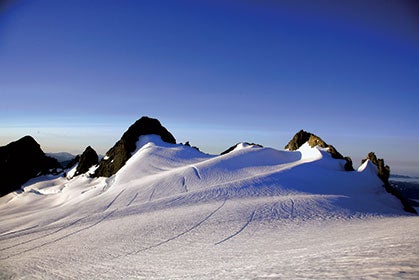 Along with cresting the hard-earned High Divide after 4,000 feet of vertical, ascended by 27 calf-crushing switchbacks in a mere seven miles, and being rewarded with a rare close-up view of the extremely remote Mount Olympus, Scott's favorite section of the trail is the Seven Lakes Basin. "Each of the lakes is nestled in its own little valley, with mountain goats and marmots all over. I feel like I am on top of the world, able to see the summits of the tallest Olympic Mountains from the bluest, cleanest lakes I have ever experienced."
2. West Coast Trail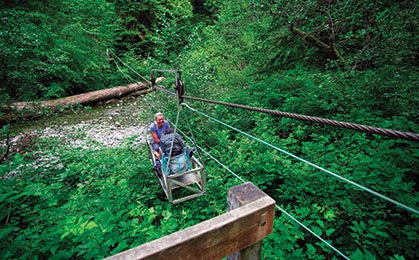 British Columbia / 47 miles
Located along the wild and extremely rugged Pacific coastline of British Columbia's Vancouver Island and part of Pacific Rim National Park, the 47-mile West Coast Trail (WCT) may be the toughest in Canada, if not all of North America, due to extreme ever-changing coastal weather, massive tide changes and rock-and-root-infested, waterlogged trails. The wild Northwest coastal scenery features towering old-growth forests, dreamy waterfalls and idyllic beaches. Coastal wildlife sightings may include black bears, wolves, orcas, gray whales, seals, sea lions and eagles. Soak it all in, because you will earn every jaw-dropping view the hard way.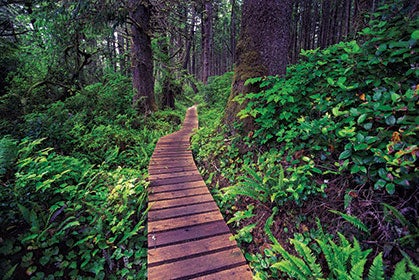 In August 2010, Gary Robbins, 37, a race director from North Vancouver and three-time winner of Hawaii's grueling HURT 100 with a course record of 19 hours 35 minutes set in 2013, set the current Fastest Known Time for the WCT in what would seem to be a pedestrian pace of 10 hours 8 minutes 50 seconds. Don't be fooled. This time is exceedingly fast for the technical nature of the trail, which Robbins says is "simply unrivaled" with a multitude of cable-car river crossings, two waterways requiring passage by boat, hundreds and hundreds of meters of sheer wooden-ladder work and "roots and mud that are sure to elicit more than a few foul words."
Aside from the trail's difficulty, other obstacles include the often-inclement weather, changing tides and surprise wildlife encounters. Robbins says that he "came face to face with a black bear and its cub, less than a kilometer from a posted 'Bear in Area' warning sign."
3. The Superior Hiking Trail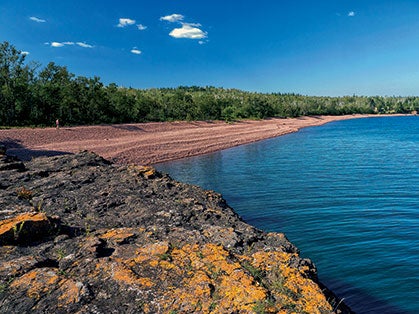 Minnesota / 275 miles
Northern Minnesota's Superior Hiking Trail (SHT) follows a long, gorgeous ridgeline above Lake Superior, and offers rugged, technical trails. Enjoy heaps of solitude and possible sightings of wolves, bears and moose.
Alicia Hudelson, 29, a lawyer from Marietta, Georgia, who set the female Fastest Known Time for the SHT in 4 days 17 hours 26 minutes in May 2009, loves the trail for its contrasts between intimacy and grandeur. Much of the trail is narrow singletrack through evergreen and birch forests. Hudelson describes it as "a long, beautiful tunnel, just calling out to be run from end to end."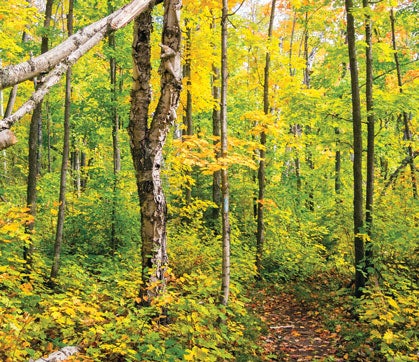 Occasionally, the dense forest opens up for grand views of lakes, rivers, waterfalls and endless rolling forest. Hudelson remembers a particularly memorable moment, when, running alongside electric-orange-lichened rock formations, she broke out onto a ridge and was halted by the view of "the stunning Bean and Bear lakes" hundreds of feet directly below her.
4. Buckskin/Paria Canyon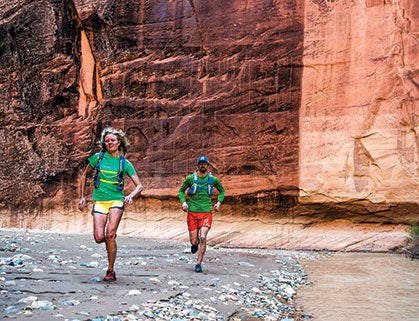 Utah / 45 miles
Buckskin Gulch, at 13 miles long and as narrow as 10 feet wide and almost 400 feet deep in sections, is one of the longest, narrowest and deepest slot canyons in the world. Its curving walls are pounded with seasonal flash floods that force their way through the canyons' narrow confines and carve the smooth sandstone walls. The result is a thing of sculpted beauty that it is rare even for the slot-canyon-rich desert Southwest. Link it into the winding 1,000-foot-deep gorge of the mighty Paria Canyon and its perennial Paria River for a total of 45 spectacular miles.
With remoteness comes hazards and it all starts with a lack of well-defined trail. The Paria River is your general path, running the rocks and sandy benches along its edge and negotiating the mandatory, 100-plus, ankle-to-thigh-deep river crossings. Other hazards include flash floods, hypothermia (even on a hot day) and injury due to rough terrain. Finding drinkable water can also be a chore.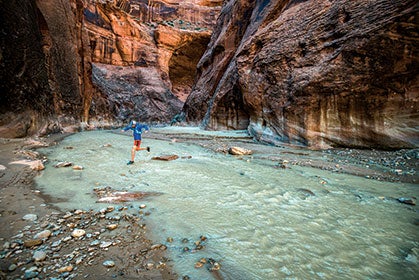 Jay Aldous, 52, of Brighton, Utah, works at the United Nations World Food Programme and holds the current Fastest Known Time (FKT) of the length of the Paria at 6 hours 21 minutes set in 2009. He says his biggest worry is "the reliability of the springs and locating them." The Paria River is not potable so know spring locations and fill up every chance you get. The last long section is open and hot, has no water and can be brutal.
Finish the Buckskin-Paria and be rewarded with a well-deserved soak in the Colorado River and memories to last a lifetime. While soaking after his FKT effort, Aldous recalled his favorite memory from the canyon, the first 10 miles of tight, curving red-rock slot canyon: "It's just you, the rocks and the water. You feel alone, vulnerable and alive!"
5. Adirondacks Great Range Traverse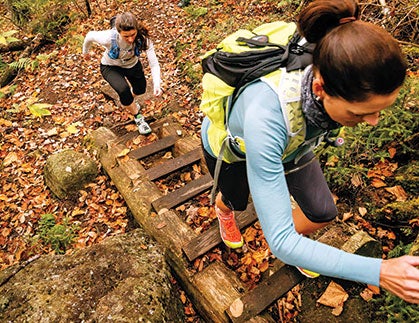 New York / 25 miles
The Great Range Traverse comprises an 11-mile chain of peaks—part of a massive eroded dome—and culminates in the tallest mountain in New York State, the 5,343-foot Mount Marcy. Although not as high as the Rockies, Sierras or Cascades, the mountains here are easily as rugged, wild and worthy—and the Great Range Traverse is all that.
Jan Welford, 32, of Keene Valley, New York, has completed the Great Range Traverse 11 times, saying, "The climbs and descents are generally treacherous, forcing you take your time even if you are fit. Ledges that force you to use your hands, muddy log bridges, ladder climbing, uneven rocks and steep, slippery slabs are par for the course."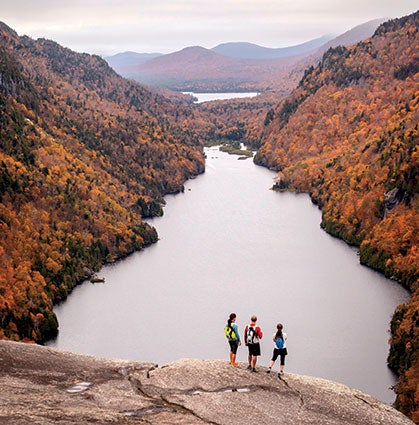 Welford adds, "You'll be grinding up a climb, head down because you have to watch your footing 100 percent of the time, and the next thing you know you'll pop out on a ledge with incredible views." These outlooks offer sights of steep ridges and peaks sided with thick green forests and massive aprons of steep, gray granite.
After soaking in the views, get back to full focus on the trail. "I have had countless near misses running down ledges all along the range," says Welford. Dangers can extend beyond trail conditions. Foul weather and limited water sources are also challenges.
6. Florida Trail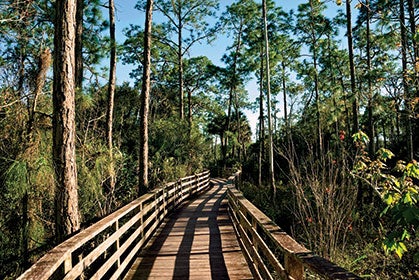 Florida / 1,300 miles
In 1966, Jim Kern gained permission to blaze a trail in the Ocala National Forest in central Florida with a vision of traversing the entire state. From those first miles of trail over 40 years ago, a 1,000-plus-mile footpath named the Florida Trail has grown, and continues to grow, nearly spanning the length of the state. It is now one of only 11 National Scenic Trails—trails protected by an act by Congress for their distinct natural beauty—in the United States.
Cathy Bester, 46, a marine biologist from Gainesville, Florida, says that the Florida Trail is "unique due to the wide variety of habitats." Nowhere else can you hike through pine forests, ancient oaks and lush hammocks, slog through swamps, swim in crystal-clear springs, explore sinkholes and wander barefoot on tropical beaches—all while possibly glimpsing bears, eagles, panthers and alligators.
Florida has no high mountains or arid deserts, but offers its own challenges. Bester cautions that, along with flooding on the trail due to seasonal heavy rains, the Florida Trail can be "challenging due to the heat and humidity, biting flies, mosquitoes, venomous snakes and wildfires/controlled burns" and while much of the trail is smooth and well maintained dirt, gravel or pavement, some technical, grueling sections demand careful foot travel over slick limerock, soft sand and oozy mud and even wading through deep water.
This article originally appeared in our July 2014 issue.