Tough Love: Trail Running in Duluth, Minnesota
Despite its post-industrial grit, Duluth is one of America's best trail towns, combining accessible wilderness and subtle city singletrack.
Heading out the door? Read this article on the new Outside+ app available now on iOS devices for members! Download the app.
"Everything about this place just seems tough as shit, you know?" my friend said from the passenger seat of my 1998 Toyota Camry, as we wove along the narrow, two-lane Highway 61 north of Duluth, Minnesota. "I just imagine everyone up here living in little cabins with no electricity, just being cut from the rocks."
It was September 2014, and we were headed northeast, hugging the northern shoreline of Lake Superior (the "North Shore," as it's colloquially known throughout the state) en route to the Superior Trail Races. I had conned him into crewing me for the 50-mile event ("It will be fun. You'll get to hang in the woods, meet some people, and we'll drink beer at the end!" I had told him), and he was transfixed on the sharp blue water's edge and stark, rocky cliffs sandwiching the road of Bob Dylan lore.
We were north of the legendary folk singer's birthplace—Dylan was born in Duluth and grew up in the Iron Range town of Hibbing before moving to New York and revolutionizing music—but the drive northward through Minnesota drastically changes character when you hit Duluth, seemingly altered by the harbor town that serves as a portal to the true Northwoods.
Duluth is a city rich in history and Northwoods culture; it has seen the worst of economic times and come thundering back. Despite its post-industrial grit, Duluth is one of America's best trail towns, both for the unending wilderness to the north and the singletrack that winds, almost surreptitiously, through the city limits. Above all, the city defined by the Lake Superior weather is a place that offers rocky, root-laden challenges, but will endear itself to you if you endure.
A Startling Sight
Duluth is, for lack of a better term, startling when you first roll in. Rounding a corner on Interstate 35, travelers are faced with a vast dropoff into the St. Louis Bay and the adjacent Great Lake nicknamed "Gitche Gumee," adapted from its Ojibwe name, "gichi-gami." Shoreline is nonexistent on the horizon, an unfamiliar sight in a state with no coast. The harbor, and the town, are nestled between the cold, unforgiving water and a series of bluffs; the elevation is high in the context of a state that, south of here, consists mostly of farmland, prairie and (less great) lakes.
Basalt outcroppings pepper the hillside as you drive past industry both active and retired, remnants of the once-thriving iron industry for which Duluth, and directly adjacent Superior, Wisconsin, served as the gateway to the Lake Superior shipping channels. The sky, like the water, seems a deeper hue of blue. Everything looks cold—or like it will be soon. If Duluth's innate ruggedness doesn't appeal to you, you probably wouldn't make it here. You have to be cut from stone.
By chance, a mix CD my friend had brought—the car was a '98, remember—flipped to Gordon Lightfoot's "The Wreck of the Edmund Fitzgerald" as we progressed farther north. The song recounts the stormy demise of the freighter in 1975, after it left Superior en route to Zug Island, near Detroit, full of taconite iron ore. The ship, with 29 souls, sat at the bottom of the lake to our right.
"The lake, it is said, never gives up her dead," Lightfoot sang, "when the skies of November turn gloomy …"
A Deep Connection
"Sure, Duluth is a city that can challenge you," says outgoing Mayor Don Ness, 41. But, he says, it's nicer than I've made it sound. "You'll have a deep and substantial connection to the community as a result."
"Picture a city with a small-downtown, main-street feel," says Adam Schwartz-Lowe, 42, an accomplished ultrarunner who grew up in Duluth and recently moved back from the Twin Cities. "Our downtown is made up of old historic buildings populated by both large and small businesses."
The bulk of the city is built up on the hill, overlooking Lake Superior. "If you've been to Maine or Nova Scotia or Newfoundland, that is what Duluth is like," he continues.
Local runner Chris Rubesch, 29, who won that Superior 50-Mile I traveled to in 2014, moved there in 2004 to start college, and hadn't intended to stay long-term.
"But I have lived here ever since, and am now a married homeowner here," he says. "Duluth has that way of really getting into you and making you part of the community."
RELATED: Trail Towns – Eugene, Oregon
Easy Access
A key binding force for that community is a love of, and quick access to, outdoor recreation.
"Duluth has an incredible volume of trails, and they are accessible from all over town," says Schwartz-Lowe. "The Superior Hiking Trail [SHT] spans the city, with a couple of miles of pavement through downtown, but mostly technical singletrack. There are many more miles of trail in the parks spread throughout Duluth, too, with Hartley and Lester Park being the most popular."
He continues, "In fact, just a quarter mile from downtown you can be on the rocks and roots of the SHT, heading south to Jay Cooke State Park, 30 miles away. I really like being able to go out my door and in about 100 meters be in the woods, and not have to come out of them except for the occasional road crossing."
Leslie Semler, 34, of nearby Hermantown, Minnesota, points out that while many cities—including Minneapolis—have abundant paved running paths, Duluth is unique in that most of the city's arterial trails are dirt. "The majority of trails are natural tread through the woods with abundant rocks, roots and steep little climbs, occasionally opening up to amazing views of the lake and surrounding area," she says.
No Zoning Out
On a November day in 2014, I followed a friend and local runner, Eric Nordgren, on a run from the door of his apartment, near downtown Duluth, through a series of trails interwoven throughout the city and its outskirts. It was raining and cold—even though I had anticipated late-fall climes, I had to borrow a jacket from Nordgren—as we climbed on the singletrack Chester Park Trail past Chester Creek, glided over an adjacent woodchip path through the woods near the University of Minnesota-Duluth campus and stepped carefully over in-city sections of the Superior Hiking Trail in Hartley Park and the Bagley Nature Center.
After bombing a couple of short descents laced with lattice-like root systems, Nordgren had quickly put distance on me.
"You can tell there's a real advantage to living and training here, in terms of specificity," he brayed in a baritone unbecoming of his lithe, rail-thin frame, having heard my city slicker's heavy-footed, thudding attempts to navigate the obstacles. "You can see why Schwartz-Lowe did better after he moved up here."
He was referring to Schwartz-Lowe's triumph at that September's Superior 100-Mile race, where he had earned an elusive title after twice finishing second and twice third. It was no coincidence, Nordgren argued, that the win had come after Schwartz-Lowe relocated to Duluth from the Twin Cities and became more accustomed to the "just don't trip" method of running the SHT requires.
The trails in Duluth, like life in the winters there, are challenging, lousy with sharp rocks and root systems. The ground seems designed to ensnare the foot of anyone who would dare traverse these trails quickly. There is little that is relaxing about a trail run in much of the city, especially the sections of the SHT. Zone out, meditate or take in the views, even for a second, and you'll likely fall flat on your face. You might do so even if you are paying attention.
This is not because they aren't scrupulously maintained. "What makes Duluth a great trail town is the network of volunteers who built, maintain and advocate for our trails," says Rubesch, citing the collaboration of mountain-bike, Nordic-skiing and trail-running groups as further evidence of the strength and benefits of Duluth's small-town DNA. "I think that it is a unique model, and Duluth's runners greatly benefit from the partnerships."
Bouncing Back
It wasn't always this way.
"The Duluth I grew up in was a very different place," says Ness. "In the early '80s, the federal government designated Duluth as one of the 10 most distressed cities in the country. We were post-industrial, like the Rust Belt, and there was a lot of population loss and economic devastation."
Though Duluth worked hard toward regaining more stable economic footing in the 1980s and 1990s, Ness says a pessimism still hung over the city.
"We were looking to other regional centers—places like Fargo, Rochester and Saint Cloud—and we weren't doing as well," he continues.
"The city has come around a lot since I left when I was 20," says Schwartz-Lowe. "It was much more depressed then, and while Duluth has always had a kind of granola, outdoor culture, it was much more subdued."
Slowly, there emerged a growth in the professional class, with jobs downtown that kept young people in the city. There was a housing boom, and an increase in available market-rate housing.
"When I first came to Duluth it didn't seem to me that there were as many young people or young couples here," says Rubesch. "Also the downtown was a lot less attractive to visit. Today there are lots of young people and families, and the downtown actually has bars, restaurants and nightlife." The universities and hospitals also flourished, and now Duluth's main drags on Superior Street and in Canal Park feature many businesses like Duluth Pack Co., which embraces the hard-knock, far-north culture with hand-stitched packs and clothing.
"Duluth is still a fairly industrial town, [but] the economy has grown and diversified a little in the last 10 years," says Semler. "The culture is pretty grassroots. I think the majority of the arts and entertainment is provided by locals that have made a life of it."
"Our economy is clearly much more healthy now," says Ness, citing a 3.2-percent unemployment rate. "Maybe most importantly, people are feeling optimistic about where Duluth is headed."
At the heart of that optimism is Duluth's growing reputation as a prime outdoors city, something its residents didn't have the luxury of enjoying when jobs were scarce. That has translated to more attention for—and development of—the city's trails.
"When I first moved to Duluth, once the snow fell the singletrack was basically done for the winter," says Rubesch. "There might have been some snowshoeing traffic but that was it. Today the fat-bike community uses the trails and grooms them for the rest of outdoor community.
"Now I see as much traffic on them in December as I do in June," he continues. "The whole outdoor community cooperates like that today."
RELATED: Trail Towns – Washington, DC
Minnesota Nice
Meet any runners here, and you'll quickly find that cooperation, and hospitality, extended to you. Rubesch famously opens his house to visiting runners, even once giving a guest his own bedroom and sleeping in the basement. (The guest was tipped off when he entered the room and saw pictures of Rubesch's family adorning the wall and dresser.)
"There are competitive runners in Duluth, but I feel like the trail-running community here is more focused on fun, socializing and loving life and the great outdoors," says Semler. "There is a lot of interest in supporting each other as well as the land and trails."
Schwartz-Lowe cites a free all-comers series of short (6K to 9.3K) trail races put on by the North Minnesota Track Club (NMTC) each fall as just one example.
"[The series] relies solely on voluntary donations," he says. "It's also great to be able to go out for a run with friends, and end up at any number of restaurants in town for a good post-run coffee and breakfast. Most of the runners here are more than willing to give someone a tour, and even high-end runners are willing to throttle down for the fun of showing someone around."
At the helm of the NMTC series is Jarrow Wahman, the 54-year-old co-owner and half-namesake (along with Bill Austin) of Austin-Jarrow, a specialty running store nestled into a strip mall atop the hills to Duluth's west. Six-foot-five-inches and rail-thin, Wahman rattles off the previous locations of the store—this is the 10th spot, he says—and points out a pair of old, boot-like Montrail trail-running shoes hanging from the wall above a signed poster of Scott Jurek. The shoes were worn by Jurek, a native of adjacent Proctor, Minnesota, and a former Austin-Jarrow employee, when he won the first of his seven Western States 100 titles, in 1999.
"At my age, and at my height, I have trouble negotiating the technical sections [of the SHT]," says Wahman, a veteran of (he estimates) around 40 ultras—including finishing just behind Jurek in what still stands as the Voyageur 50-Mile course record—who in 1982 legally changed his name to just "Jarrow," for simplicity. (He changed it back in 1999.)
"The trails here are really hard," he continues.
For 32 years, Wahman's store has served Duluth's runners. It now acts as something of a time capsule—a living museum to the last several decades of running fashion and technology. Perusing the clearance shoes, I recognize a pair of road-racing flats identical to one I purchased in 2006; Wahman shows me a pair of competitive throwers' shoes from the 1990s, still in his inventory. For 28 of those years, Tracy Haberman, whose accent sounds lifted from the movie Fargo, has served there, and never as a manager. "Just a worker," she says.
"In the '80s, there weren't that many runners in Duluth," says Wahman. "You could go into the woods and not see anyone. Now, there are more runners, hikers and mountain bikers than ever. It's the town, with 11,000 acres of green space, and every Duluthian lives within a thousand feet or so of a trail."
Adding to those trails is the yet-to-be-completed Duluth Traverse—a 100-mile singletrack system winding through the city, of which 70 miles have been finished. Championed primarily by mountain bikers, Ness says runners and walkers will be welcome and encouraged to use it.
"When it's complete, it's going to be one of the most significant in-city mountain-bike systems in the world," he says. "It will traverse our entire 26-mile-long city with views overlooking the world's greatest lake."
On the Map
Ness says the Duluth Traverse is something that could help put Duluth "on the map" —not a place where Duluth is used to finding itself. Yet in 2014, when Outside Magazine featured a tournament-style vote to determine its annual "best towns" list—and Duluth found itself nominated—the city organized a social-media push encouraging people to "vote Duluth." It paid off—Duluth won top honors.
More surprised than the city's residents, however, were many Mountain West-philes, the most vocal of whom expressed disdain that the frigid harbor town could upend such vaunted trail meccas as Provo, Utah, or Boulder, Colorado.
"Really?" one online commenter wrote after the results were announced. "Duluth as in Minnesota? I was there once and found it under five feet of snow. In April."
"If Duluth is so great, why are they all spending their time online voting [instead of being outside]?" wrote another.
The response of Duluthians, and many others who knew the city, ranged from positive to defensive, and included a healthy dose of "if you don't like us, we wouldn't want you here anyway."
"I can just see all the letters to the editor next month from all the tough outdoorsy guys whining that it's too cold here," wrote one.
Ness, for one, says the winters should be viewed as a vital part of Duluth's culture.
"There's a rugged nature about this city—the rock outcroppings, the weather, using what the environment has offered us," says Ness. "We're rugged and adventurous."
In other words: it's cold, it's jagged and it's rough around the edges. If you expect it to be easier, Duluth might not be for you.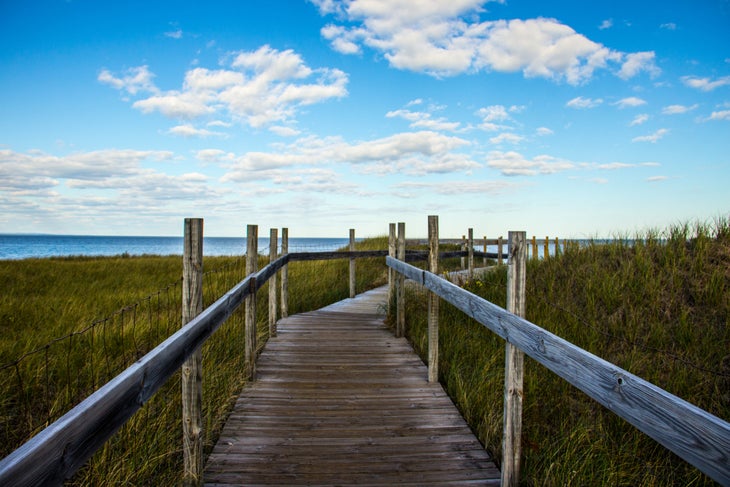 Visiting Duluth
Seasons
Winters in Duluth can last half—or more—of the year when Duluth's high latitude combines with the lake's insular effect on local weather.
Still, Duluth is a four-season town, with vibrant fall colors and beautiful blue summer days—Duluthians just know not to take either of those for granted, as they can be fleeting, replaced with cold, clouds and rain almost any time.
Getting There
Duluth is less than three hours north of the Twin Cities of Minneapolis-St. Paul (and MSP International Airport) via Interstate 35; Duluth sits at the highway's northern terminus. You can also fly directly into Duluth International Airport, about 15 minutes northwest of the heart of downtown.
Amenities
Fitger's Brewhouse. It's hard to beat a wild-rice burger and pint at this Duluth institution, which, with origins in the 1800s, is ancient by craft-beer standards. You might catch an intimate show from local folk favorite Charlie Parr when you're there.
Bent Paddle Brewing. Situated in an industrial neighborhood in southwest Duluth, Bent Paddle is quickly rising as one of Minnesota's top breweries. Check out their taproom for winter- and paddle-sports-inspired beer and culture.
Positively 3rd Street Bakery. The peanut-butter-and-chocolate-loaded Thunder Cookies at "Hippie" Dan Proctor's bakery (a co-op owned by 14 employees) are so good, they got mentioned in Scott Jurek's autobiography, Eat and Run: My Unlikely Journey to Ultramarathon Greatness. By them fresh or packaged in bulk—they're a perfect treat after a long run on the Duluth trails.
Top Trails
Superior Hiking Trail (SHT). The roughly 300-mile trail runs from near the Canadian border almost to the border of Wisconsin, and winds through Duluth with plenty of spur trails in the city limits. It's rugged, it's fierce, and it features some of the best climbs and views in
the Midwest.
Duluth Traverse. About 70 miles of this 100-mile singletrack system—all within the city—have been completed. It offers multi-use surfaces for mountain bikers, runners and hikers, as well as
great vistas of
Lake Superior.
Hartley Park. This preserve features winding, wide singletrack trails with plenty of connections to the SHT and other trails. That's the beauty of trails in Duluth—they all seem to connect.
Lester Amity, Hawk Ridge, and Vermillion Hiking and Biking Systems. And lots of others. For more info on Duluth's vast trail systems, check out duluthmn.gov/parks/trails-bikeways.
Top Races
Voyageur 50-Mile (late July); Eugene Curnow Trail Marathon (mid-July). Run on the Superior Hiking Trail from Carlton, Minnesota, to Duluth and back, the Voyageur is known as Scott Jurek's ultramarathon debut, and his breakout race. (He still holds the course record, from a later effort.)
Held earlier in July, the Eugene Curnow Trail Marathon (formerly the Half Voyageur) runs point-to-point from Duluth to Carlton. Challenging for the terrain and the July mugginess, these are can't-miss races up north. voyageur50.com; curnowmarathon.com.
Superior Trail Races: 50K and 25K (May) and 100-Mile, 50-Mile and 26.2-Mile (Sept). These races are a couple hours north of Duluth, but highlight some of the Superior Hiking Trail's most scenic and challenging sections. They are Minnesota's premiere trail events. superiortrailrace.com.
NMTC Fall Trail Series (Sept – Nov). Weekday evening races from 6K and 3.5 miles to 9.34K on a variety of trail systems in and around Duluth.northlandrunner.com
Wild Duluth 100K, 50K and Half-Marathon (Oct). Incredibly rugged courses featuring climbs overlooking the city. wildduluthraces.blogspot.com
Alex Kurt is almost certainly not cut out for Duluth, opting to live comfortably in Minneapolis. This article originally appeared in our March 2016 issue.